New iPad Pro: Tech tour de force but is it too expensive?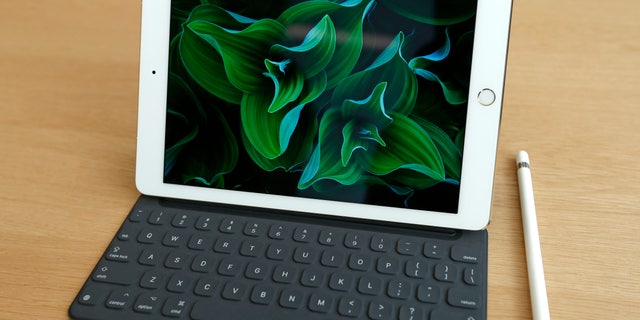 Apple's newest tablet is winning over critics with its amazing display and speaker system but its $599 price tag probably puts it out of reach for cost-conscious consumers.
The display on the 9.7-inch iPad Pro is getting plenty of attention, after Apple unveiled it earlier this week. For instance, on paper, Apple's newest tablet has the most advanced iPad display ever – even besting the 12.9-inch Pro.
"The wide…color gamut, with the TrueTone dynamic [display]…and the record low 1.8 percent screen Reflectance are all major innovations for Tablets and PCs, and presumably for iPhones in the near future," wrote Raymond Soneira, a display expert and president of DisplayMate Technologies, in a research note about the 9.7-inch iPad Pro. Translation: the display offers more colors, automatically adapts colors and intensity to the surrounding environment, and reflects much less light (glare) than displays to date.
Other drool-worthy tech includes a four-speaker system (which, by the way, produces amazing sound on the larger Pro), Apple's fastest processor, the A9X, a better camera, support for Apple Pencil, and the option for a Smart Keyboard.
Pricing proposition
But pricing may deter some consumers who may not necessarily obsess about the latest TrueTone tech or a tablet with a 12-megapixel camera. (Tablets, because of their relative bulk compared to smartphones, are not terribly suitable for photo-taking).
The new 9.7-inch iPad Pro starts at $599 for a Wi-Fi only version with 32GB. The older 9.7-inch iPad Air (Wi-Fi only), on the other hand, is $499 – $100 less – with more storage (64GB). And if you're okay with 16GB, the Air 2 is only $399.
While it's standard practice for Apple to offer new iPads at a higher price than an older version, in the past, a new iPad usually debuted at the same starting price that the earlier version debuted at. For example, the iPad Air 2 debuted at a starting price of $499. Ditto on the iPad Air when it was introduced. That drove consumers to upgrade because they had a sense that they were getting better technology for the same price.
As with past iPad launches, differences -- other than a higher price -- may be hard to detect for the average consumer.
"The 9.7-inch iPad Pro is a whole lot like an iPad Air 2 in many ways. The size, screen resolution, and weight are all identical," wrote Ars Technica in an early hands-on review of the new iPad Pro. "Most improvements are hard to spot unless you're looking for them."
Apple is also facing the persistent challenge of shrinking demand for tablets. The company saw a year-over-year decline in shipments of about 25 percent in the fourth quarter, according to IDC.
There's also the contrast with the pricing strategy for the iPhone SE -- the other high-profile Apple device announced this week. First-takes and reviews have been raving about the iPhone SE's low price. At a starting price of $399, the iPhone SE is Apple's cheapest new iPhone yet and a $150 less than the next cheapest iPhone, the 4.7-inch iPhone 6, despite offering more advanced internal technology than the iPhone 6.