New invention could help the blind 'read'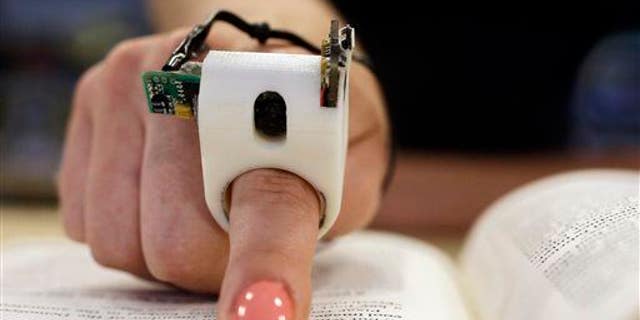 A new invention could help blind people "read" books and other written text without the need for Braille. MIT researchers have created a prototype of a finger-mounted device that uses a camera to scan text, which is then converted to speech in real time.
"For visually impaired users, this is a translation," researcher Roy Shilkrot explains at Phys.org. "It's something that translates whatever the finger is 'seeing' to audio." A huge challenge, however, was figuring out how to keep visually impaired volunteers' fingers in line with text.
Researchers came up with two options: a device that used vibrating motors on top and beneath the finger to indicate if it needed to move up or down, and another that issued musical tones as clues.
While volunteers didn't favor one device over the other, researchers say the motorless option is smaller, lighter, and therefore more ideal. The device uses an algorithm to process what the camera perceives.
For now, it relies on an attached laptop, but the next version may use a phone to make it more portable. In an interview last year with TechCrunch, Shilkrot said the invention should open up a huge number of books to the blind.
And perhaps to those who aren't blind but just have trouble reading: Shilkrot says parents of kids with dyslexia have already reached out. An engineer is working on a similar device that could help blind people identify distant objects.
(A blind man can see again thanks to a bionic eye.)
This article originally appeared on Newser: A New Way for the Blind to Read
More From Newser