NASA images reveal impact winter storms have had on drought-ravaged California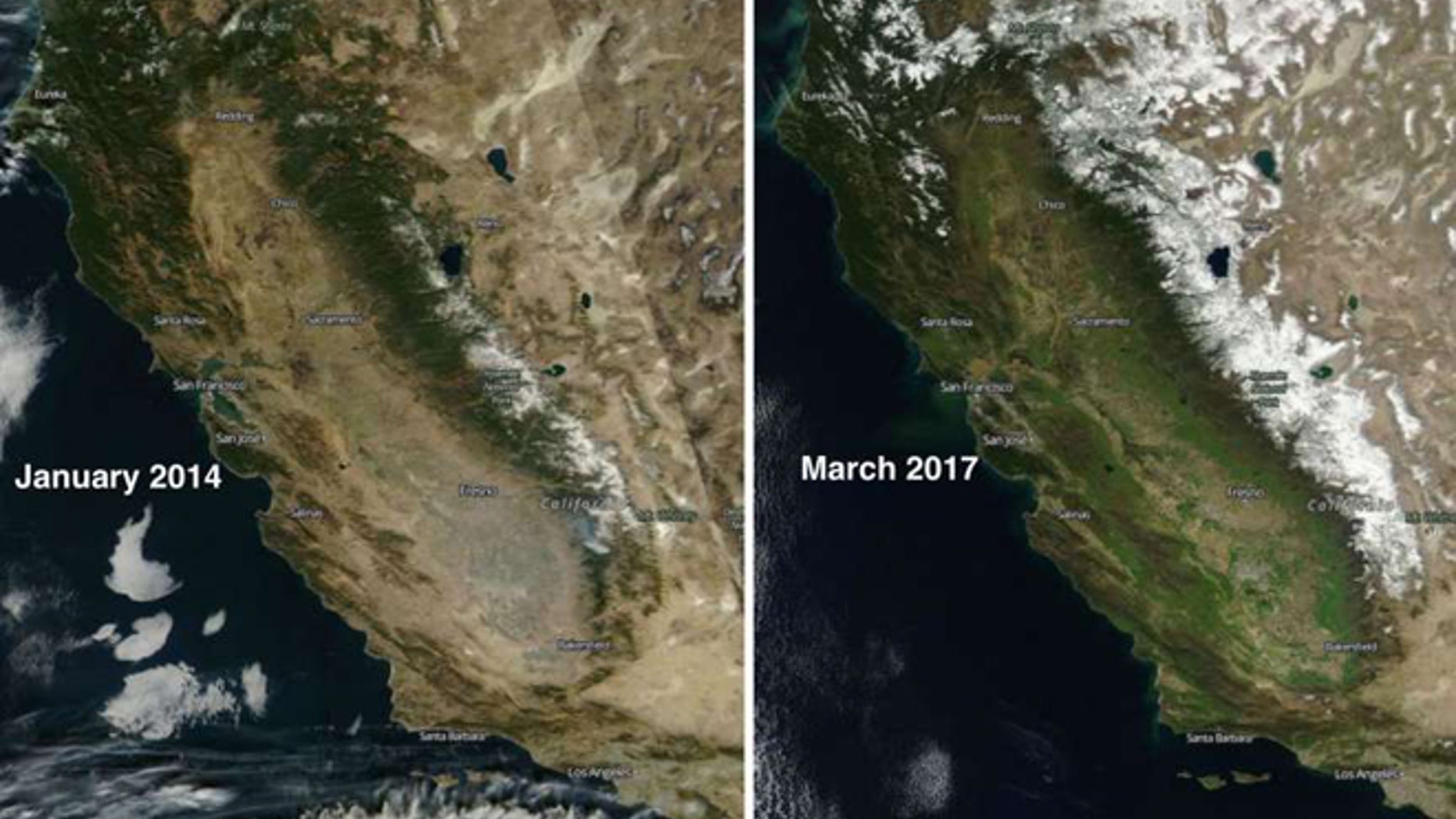 It's a photo that is making farmers, skiers and thirsty people across the Golden state very happy.
Satellite photographs from the NASA Earth Observatory show the drastic change this winter's almost-ceaseless rain and snow have had on the California landscape from 2014 – when the state was suffering through a devastating drought.
A series of storms this winter have drenched much of the state's fertile inland empire and brought record-breaking snow storms throughout the Sierras. These weather systems known as a "Pineapple Express", which originate in the Pacific and collect tropical moisture as they travel across the ocean, have acted like a giant sprinkler system over California and turned much of the desiccated land a verdant green.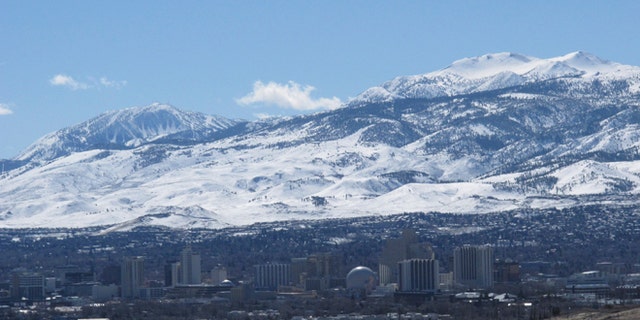 FOR THE LATEST TECH FEATURES FOLLOW FOX NEWS TECH ON FACEBOOK
The San Francisco Chronicle reported that the storms have filled the Yolo Bypass, a water storage area designed to minimize flooding in Sacramento, to the brim and waterways throughout Northern California have turned a murky brown due to sediment stirred up during widespread flooding.
Late last month the California Drought Monitor indicated that the state is 83 percent drought-free, compared with just 6 percent a year ago.
The storms have not all been good news for the country's most populous state.
California faces an estimated $50 billion price tag for roads, dams and other infrastructure threatened by floods such as the one that severely damaged Oroville Dam last month, the state's natural resources secretary said last week.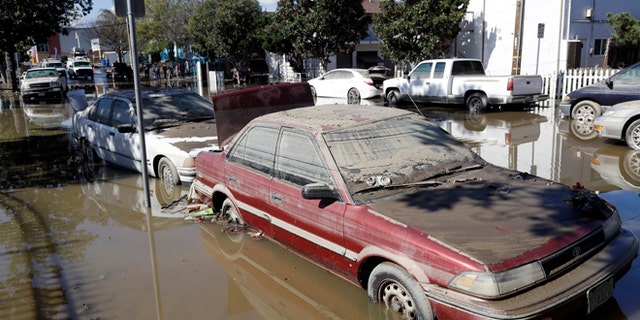 Nearly 200,000 people living near the country's tallest dam were evacuated four weeks ago amid fears of a catastrophic flood after heavy rains tore away a chunk of concrete from the main spillway, leaving it severely damaged.
Swollen rivers, troubled levees and crumbling roads are causing havoc statewide as California copes with what is likely its wettest year ever, California Natural Resources Secretary John Laird said.
Despite the massive storms, hydrologists also warn that California may always be chronically short on water given the state's huge agricultural industry. While these crops are a major economic driver for the Golden state, they also need massive amounts of water to thrive.
"Food production requires nearly unfathomable volumes of water, and has resulted in the long-term decline of the total available fresh water in California," Jay Famiglietti and Michelle Miro, hydrologists at University of California-Irvine and UCLA, respectively, wrote in the Los Angeles Times.  "The great thirst of our highly productive agricultural sector has never been and will never be satisfied by the annual winter storms that feed the state's rivers and reservoirs."