Look ma, no thumbs! Facebook axes iconic thumbs-up Like button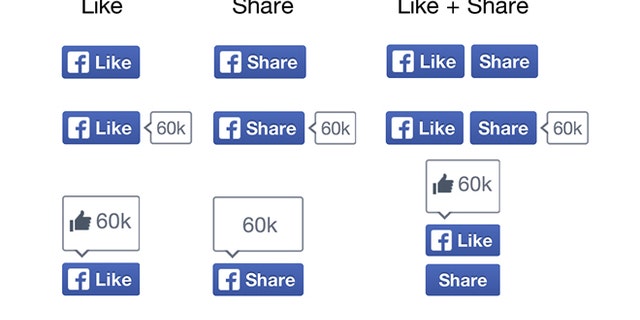 Facebook rolled out a revamped look of their iconic "thumbs up" Like button and Share icon.
The Like button was introduced in 2010 and now the company is introducing a new design for both the Like and Share buttons in an effort to make it easier for people to connect with the social network when surfing the Web.
"Today, we're introducing a new design for both Like and Share to help people share more great content across the web," Facebook software engineer Ray C. announced in a blog post.
The new Like icon is now almost identical to the Share button: a blue and white rectangle with the company's logo.
The social network's buttons are used across millions of websites to encourage people to stay connected to Facebook while surfing the Web. The buttons also help drive traffic to external websites when people are on Facebook.
""Like and Share buttons are viewed over 22 billion times daily across more than 7.5 million websites. Like and Share are important drivers of Facebook referral traffic," Ray C. wrote. "We're already seeing a favorable increase in Likes and Shares with the new design and will be rolling these buttons out to everyone in the coming weeks.
According to a recent report from Shareaholic, the buttons really do work. The report found that Facebook, Pinterest and Twitter referral buttons made up more than 15 percent of overall traffic in September.