Images obtained by Fox 25 Boston show two of the weapons used in Sunday's mass shooting in Las Vegas that left 59 people dead and more than 500 injured.
The images, which were obtained from police sources, show the rifles on the floor of the Mandalay Bay hotel room used by gunman Stephen Paddock. The shooter used the suite to unleash hundreds of rounds on a crowd of concertgoers at Sunday night's Route 91 Harvest Festival.
The mass shooting is the deadliest in U.S. history.
Ryan Cleckner, a firearms attorney at RocketFFL, identified both weapons as AR-15-style rifles. One of the rifles, he told Fox News, has a vertical foregrip and a muzzle brake on its barrel - both of which can help a shooter control a rifle during rapid fire.
LAS VEGAS SHOOTING: FACEBOOK, GOOGLE SURFACED FAKE NEWS
Cleckner also noted that one of the firearms has a "bump-fire stock," which would have enabled the shooter to fire off rounds much more quickly.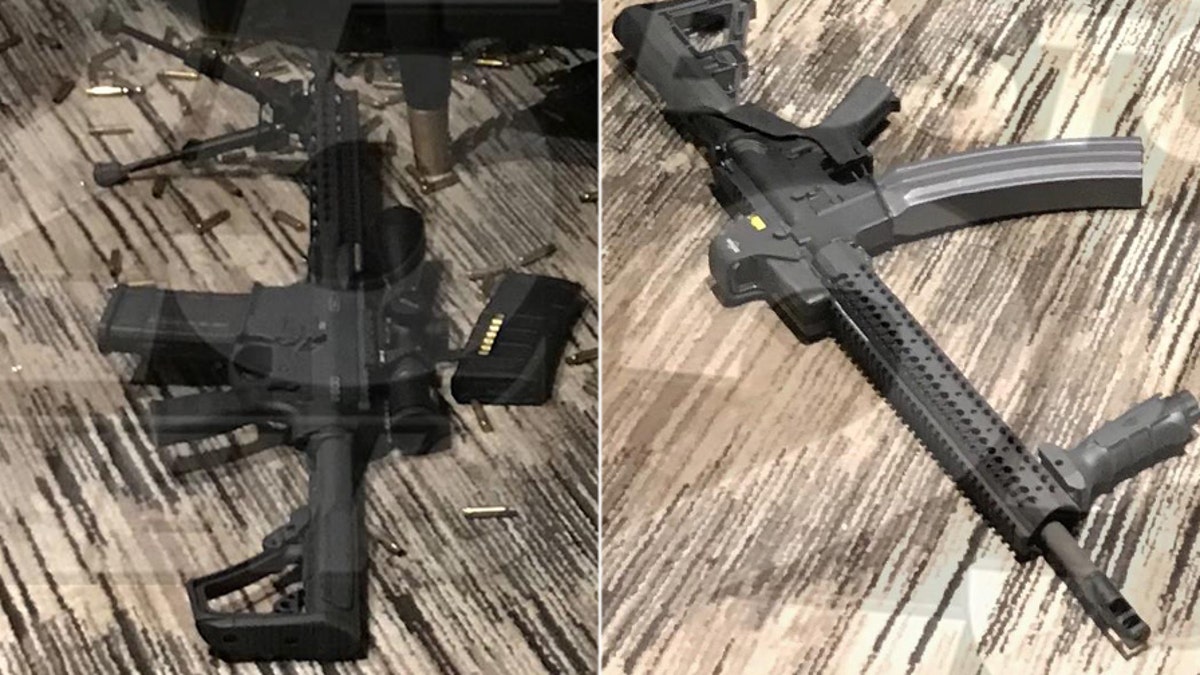 "Bump-firing" is a technique whereby a shooter pulls a firearm forward into a stationary trigger finger. The recoil from firing sends the firearm rearward while the forward pull brings it back into contact with the trigger finger thereby firing the rifle again. "Bump-fire stocks" effectively replace a gun's standard stock, with a mechanism that aids in allowing the rifle to slide back and forth behind a stable trigger finger.
Technically, that means the trigger is being pulled once for each round fired, keeping the weapon a legal semi-automatic.
"The gun is able to articulate in and out of the stock by an inch or so," said Cleckner. "By using the recoil of the firearm, near automatic rates of fire can be achieved."
LAS VEGAS SHOOTING: TECH EXECS, INCLUDING TIM COOK, EXPRESS CONDOLENCES
Two officials familiar with the investigation into the shooting told the AP that Paddock had two "bump stocks." They are investigating whether those stocks were used to modify weapons used in the massacre, according to the officials, who were briefed by law enforcement and spoke on condition of anonymity because the investigation is still unfolding.
"We are aware of a device called a 'bump stock' that enables an individual to speed up the discharge of ammunition," said Clark County Sheriff Joseph Lombardo, during a press conference Tuesday. ATF is evaluating the gun modifications, according to Clark.
A semi-automatic weapon requires one trigger pull for each round fired. With a fully automatic firearm, one trigger pull can unleash continuous rounds until the magazine is empty.
Cleckner also noted that the rifle has a holographic sight, which is typically used for rapid, as opposed to precision, firing. Additionally, the orangeish, brownish tint on the rifle's barrel indicates recent rapid firing.
Paddock had 23 firearms in his hotel room, authorities said Tuesday. The weapons found include a handgun, and at least 10 rifles, several of them with scopes added, according to a report by Axios.
Cleckner identified the second weapon, which has a bipod and a scope, as a Daniel Defense AR-style rifle. "That's a fairly high-end rifle," he said. "You're looking at a few thousand dollars to get one of those."
The firearms expert said it's hard to tell from the picture if the weapon is using .223 or .308 caliber ammunition. The latter, he explained, is better for shooting over longer distances. The presence of a bipod and a scope, however, indicate an intent to take a longer, more precise shot, according to Cleckner.
Cleckner notes that, in most states in the United States, it is legal to purchase an AR-15, provided you are 18 years or older and not a prohibited person, such as a felon. Rifles don't have to be purchased in the buyer's home state of residence, but the rifle has to be deemed legal in both your home state and the state you're buying it in, he explained.
During his press conference Tuesday, Lombardo declined to comment on the legitimacy of images appearing in the media that reportedly show the interior of Paddock's hotel room just after the attack. "I can tell you that I am troubled by it," he said, adding that an investigation has been launched.
Lombardo confirmed that police found cameras located outside and inside the room, which may have been set up to alert Paddock.
The Las Vegas Metropolitan Police Department has not yet responded to a request for comment on this story from Fox News.
The Associated Press contributed to this article. Additional reporting by Fox News' Chris Ciaccia.
Follow James Rogers on Twitter @jamesjrogers