Is there a curved television in your future?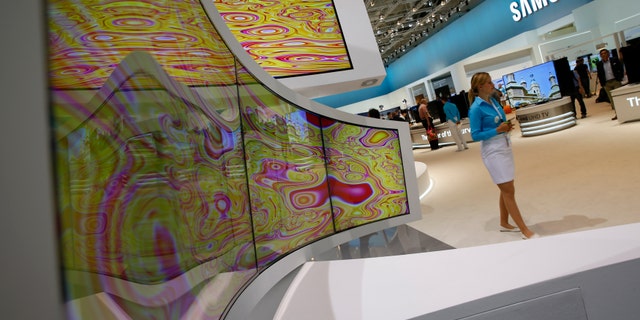 NEWYou can now listen to Fox News articles!
Clouds roll over a green meadow. Someone is running in the field, and the camera swoops down to fill the scene. It's a Hollywood movie, but you feel like you're there, with the rush of wind on your face.
That's the promise of more immersive video entertainment, a combination of incredibly rich color and extremely high-resolution imagery running at 4,000 pixels. But there's still one piece of the puzzle, and it started with a couple of smartphones, Samsung's Round and LG's G Flex).
Curved TVs – which have a slightly rounded look, like the bend of a piece of plastic being pinched on both sides – started shipping about a year ago. But they were a showroom curiosity, a blip on the LCD and LED display landscape that cost north of $15,000 and were available only in limited quantities in specialty stores.
But now curved TVs are going for $3,000 to $5000, and they're rolling out everywhere. You'll be seeing more advertisements for curved TVs this fall. They look different from anything you've seen – but are they worth it?
Understanding the science can help. The human eye has a "field of view" that can take in a scene from far away. Move closer to a building or a tree and the eye tends to block out the field of view and focuses more. A slight curve in your TV screen helps create a wider field of view.
Another advantage has to do with screen glare, the bane of every TV watcher's existence. Place a light behind you while you're watching a flat-screen TV, and you'll see a soft glare. The effect is minimized on a curved television because the curve angles inward toward the center. Watching a curved TV feels more like going to the movies, especially since the latest "ultra" cineplex screens also use a slight curve to create a higher sense of immersion.
Two of the latest models include Samsung's Curved Smart TV 65-inch (HU9000) for $4,500 and LG's Curved OLED TV 55-inch (55EC9300) for $3,500. Each has its advantages.
The Samsung uses the latest video technology for more accurate color reproduction (Pure Color) and a method to enhance contrast levels (Auto Depth Enhancer) that uses computational analysis to adjust contrast on the fly. It also costs more, because it supports 4K video, another major advancement in television technology. But the content is not widely available. There currently are no 4K broadcasts; only Netflix uses the 4,096 x 2,160-pixel standard for a few shows.
The LG uses a new interface developed from the WebOS technology that it acquired from HP last year. A mouse-like remote lets you move a pointer around the screen to select buttons and tap in search terms like "Breaking Bad" much more easily than before. LG also makes 4K curved TVs (the 65EC9700 and 77EG9700) in larger sizes, but you can save a fair amount by opting for HD only (1080p) with the curve, betting the 4K content will not be available anytime soon. (Word is that the Super Bowl may be in 4K next year.)
Both Samsung and LG offer plenty of "smart television" options for watching, say, Netflix and Hulu shows without the need for an external set-top box. For those hungry to start watching 4K video, you can play 4Kvideo clips using the Samsung app for YouTube.com. Also, the Samsung offers a much wider selection of downloadable apps and games, and it comes with two remotes, one of which works more like a mouse.
So are curved TVs worth the cost? The short answer is yes. Images pop out, and it's almost like watching 3D. The curve helps. Maybe by next fall they'll be even more affordable – and ready for a 4K revolution.