How drones lit up the sky in Lady Gaga's Super Bowl halftime show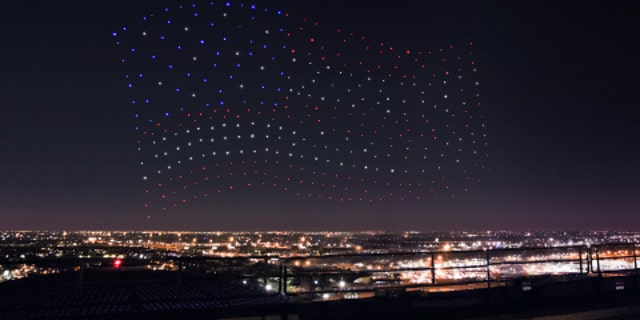 Some 300 drones lit up the sky in a spectacular synchronized display during Lady Gaga's Super Bowl halftime show Sunday.
The stunning light show kicked off Lady Gaga's eagerly-anticipated performance with the drones creating eye-catching formations in the night sky. At one point the drones looked like twinkling stars before transforming into red and blue moving stars, creating an American flag.
SUPER BOWL LI WILL TAP TECH TO GIVE VIEWERS A PLAYER'S POV
Specially-designed for the entertainment industry, the drones are the brainchild of tech giant Intel. The quadcopters are equipped with LED lights that can create over 4 billion color combinations and can be easily programmed to create any animation, according to the Santa Clara, Calif.-based firm.
"Lady Gaga and the Super Bowl creative team wanted to pull off something that had never been done before and we were able to combine Intel drone innovation with her artistry to pull off a truly unique experience," said Josh Walden, senior vice president and general manager of Intel's New Technology Group, in a press release. "The potential for these light show drones is endless and we hope this experience inspires other creatives, artists and innovators to really think about how they can incorporate drone technology in new ways that have yet to even be thought of."
MACY'S FOURTH OF JULY FIREWORKS TAP TECH TO LIGHT UP SMARTPHONE SCREENS
However, with a Federal Aviation Administration drone ban in place over Houston's NRG Stadium during the Super Bowl, Wired reports that the display was filmed earlier in the week, well before the big game.
Intel's Shooting Star drones have already been used by Disney to create light shows. Last year Intel also flew a synchronized fleet of 500 Shooting Star drones in Germany, setting a Guinness World Record for the most Unmanned Aerial Vehicles (UAVs) airborne simultaneously.