Hershey to make 3-D chocolate printer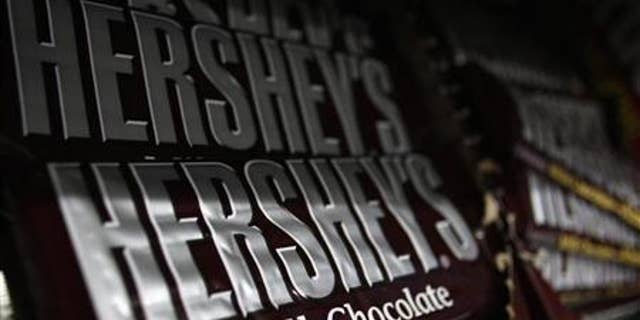 The Hershey Company is partnering with a 3-D printing company to develop ways for businesses and consumers to use 3-D printing technology to produce confectionery treats.
The company reached a multiyear joint development agreement with South Carolina-based 3D Systems, which recently unveiled 3-D printers that produce edible sugar and chocolate at the International Consumer Electronics Show, The Wall Street Journal reported Thursday.
"Whether it is creating a whole new form of candy or developing a new way to produce it, we embrace new technologies such as 3-D printing as a way to keep moving our timeless confectionery treats into the future," William Papa, Hershey's vice president and chief research and development officer, said in a statement.
A spokesman from 3D Systems told the newspaper the company is currently working on developing flavors, including chocolate. The company's ChefJet 3-D printer, which can print single colors, is expected to price below $5,000 when it hits the market later this year. The full-color ChefJet Pro is expected below $10,000.
"It's a first of its kind deal and an only of its kind deal," he said.
The spokesman said the printers are for professional use in high-end bakeries, cake shops and for special events. The company has developed a "Digital Cookbook" for customers to design and develop products with various flavors and recipes, according to the report.
"We fully intend for this to come to the consumer as well," the spokesman said.
The Journal reported that Hershey has been focusing on growth efforts through acquisitions, including the purchase of Brookside, which produces dark chocolate with fruit-juice centers.
Pacific Crest Securities analysts said in a research note last month that the 3-D printing sector will see rapid growth through 2020, but that "rapid consumerization" is not expected until 2017 to 2022, when costs come down, according to the report.
"I don't think printing candy bars in the traditional mass market sense will be feasible for a long time," Weston Twigg of Pacific Crest told The Wall Street Journal.
"3D Systems is working on a continuous throughput printer though, so someday it could be possible to have small 3-D printing manufacturing lines for reasonably large production runs," Twigg said. "More likely in the mid term, we might see some type of system that can be put in retail locations where consumers could go in and customize some type of candy and print it out. You could imagine custom Valentine's Day candies or that sort of thing."