Grizzly bear steals GoPro camera, shoots up-close video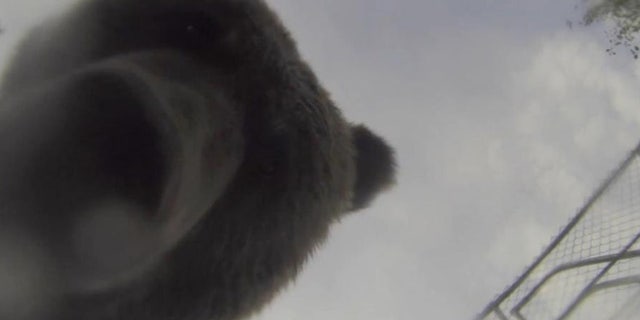 GoPro cameras have been touted for their durability. They have been known to survive freezing temperatures, 12,300-foot drops, and even some curious pigs. Now, the small, easy-to-use camera that has become a favorite among the likes of adventurers and amateur filmmakers has been put to the ultimate test – an encounter with a grizzly bear. In a YouTube video posted by British visual ecologist John Kitchin, a young female grizzly bear takes his camera and proceeds to give an up-close-and-personal view of what it might be like to be swallowed alive by the North American giant.
Kitchin was interviewing bear biologist Melanie Clapham in Glendale Cove in British Columbia, Canada, and the two were observing the bear with its mother and sibling on an above bridge where the camera was stationed. It was the perfect spot for the bear family – the bridge crosses over a salmon-friendly river.
After peering at Kitchin and Clapham, the bear's attention was drawn to the GoPro.
"No longer interested in us people, she grabbed the camera and walked off," Kitchin told Global News. She dropped it but came straight back and then took it to the other side of the bridge to have a little chew on it."
In the video, viewers can see the bear's sharp claws and teeth, its large sniffing nose, and roving eyes.
For Kitchin, a wildlife photographer and filmmaker who is working toward a self-funded Ph.D. in human-animal interactions, the footage offered a typically unseen glimpse of the impressive animal.
"The point of view is just incredible – her roving eye, the dexterity of her nose, her family peering to see what she has … it's the closest I've ever been to a grizzly bear," he said.
Ready for her close-up, the bear took a big bite out of her 15 minutes of fame. While the camera survived, its screen is cracked and is held together by duct tape.
Kitchin has been dedicating himself to raising awareness about the animals that he feels are mistreated. On his personal website, he posted an image of himself outdoors posing with a photograph he shot of a bear, meant to counteract the tradition of hunters posing with their "trophy kills." Kitchin has been posting submissions from other photographers, engaging with them on social media using "#ishotagrizzlybear" and "#stopthehunt."
"Their behavior is endlessly fascinating, and we are just beginning to see and record some things that nobody else has ever explored," Kitchin said.
At least this one bear proved to be rather tech-savvy.
"I'd love to give all the bears cameras if the footage was that great every time," Kitchin said. "It's just a shame she had to chew the thing."