Google, social media both big winners in third presidential debate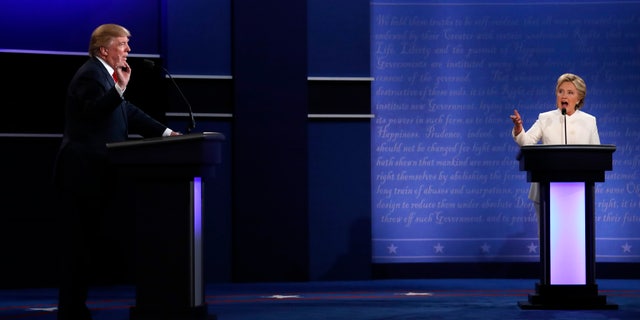 The third and final presidential debate between Donald Trump and Hillary Clinton in Las Vegas, Nev. on Wednesday night had people flocking to search engines and social media to share their favorite moments, research terms and organizations, and fact check the candidates on everything from Iraq to the Clinton Foundation.
Trump came out swinging, pointing a finger at Democrats for causing violence at his rallies and saying: "Just like if you look at what came out today on the clips, where I was wondering, what happened with my rally in Chicago and other rallies where we had such violence? She's the one, and Obama, that caused the violence."
That was a reference to recordings by activist James O'Keefe, president of the Project Veritas organization, who took to Twitter to point out the connection.
The discussion between the two candidates also touched on WikiLeaks and Russian hacking, and Clinton also asked viewers to turn to Google regarding Trump's views on Iraq.
Google Analytics published its analysis of search trends after the debate. According to the search engine giant, the top two fact-check questions asked about Trump, the Republican nominee for president, were: "Did Donald Trump support the invasion of Iraq?" and "What did Justice Ginsburg say about Trump?"
As for Clinton, the top two fact-check questions about the Democratic nominee for president were: "What is Roe vs Wade?" and "What happened at the Clinton foundation?"
Google also reported that Trump "won the battle in search tonight."
As for social media, Twitter reported via its Twitter Government account that the biggest three tweeted moments from the debate were regarding women, Trump not promising to accept the election results, and Russia and nuclear weapons.
According to Twitter, Clinton gained more followers during the debate than Trump did by a margin of about 7,000, but Trump had a bigger "share of Twitter conversation."
And a tweet by Trump about Putin was the most retweeted tweet of the night, according to Twitter.
Nearly 18 million people turned to Facebook to share their feelings about the debate, generating almost 80 million "likes, posts, comments and shares related to the third and final presidential debate," according to data shared with FoxNews.com by a Facebook spokesman.
The top topic on Facebook related to the debate touched on Iraq, Syria, and ISIS, followed by Russia and Ukraine, and then abortion, immigration, and WikiLeaks.
According to Facebook, Trump's share of the conversation on the social network was 56 percent, compared to Clinton's 44 percent.