Google Buys Zagat, Gambling on Local Info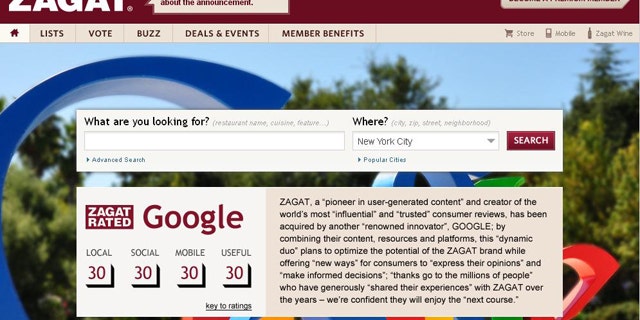 Google just swallowed another one.
The Internet giant on Thursday announced its latest acquisition -- restaurant-review service Zagat -- as it moves to convince users that the company with the funny name is more than just a worldwide search engine. Google can connect people with local businesses, too.
With coupon sites such as Groupon exploding and local news sites on the rise, industry analysts agree that local and social markets are among the fastest-growing areas in technology -- and a space Google clearly wants to emphasize.
In a blog post Thursday announcing the purchase, Marissa Mayer, Google's vice president of local, maps and location services, said Zagat "will be a cornerstone of our local offering."
The founders, husband and wife team Nina and Tim Zagat, said they will remain co-chairs of the 32-year-old company and will use Google's resources and expertise to expand. Zagat currently offers reviews and ratings on restaurants in more than 100 cities around the world, based largely on surveys of diners.
Google plans to integrate New York-based Zagat with its search and mapping products and the Google Places service, where users are already invited to write reviews of businesses and services.
"This underscores Google's local and mobile initiatives," Brian Fitz, an analyst at UBS, told Reuters. Last year, Google moved Marissa Mayer, a top search executive, to head its local initiatives.
The Web may connect the world, in other words -- but the backyard means big bucks too.
In its more than 32-year life, Zagat has gained the reputation of being a go-to for surveys, reviews and recommendations for restaurants all around the world, FoxBusiness noted. The company operates in 13 categories in more than 100 cities and provides information to customers through various platforms, from the web to pocket-sized maps.
Shares of restaurant reservation service OpenTable dived more than 11 percent, or $6.90, on the news, FoxBusiness reported.
BGC Partners analyst Colin Gillis said the purchase was smart. He described Zagat as the little brother of Yelp, the leading online review site and a pioneer in a space that was founded in 2004.
Google attempted to buy Yelp in 2009, at one point offering half a billion for the company, according to numerous published reports.
The Associated Press contributed to this report.