Google Apps get 'Star Wars' makeover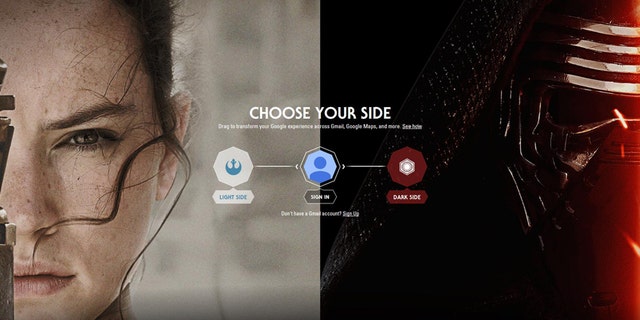 Get ready to welcome The Force into your life. Google has given a Star Wars makeover to its most popular apps, which now feature plenty Easter eggs to get fans excited for the impending release of Star Wars: The Force Awakens.
Thinking of trying out the new feature? As a wise man once said, "Do. Or do not. There is no try." To experience the changes, you'll have to go to the Google Star Wars site and pick a side (Light or Dark).
MORE: The Best Star Wars Gadget Gifts
Since I was nicknamed Darth Vader at school due to my unfortunate helmet-shaped hair at the time, I picked the dark side. Google laid a red cast over my profile picture, as if condemning me to an eternity on the Death Star. Aside from giving you a fun, shareable avatar, Google's Star Wars skin affects a handful of major apps, such as Android Wear, Chrome, Gmail, Maps and YouTube.
Some of these have more obvious changes, such as a lightsaber loading bar when Gmail is starting up and a picture of The First Order replacing my inbox background, while others are more subtle.
If you haven't noticed any changes yet, I find your lack of faith disturbing. YouTube looked unaffected at first, until I noticed a glowing lightsaber replacing the app's usual red progress bar. The lightsaber will be blue or red depending on your allegiance, and you'll even hear the weapon's iconic noises as you watch a video.
Google says that once you've chosen a side, it may take a few hours "for the Force to awaken within all your apps." For Chrome, Gmail and YouTube, changes can only be seen on a desktop, while everything else can be experienced on your phone as well. Work, Education and Government accounts will not see the changes.
If you regret the side you've picked, you can simply go back to Google's Star Wars page and drag your avatar to your desired side. You can also go back to your regular Force-free Google experience by dragging your avatar to the middle and clicking Back To Default. There are likely tons of hidden Star Wars goodies in your Google apps that we haven't discovered yet, so get out there and explore before the program ends whole program ends on Feb. 1, 2016.