Go on stage at Carnegie Hall with Google's new performing arts exhibition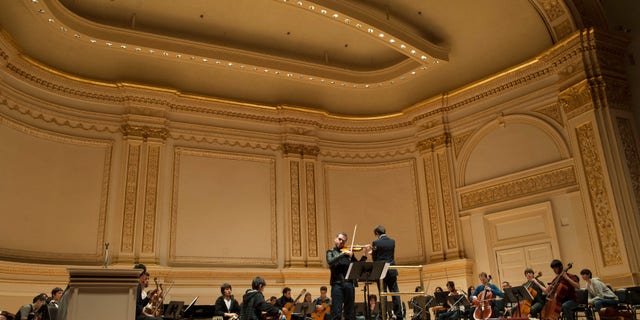 Playing on the much coveted stage of Carnegie Hall is the stuff of most musicians' dreams, but if practice doesn't get you into one of the most venerable venues of all time, now technology can. In a true triumph of culture and innovation, the technology giant has introduced a new virtual exhibition from Google Cultural Institute, an immersive 360-degree experience that places the user not only at Carnegie Hall, but also with the Berliner Philharmonie, the Bolshoi Theatre, and many more. Now, you can step on stage with the performing arts, and take a trip through this remarkable world of creativity from the same vantage point as the performers themselves.
The new initiative, launched Tuesday, features more than 60 performing arts organizations, all of which fall into one of five categories: music, opera, theater, dance, and performance art. Offering the digital equivalent of an all-access VIP pass, the Google experience provides not only the historical background and significance of many of these groups, but also unique vantage points that are only possible by way of decades of training -- or modern day technology.
Even if you've experienced some of these cultural landmarks in person, the exhibitions allow for insights as never before. "Wander through the wig workshop at Brussels' opera house," a Google blog post about the initiative notes, "Look beneath the stage at the historic underground arches of the Fundao Teatro Municipal in So Paulo, or zoom in on ultra-high resolution Gigapixel costume images at France's National Centre for Stage Costume, before browsing more than a hundred interactive stories about the shows, the stars and the world behind the scenes."
Providing an intimate look at some of the art world's most beautiful moments, the performing arts exhibition lets you choose either a dancer's view of the crowd, standing in the middle of a stage during a performance at the Paris Opera, or a seat with the woodwinds and strings at Carnegie Hall as Maestro Nzet-Sguin conducts.
With many arts organizations reporting a decline in ticket sales, not to mention the considerable reduction of the National Endowment for the Arts' budget, the introduction of technology to virtually expand audiences is being heralded by many as a potential lifesaver for the industry at large. "We thought it would be a good fit for experimenting with 360 video … with the combination of scheduling availability, artistic partnership, and openness to explore new technology," said Carnegie Hall chief digital officer Chris Amos.
And with Google bringing these once-in-a-lifetime performances to audiences' homes, the heyday of the performing arts may be just around the bend.