Flirting app Skout shuts down teen site to protect kids from adult predators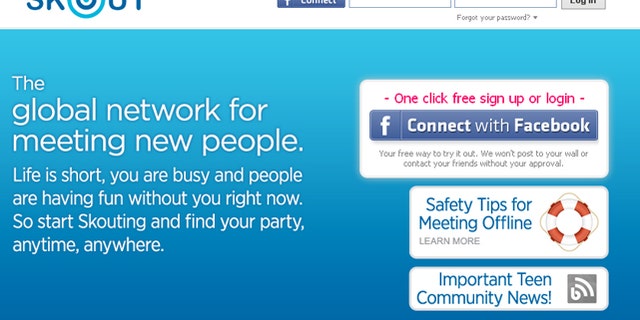 A mobile app that helps flirty users connect with others nearby has shut down service for minors after a third teen was allegedly raped by an adult predator using it.
Skout, a San Francisco-based company that has connected millions of users from more than 100 countries worldwide since 2007, announced the change on its blog Tuesday after a 21-year-old Wisconsin man allegedly raped a 13-year-old boy he contacted through the app. The company had already sought to protect young users by creating a separate service for 13- to 17-year-olds, but was apparently unable to keep adults from posing as kids.
"It's become clear to us that these measures aren't enough," Christian Wiklund, the company's founder and chief executive, said. "In recent weeks, we've learned of several incidents involving a few bad actors trying to take advantage of some of our younger members ... We know how much Skout means to our teen community, and, at Skout, our community means everything to us. For now, we believe that there's only one thing we can do: until we can design better protections, we are temporarily shutting down the under-18 community."
The company had tasked a quarter of its employees to monitor the underage community, including chats and profiles, using advanced algorithms to find inappropriate content and behavior. But now, even with the teen version shut down, there's still no foolproof way to prevent teens from lying about their age to use the adult version of the app, or any other number of social media sites, a company spokeswoman told FoxNews.com.
"It's an industry-wide problem," the spokeswoman said regarding false ages and identities, adding that profiles are manually checked by at least four employees.
Using a zero-tolerance policy, company officials said "tens of thousands" of the devices associated with problem users are banned each month for suspicious or inappropriate behavior.
"In recent weeks, we've learned of several incidents involving a few bad actors trying to take advantage of some of our younger members."
In each case, men allegedly posed as teenagers in a Skout forum for 13- to 17-year-old users to connect with the teenage victims.
— In the most recent incident, a Waukesha, Wis., man posed as a teenager to lure a 13-year-old boy to a nearby park for a sexual rendezvous, according to a criminal complaint. Daniel Schmidt, who allegedly sent the boy pictures of his genitals, was charged on June 5 with one count of second-degree sexual assault of a child and faces up to 40 years in prison if convicted, according to the Muskego Patch newspaper.
— Last month, a Portsmouth, Ohio, 15-year-old was allegedly raped by a 37-year-old man who posed as a teenager on Skout and promised to give her a ride to meet her boyfriend in Ashland, Ky., according to the Scioto County Sheriff's Office. Gene Zimmerman, who police said used the screen name "Bubbles," has been charged with first-degree rape, the Portsmouth Daily Times reports.
— Also last month, after a 12-year-old Escondido, Calif., girl disappeared, police checked the girl's cellphone records and found that she met someone through the mobile app. The girl was later found at the home of Christopher Bradley Nutt, 24, according to police, who say he had sex with the underage girl.
Skout, according to its website, seeks to preserve the "magic of serendipitous meetings" by using a mobile device to find new friends at a local bar, concert or perhaps during a foreign tour. While predators have long used the Internet to lure kids, Skout's GPS-enabled technology allows them to seek nearby potential victims. Wiklund said the company is trying to find a way to provide the service to kids without putting them in danger.
As of early Friday, more than 1,300 users responded to Wiklund's posting, with a majority of postings inquiring about when the service for minors will be restored.
"Why would you make all of us suffer for what only a few people did?" one response read. "Some of [us] were making friends that were becoming important to us and now we have no way of contacting them due to this unfair decision."
Another posting read: "A little forewarning would have been nice. I had phone numbers in chats that I now can't access because the service has been terminated."
Late Wednesday, Wiklund posted an update to his blog post, saying he was "deeply touched" by the responses.
"Rest assured, we are working around the clock on this," Wiklund wrote. "While we are making good progress on building new features that will enhance Skout's safety — we are not quite there yet. Please, bear with us and hang in there!"