Facebook Removes Page That Demanded 'Third Intifada' Against Israel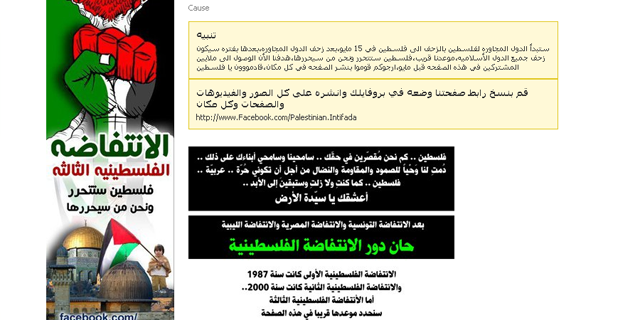 Facebook has removed a page calling for a 'Third Palestinian Intifada" against Israel following complaints from the Anti Defamation League -- and widespread outrage over its anti-Semitic message.
The page, which had attracted more than 340,000 fans, called for Palestinians to take to the streets after Friday prayers on May 15 against Israel's Jewish population. "Judgment Day will be brought upon us only once the Muslims have killed all of the Jews," read the call, according to a report in Haaretz.
Facebook confirmed to FoxNews.com that the site had been removed.
"We continue to believe that people on Facebook should be able to express their opinions, and we don't typically take down content that speaks out against countries, religions, political entities, or ideas," Andrew Noyes, a spokesman for Facebook, told FoxNews.com. He said the social network would continue to take down pages that issue "direct calls for violence or expressions of hate."
Noyes also explained that the site, removed for its hateful and violent vitriol, once pushed a Ghandi-esque message of peaceful protest.
"The 'Third Palestinian Intifada' began as a call for peaceful protest, even though it used a term that has been associated with violence in the past," Noyes explained. "After the publicity of the page, more comments deteriorated to direct calls for violence. Eventually, the administrators also participated in these calls.
"After administrators of the page received repeated warnings about posts that violated our policies, we removed the page," he told FoxNews.com.
The owners of the page were unavailable for comment.
The Anti Defamation League (ADL) filed an official complaint against Facebook on Friday for allowing the page to remain up, calling it "an appalling abuse of technology to promote terrorist violence." On Monday the group applauded the removal of the page, calling it a welcome development.
"We applaud Facebook's willingness to continue to engage and consider this important question and we deeply appreciate their responsiveness," said Abraham H. Foxman, national director of the ADL, in a statement posted to the group's website. "As it continues to monitor its pages, Facebook should be able to apply this standard in response to complaints about other pages with similar content."
"We hope that they will continue to vigilantly monitor their pages for other groups that call for violence or terrorism against Jews and Israel," he said.