Facebook launches new Gift feature for all US users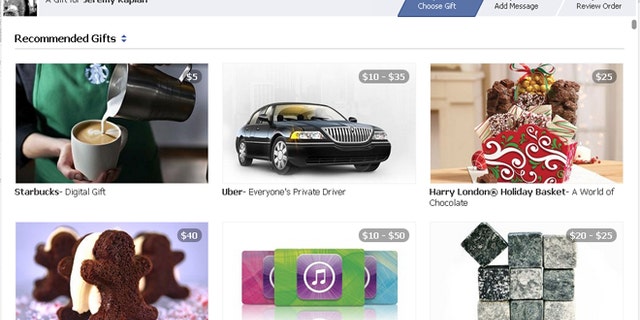 Facebook today opened its new Gifts feature to all of its users in the U.S. just in time for the holiday season. The service, which allows users to buy presents for their friends through the social network, has been tested by tens of millions of members over the past two months.
The billion-user strong network has wooed an impressive list of partners, which includes babyGap, Brookstone, Dean & Deluca and Random House. Last month, the company added a wine category, iTunes options, as well as an extensive list of charities. Users can make donations to the Red Cross, St. Jude's Children's Research Hospital or the Robin Hood Foundation's Hurricane Sandy fund.
Users can send a gift to a friend by clicking on the icon that now appears on everyone's timeline, choosing a gift and entering their payment information. The recipient will then enter in their shipping address and from there, can even exchange sizes, style or color, depending on the gift type.
Facebook believes the new feature will leverage the countless birthday wishes and words of congratulations exchanged daily and hopes the extra income will supplement its advertising and gaming revenue, just as its stock price has started to gain steam after a troubled IPO.
Gifts will also enhance the network's information reach. Until now, the majority of credit card numbers on Facebook came from its hardcore niche gaming industry.
"I would expect Facebook to use this holiday season as their litmus test, to better understand how consumers feel about giving gifts from within a social context," Gartner analyst Brian Blau told the Times two weeks ago.