DSEI: Meet the military fast attack boat that sails itself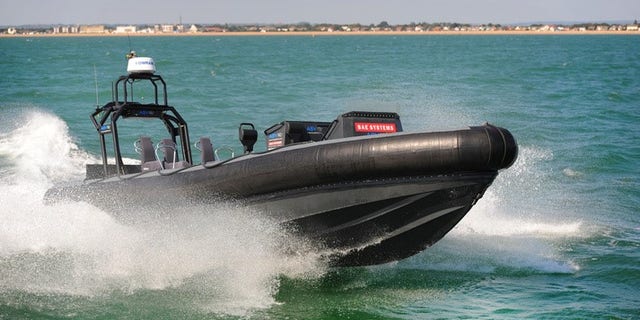 NEWYou can now listen to Fox News articles!
If you have seen a Navy SEAL movie or TV show, then you've definitely seen a RIB – Rigid Inflatable Boat - used on "missions" where they rapidly insert from a warship to land and execute a secret, intense mission. Or maybe you've seen SEALs charging through the surf on one and then launch an attack on a larger enemy vessel.
But you've never seen a boat like this ... because this is a global first reveal that went down this week at DSEI, the largest military tech show in the world.
BAE Systems revealed for the very first time what its new cutting-edge Pacific can do. And this boat has been tearing up the Thames and astounding onlookers – without a single human onboard.
Pacific 950 is a very, very smart boat. It is the result of a collaboration between BAE Systems and unmanned specialists ASV with support from folks like Deep Vision and Chess Dynamics.
Think of it as a sort of robotic – just like how drones fly the skies, this drone boat carves through water.
DSEI: 'SPIDERMAN' WEB SHOOTING-STYLE DRONE REVEALED
Configurable in a bunch of different ways, it can be tailored to suit a specific type of mission – and sail itself from start to finish.
This sort of innovative tech could be handy for a range of missions like boarding, raids, providing fire support, insertion of teams and more.
PODCAST: Hear how SEALS Fire out of Torpedo Tubes from this SEAL Team 6 vet
Take the recent terrible hurricanes that have struck the U.S. … there are also lots of humanitarian applications for this tech in natural disasters, for example. These smart RIBs could sail themselves to help rescue civilians who have become trapped in flooded areas.
Why RIBS?
Militaries use rigid inflatable boats, commonly referred to as "RIBs." Special Operations teams work with them a lot.
Special Forces have special requirements to do their job and the Pacific 950 has been designed from the ground up specifically to meet the needs of special operations.
DSEI: WHERE THERE WORLD'S MILITARIES WINDOW SHOP
Pacific 950 is ultra clever and versatile RIB that at the mere flick of a switch can shift from being operated by a human team onboard to sailing itself.
This new boat can also be remote controlled or just used like a regular manned RIB.
The craft can provide lots of additional advantages, like combining rapid acceleration with the power to carry heavy payloads. In fact, it can carry about 2 tons effortlessly. Pacific 950 offers lots of flexibility reconfiguring for different missions and can easily deploy from aircraft and naval vessels.
The tech can even be retro-fitted to other boats to make them "smart" and self-operating or remote controlled too.
What does it look like?
The black boat is about 31 feet long with a 10-foot beam.
SEALS, TUCANO PLANES AND MORE THAN 3,300 POUNDS OF WEAPONS
These sorts of boats often have to tackle tough and long missions so the hull form has a special deep V shape. This shape helps to protect the team and reduces the slamming effect.
The craft layout features large, flat, open decks. There's a stern ramp access to the water so that a team can launch and recover specialist equipment.
Engines, speed and power
Rapid acceleration is important for missions like boarding an enemy vessel or a rapid, stealthy insertion onto land, for example.
So what kind of speed and power can this new, smart RIB give a team?
The Pacific 950 can accelerate from 0-30 in 10 seconds flat and can travel at speeds of about 45 knots. It has a range of 180 nautical miles.
This Pacific 950 can get its speed and rapid acceleration from two supercharged/turbocharged inboard diesel engines.
Weapons
Weapons, like 7.62mm and 12.7mm machine guns and 40mm grenade launchers, can be mounted easily both forward and aft.
SOUND WEAPONS THAT DELIVER INVISIBLE AMMO IN SPOTLIGHT AFTER AMERICAN DIPLOMATS INJURED
And it can also carry useful things like communications and battle space management equipment so in a way it could be deployed as a floating command center.
PODCAST: Trigger Time with this Special Forces Expert Marksman
What's it made out of?
To be suitable for missions, it needs to be super strong, but also lightweight, so the Pacific 950 is made of different advanced materials like e-glass and carbon fiber.
The Pacific 950 can be deployed by land or from a warship at sea.
But it can also be deployed from the air, this means that the material has to be strong enough to withstand being dropped from a fixed wing aircraft or helicopter in the air into the water.
Royal Marines and the Smart RIB
Those permitted to attend DSEI were given dynamic demonstrations - seeing for the very first time just what the robo-RIB can bring to a mission on a practical level.
Operating by itself, Pacific 950 supported the Royal Marines boarding a Type 23 vessel.