Donald Trump won't be using the POTUS Twitter account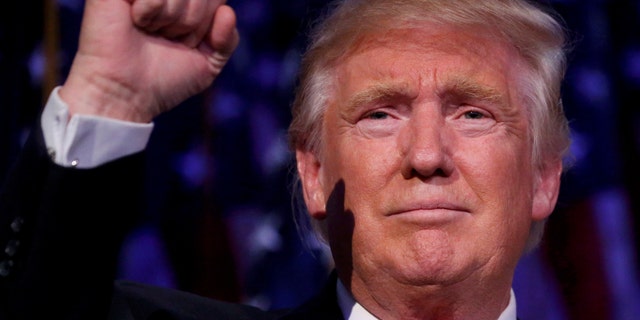 NEWYou can now listen to Fox News articles!
Donald Trump plans to keep using his personal Twitter account, the president-elect confirmed in a weekend interview, noting that he "can go bing bing bing" and make national news using his social media accounts.
"@realDonaldTrump I think, I'll keep it," Trump told the Times of London in the interview published Monday, saying he won't personally be taking over the @POTUS account used by the president.
"I've got 46 million people right now — that's a lot, that's really a lot — but 46 million — including Facebook, Twitter and ya know, Instagram, so when you think that you're 46 million there, I'd rather just let that build up and just keep it @realDonaldTrump," he added, referring to the cumulative followers he has across all social media platforms he uses.
Trump admitted that he thought he'd be utilizing social media less frequently but claimed "it's working."
"I thought I'd do less of it, but I'm covered so dishonestly by the press — so dishonestly — that I can put out Twitter — and it's not 140, it's now 280 — I can go bing bing bing . . . and they put it on and as soon as I tweet it out — this morning on television, Fox — 'Donald Trump, we have breaking news,'" the president-elect said.
On Twitter alone, Trump has 20 million followers. By contrast, the @POTUS account has 13.5 million.
However, Trump's Twitter account is not the most followed presidential account. Barack Obama's personal account, @barackobama, boasts 80.6 million followers.
This story originally appeared on The New York Post.