Copter Wars! Revolutionary Winged Craft, Latest Flying Oddity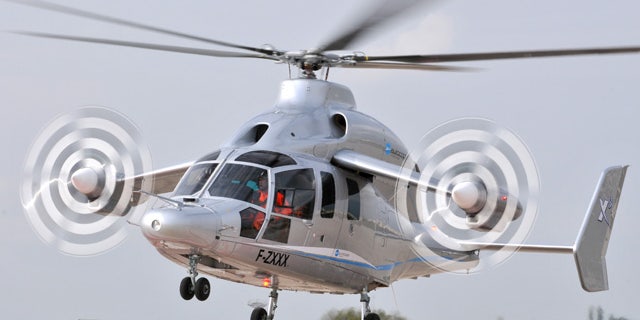 The copter wars are here!
On Monday, European group Eurocopter showed off a revolutionary winged helicopter in a bid to counter U.S. rival Sikorsky's efforts to break the speed barrier by rewriting rotorcraft design rules. Which weird winged copter will win?
The X3 hybrid helicraft -- which combines forward-facing propellers astride two short aircraft wings with the familiar overhead rotor blades seen on any normal helicopter -- was unveiled following months of secrecy.
The half-plane, half-helicopter design aims to overcome chronic obstacles to high-speed helicopter flight by combining the advantages of fixed-wing aircraft with those of a standard helicopter -- allowing it to fly at 220 knots or 400 km/hour.
The move by the world's largest civil helicopter maker came less than two weeks after United Technologies unit Sikorsky claimed an unofficial speed record of 250 knots (460 km/hour) with its own avant-garde prototype called X2.
Today's helicopters typically cruise around 130-40 knots.
Eurocopter, part of European aerospace group EADS, said its X3 hoverplane, sporting black-and-white striped propellers, had first flown on September 6 at a closely guarded military test base.
"We just wanted a place where we knew we were alone, no plane spotters," Eurocopter chief executive Lutz Bertling told Reuters, adding Eurocopter had paid the French defense ministry for the right to use army facilities even though the project was so far funded entirely out of the company's research budget.
Sikorsky's X2 made its maiden flight in 2008.
In an operation echoing the secrecy of the project itself, reporters were briefed at Eurocopter headquarters, transported to one base by helicopter and bussed to another where no-one except test crew had seen the new hoverplane, sitting in an isolated hangar after its first flight three weeks ago.
The announcement confirmed the existence of the X3 for the first time after Reuters reported Eurocopter's plans to unveil it on Friday, ending months of speculation.
NO TAIL ROTOR
The extraordinary secrecy reflected fierce competition between helicopter makers to deliver more speed without losing efficiency, a potential source of future profit.
Under current helicopter designs, rotor tips approach supersonic speeds when pushed to fly too fast and this can threaten the stability of the base of the rotor, executives said.
Helicopter makers have devoted years of research to solving the problem, but typically the faster a helicopter flies, the less efficient it is when hovering and vice-versa.
The Sikorsky solution features two main rotors atop the cabin, which spin in opposite directions. That both neutralizes the spinning force applied to a traditional single-main-rotor helicopter and provides a speed boost.
One thing the European and U.S. machines have in common is their new design eliminates the need for the sideways tail rotor used to stabilize traditional helicopters.
Bertling said the X3 concept would be more cost-efficient for heavy helicopters than competitors, which also include the existing Bell Boeing V22 tilt-rotor aircraft.
"All big helicopter manufacturers are looking for more distance and more speed," Bertling told reporters. "It only makes sense to increase speed if in the end what you gain is not over-compensated by increased cost."
The X3 is, for now, simply a technology demonstrator meaning that, if successful, the concept can be applied to helicopters which could be sold in their usual form or with X3-type wings.
Eurocopter refused to give figures on development costs or market potential but said such a helicopter might typically cost 20-25 percent more and go 50 percent faster than a normal type.
Target markets include long-distance search and rescue, inter-city shuttle services or military uses including special forces operations. The wing-mounted propellers would be disengaged when the helicopter lands to avoid injury.