Double-Bladed Chopper Flies 300 MPH -- a World Record?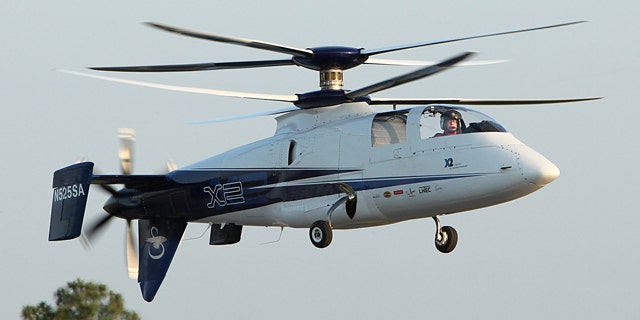 A wild new design for helicopters is proving successful -- and may set an official air speed record.
According to Sikorsky, which manufactured the futuristic X2 helicopter, the chopper flew a blistering 250 knots during testing on Wednesday, and reached 260 knots (or 300 mph) during a controlled dive.
"The aerospace industry today has a new horizon," said Sikorsky President Jeffrey P. Pino. "The X2 Technology demonstrator continues to prove its potential as a game-changer, and Sikorsky Aircraft is proud to be advancing this innovative technology and to continue our company's pioneering legacy."
The old rotary-wing air speed record of 249 miles per hour had been set in 1986, and the new design clearly exceeds those speeds, having already bested the quarter-century old record handily in early August -- earning it the unofficial title of fastest helicopter on the planet.
But without a representative from the the National Aeronautic Association on hand, the official record for a helicopter still belongs to the British-made Westland Lynx ZB-500, flown by John Egginton in 1986, at a paltry 216 knots, or 249 mph.
"Our primary key performance parameter has been met," said Jim Kagdis, Program Manager for Sikorsky Advanced Programs. "The 250-knot milestone was established as the goal of the demonstrator from its inception. It's exciting to imagine how our customers will use this capability."
How fast it will ultimately go still remains to be seen.
"The aircraft is doing a little better than predicted," the chief test pilot said in a conference call with reporters, adding that the X2's top speed could be 15 knots faster.
Ultra high speeds have traditionally posed problems for helicopters due to the complex aerodynamics of moving rotor blades, such as those on the tail that counter the torque of the main rotor. Sirkorsky has addressed this issue with a six-blade, rear-facing propeller that generates thrust in a manner similar to fixed-wing aircraft.
Most important, Sirkorsky has been able to integrate these speed enhancements without compromising other flight qualities such as hovering, handling, and smooth transitioning from low to high speeds.
Sirkorsky believes that there will be many relevant applications for a well-rounded high speed chopper, such as high speed transport in remote locations. But at this time there are still no plans for a production version.