ConnecteDevice Unveils the Cookoo Connected Watch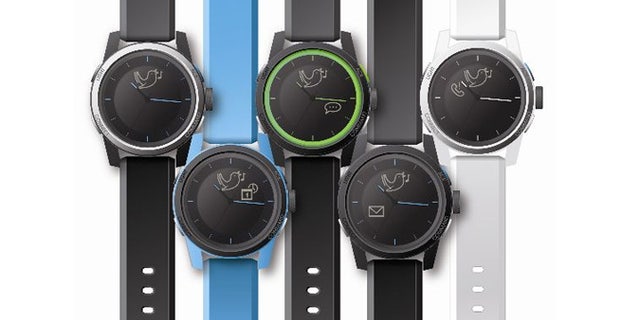 NEWYou can now listen to Fox News articles!
If you're the proud owner of a sleek but somewhat large smartphone like the HTC One X, you know that digging into your pants pocket to check if you've received a text message or an email can be a pain. Thankfully, the folks at ConnecteDevice understand your suffering, and have built a simple but stylish Bluetooth-powered watch designed to let you know when you've received a new notification, even when your phone is out of sight. Although the Cookoo is still in the process of being crowd-funded through Kickstarter, ConnecteDevice has released some details of their forthcoming connected watch.
Compatible with Bluetooth SMART READY devices such as the iPhone 4S, new iPad and Samsung Galaxy S III, the Cookoo displays icons corresponding to the type of alert you received (for instance, a tiny bird for Twitter), as well as a small beep or vibration. The watch can be customized to display alerts of your choosing - so if you don't care to be notified when you receive a Facebook message, simply turn that alert off.
The Cookoo works with its very own Connected App, which allows users to find their phones, check in using apps like Facebook or tag their location. The watch is also fully water resistant, so you can stay connected even when you're relaxing in the pool. Perhaps most impressively, ConnecteDevice says that the Cookoo will never need to be recharged - its button-cell battery will last up to a year before needing to be replaced.
The Cookoo will come in a variety of colors including black, brushed stainless on black, and blue on black. ConnecteDevice expects the watch to retail for $99.95, with color editions (blue and white) retailing for $129.