Cities Increasingly Turn to 'Trash Police' to Enforce Recycling Laws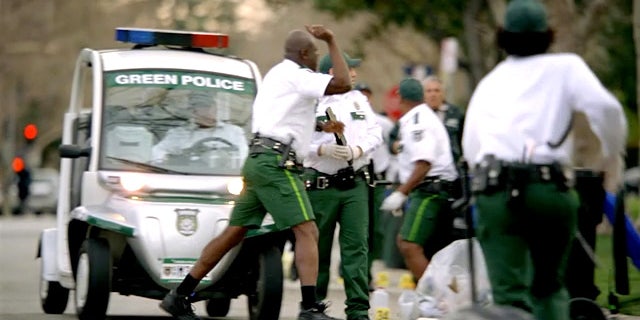 Beware the green police. They don't carry guns and there's no police academy to train them, but if you don't recycle your trash properly, they can walk up your driveway and give you a $100 ticket.
They know what's in your trash, they know what you eat, they know how often you bring your recycles to the curb -- and they may be coming to your town soon. That is, if they're not already there.
In a growing number of cities across the U.S., local governments are placing computer chips in recycling bins to collect data on refuse disposal, and then fining residents who don't participate in recycling efforts and forcing others into educational programs meant to instill respect for the environment.
From Charlotte, N.C., to Cleveland, Ohio, from Boise, Idaho, to Flint, Mich., the green police are spreading out. And that alarms some privacy advocates who are asking: Should local governments have the right to monitor how you divide your paper cups from your plastic forks? Is that really the role of government?
In Dayton, Ohio, chips placed in recycle bins transmit information to garbage trucks to keep track of whether residents are recycling -- a program that incensed Arizona Sen. John McCain, who pointed out that the city was awarded half a million dollars in stimulus money for it.
Harry Lewis, a computer science professor at Harvard University and a noted privacy expert, cried foul about the "spy chips," which are already in use in several cities and are often funded by government stimulus programs. He noted that cattle farmers use the same chips to tell if Betsy the Cow has generated her milk quota for the day.
"It's treating people like cattle!" Lewis cried. Are people "supposed to produce recyclable waste, rather than certain quantities of milk"? What, he asked, happens if you don't generate enough?
But there's a clear upside to the technology, said Michael Kanellos, editor in chief of GreenTech Media.
"By tagging bins, haulers can weigh garbage, and weighing brings accountability. Consumers that diligently recycle will likely become eligible for rebates in some jurisdictions," he wrote recently. "Conversely, those who throw away excessive amounts of trash may face steeper tariffs in the future ... recycling, meanwhile, will go from being something that gives the consumer peace of mind to a way to reduce household bills."
Best and worse case scenarios
Dayton City Manager Thomas Ritchie said the city is using the chips to aid marketing campaigns, not to punish uncooperative citizens. "The data will be used to identify which residents participate in the recycling program, at what rate do they participate and the average weight of each participant's recycling," he said.
Charlotte, N.C., also uses trash tags, and it gathers similar information. City spokeswoman Charita Curtis said the city uses the data from the tags -- low-power radio frequency IDs (RFIDs) -- to find which areas aren't recycling as often and to start education initiatives there. The data is not shared outside of the city, she stressed, and it's not used to track down specific residents. The RFID program is also voluntary.
"We can do targeted recycling education for areas with low participation, providing information on how to recycle, what can be recycled, the importance of recycling to encourage more recycling participation," Curtis said. "Some residents may not participate simply because they don't know how to and we'd provide that education in hopes that they start recycling or recycle more."
But there's no volunteering in Cleveland, where the trash police can fine you $100 for not recycling.
Cleveland will run reports on who fails to recycle consistently, and then it will send out the green cops, waste collection commissioner Ronnie Owens told ABC News.
In late August, Cleveland's city council voted to roll out the tags to 25,000 residents, and it may extend the program to the entire city. It costs $30 per ton to haul away trash, but the city gets paid $26 per ton to recycle it. The program should generate about $170,000 annually in revenue for the city, the Washington Times reported.
But the new equipment and bins cost $2.5 million, so it will take about 15 years to recoup the costs of deploying the technology. Cleveland officials did not immediately respond to requests for more information, but reports indicate that officials will know when you bring your trash to the curb -- and may go through your trash to ensure you're recycling properly.
Right to trash privacy
Privacy experts, meanwhile, are up in arms about how these chips are being used to collect data.
Lewis said Cleveland residents need to ask whether sacrificing their privacy -- having the government snoop through their trash -- is worth the environmental benefit. If not, he said, they should start a referendum to overthrow the ruling. Part of the issue, he said, is that the system is easy to fool: A neighbor, he said, might dump your recycling into his bin to avoid fines.
The trash police could unfairly give the worst citizens a pass, Lewis added. He warned that those generating the most waste by using bottled water instead of tap water (plastic water bottles are a major source of trash) could earn credits for recycling all those wasteful bottles -- a reward for a poor choice, in other words.
Mari Frank, a privacy expert and attorney, questioned the openness of the data. "It clearly looks like the reason for the RFID is to collect money, but the privacy issues are paramount," she said.
"I believe these RFIDs are using technology to violate our Fourth Amendment rights of search and seizure," she said. "The community should have the right to informed consent."
What comes next?
Lewis says the solution lies in improving education and awareness, not punishment. He said economic incentives work for recycling -- getting money back for aluminum cans and newspapers is a proven tactic.
Frank was skeptical about the future potential exploitation of the RFID trash collection data, and questioned whether the next step might be to attach a GPS receiver to bins to see where residents put them and how they are used. Lewis wondered whether a city might use trash collection data for other, more invasive purposes.
"If the government wanted to know our drinking habits by neighborhood or household -- purely for 'public health reasons,' of course -- it could mandate RFIDs on liquor bottles and reprogram the scanners to collect data on where the most vodka is being consumed," he said.
"And it's not just the government either. Suppose a major distiller went to your town and offered to pay to collect data about who was throwing out which kinds of bottles. They might be prepared to chip the bottles without being told they had to -- and your town might be able to use the new revenue source to hold down its tax rate."