Cameras Under $100 for Travel Lovers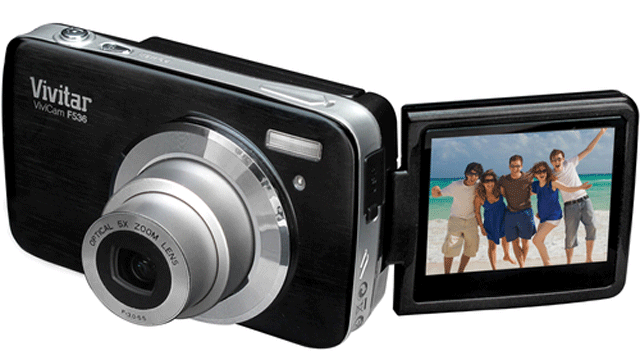 The holiday season is rolling around and if you're searching for that perfect gift for your travel-loving friend or family member, look no further. What better gift than a camera so travelers can capture the highlights of their trips?
In this economy everyone is cutting back on spending and there's no need to drop some serious cash on an expensive camera. From capturing still images to video, here are eight great cameras under $100 that you can buy that are perfect for travel.
Vivitar iTwist F536 Digital Camera
The Vivitar iTwist F536 not only comes with a 16-18mm lens with 5x optical zoom but it also comes with scenery, portrait, night scenery, night portrait, sport, beach, and party modes to help you take the best picture you can in any scenario. The swivel screen allows for you easily take a picture of yourself, a great feature for those traveling alone.
Price: $74.95
Fujifilm Instax Mini 7S Instant Film Camera
You're always on the go when you travel and it's important to pack light. Forget the hassle of bringing along your computer, a printer and a whole bunch of wires. Your pictures are just an instant away with this camera - literally.
Price: $62.83
Kodak PlayFull HD Video Camera
The sleek, chic design of this video camera allows it to fit easily in your pocket. The Kodak PLAYFULL also has full on-camera editing capabilities which gives you the power to edit your videos in the palm of your hand. You can also extract still images from your videos.
Price:$84.97
SVP WP5300 Waterproof 12MP Digital Camera
Going scuba diving? Take the world's smallest and lightest waterproof digital camera along with you so you can capture high resolution, underwater activity. Of course it also works well above sea level.
Price: $45.99
Vivitar ViViCam 9112 Digital Camera
Electrical outlets are different all around the world, and when you're traveling the last thing you want to find out is that your camera charger isn't compatible with the country's outlets. The Vivitar ViVicam takes regular AAA batteries so you can always be camera-ready.
Price: $39.95
Casio Exilim EX-ZS5 Digital Camera
Camera's today come with what seems like a million different settings.  Who has the time to pick the correct setting while your traveling? The Casio Exilim has an "Easy Mode" which allows you to relax and snap, while the camera does all of the work.
Price: $89.00
Kodak EasyShare Mini M200 Digital Camera
Not only does this camera's small size make it ideal for travel, you can also share your pictures and videos instantly with family and friends. Enter the share mode on the camera and choose what you want to share and where to send it. Then hook your camera up to your computer and your pictures will be sent out automatically.
Price: $76.99
Nikon Coolpix L22 12.0MP Digital Camera
Sometimes you only have one shot to take the perfect picture. The Nikon Coolpix makes sure you capture every moment with ease. Electronic VR image stabilization, Motion Detection, Nikon's BSS (Best Shot Selector) function and ISO 1600 capability gives you sharper results in lower light and when capturing fast-moving subjects.
Price: $91.49