Apple Watch Gay Pride face displaying rainbow flag disabled in Russia, developer alleges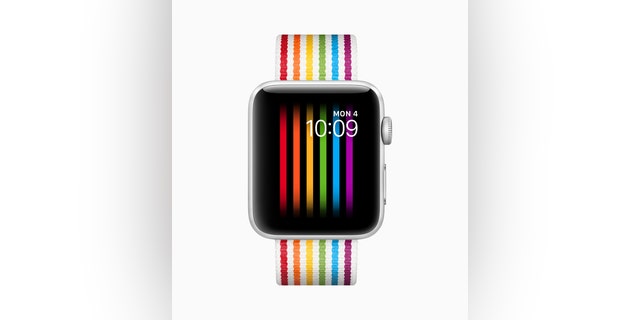 The Apple Watch Gay Pride face displaying the rainbow flag has purportedly been "hardcoded" by the tech giant not to show up in Russia, according to a software developer who has examined the code.
"The Apple Watch pride face is hardcoded to not show up if the paired iPhone is using the Russian locale," tweeted Guilherme Rambo, a developer who writes for the website 9to5Mac.
Rambo also tweeted lines of code purportedly related to the disablement of the Pride watch face in Russia.
Russia has attracted widespread condemnation over legislation signed by Vladimir Putin in 2013 that bans the so-called "propaganda" of homosexuality in any setting where children could be present. In practice, the law has been used to restrict public discussion of lesbian, gay, bisexual and transgender issues and to block protests.
APPLE TO UNVEIL NEW IPHONES IN COMING WEEKS
Amnesty International described the law as "an affront to freedom of expression and an attack on minority rights."
Fox News has reached out to Apple with a request for comment on this story.
In June, Apple released the new Watch face to celebrate Pride. The tech giant also updated its Pride Edition Woven Nylon Watch band with a new rainbow stripe. Similar to the first version of the rainbow Watch band, Apple is donating a portion of the proceeds to number of LGBT advocacy organizations, including The Trevor Project and The National Center for Transgender Equality.
Next month, Apple is set to hold an event where it is expected to show off several new iPhones, as well as an updated version of its Apple Watch.
The Associated Press contributed to this article.
Follow James Rogers on Twitter @jamesjrogers