Apple-Loving Tech Columnist Allegedly Hit Wife With iPhone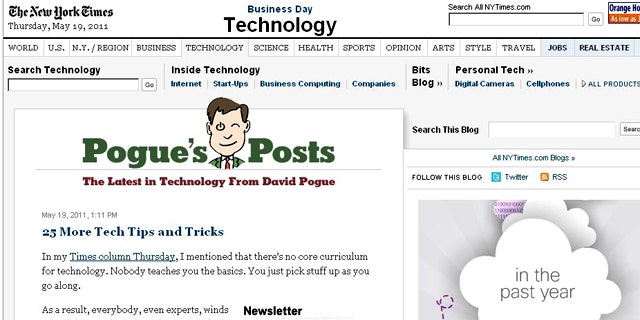 NEWYou can now listen to Fox News articles!
The manual apparently was missing this time.
Well-known technology columnist David Pogue -- who authored the 2007 book "iPhone: The Missing Manual" -- hit his wife with an iPhone following a domestic dispute, according to Westport, Conn., police captain Sam Arciola.
"Jennifer alleged that she was laying in bed reading a book when David jumped on top of her, pinning her down and grabbing her iPhone from her hands. She then alleges that David had hit her in the head with the phone," Arciola said.
Pogue told police his wife had bitten his left arm first and that she had been filming the altercation with her iPhone camera, The Hartford Courant reports.
Both had evidence of the alleged assaults: David Pogue had a bite mark on his arm and Jennifer Pogue had marks on her head, Arciola said.
The Westport Police department did not return several calls for FoxNews.com seeking more information.
But in an interview with radio station WCBS 880, Arciola explained the iPhone connection. He explained that Pogue jumped on his wife following an altercation that she was apparently recording on the gadget -- before grabbed the iPhone and allegedly committing the iAbuse.
As a technology columnist for The New York Times, Pogue is one of the country's best known technology journalists. He's also the author of numerous books about Apple products, including "Switching to the Mac: The Missing Manual" and the more recent "iMovie '11 & iDVD: The Missing Manual."
Pogue and his wife, Jennifer, were charged with disorderly conduct and issued misdemeanor summonses for the incident Monday. They appeared in Norwalk Superior Court on Tuesday and were released on a promise to appear.
Wayne Keeney, Jennifer Pogue's attorney, said the couple apparently had a "boisterous argument" and the police were called. He said no one was injured.
Mark Sherman, David Pogue's attorney, said the arrests arose from a brief confrontation between the couple, who are divorcing. He said he expects his client to be cleared of the charge.
The Associated Press contributed to this report.