Apple could face heat from police on refusing data access, expert says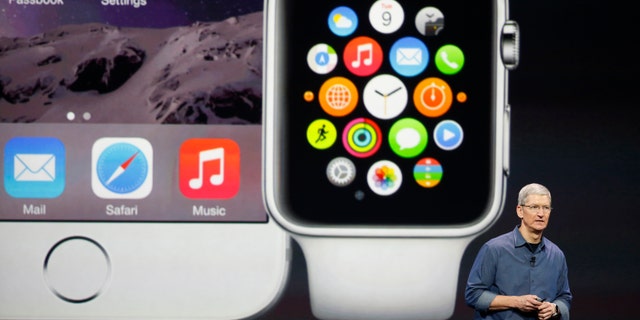 NEWYou can now listen to Fox News articles!
Apple's tight privacy strategy on devices running its iOS 8 operating system will make life more difficult for law enforcement, warns one retired police official.
"It absolutely puts another hurdle in the path of law enforcement," Raymond Foster, a retired LAPD lieutenant, told FoxNews.com, adding that the tech giant may face pushback from law enforcement agencies. "Apple could ultimately, if someone decides that it's enough of a problem, face legislation saying 'you can't do that.'"
In a privacy statement on its website, Apple explains that customer data such as photos, messages, email, contacts and call history is protected by each individual's passcode on iPhones and iPads running iOS 8. "Unlike our competitors, Apple cannot bypass your passcode and therefore cannot access this data," it says. "So it's not technically feasible for us to respond to government warrants for the extraction of this data from devices in their possession running iOS 8."
Foster, author of the book "Police Technology," notes that critical evidence such as a drug dealer's accounts or child pornography, is often held on mobile devices such as smartphones.
Apple says that 93 percent of the requests it receives from law enforcement come in the form of a "device request," where officers are working on behalf of a customer to locate a stolen device. According to Apple, just 7 percent of the requests it receives are "account requests," where law enforcement is seeking customer account information.
Less than 0.00385 percent of Apple customers have had data disclosed due to government information requests, according to the statement.
However, the statement provides little clarity on how Apple handles national security requests. The Cupertino, Calif.-based firm notes that national security-related requests are not considered either device or account requests, and "are reported in a separate category altogether."
Apple's iOS 8 privacy move will not impact police wiretapping efforts, according to Foster. "What Apple is doing in no way affects wiretaps, because the wiretap goes to the service provider," he said. "They are not a service provider, they are a device provider."
Civil liberties groups have welcomed Apple's stance, which comes hot on the heels of the cyberattack that targeted the iCloud accounts of celebrities such as Jennifer Lawrence and Kate Upton. Apple subsequently strengthened its iCloud security, although CEO Tim Cook blamed the attack on a phishing scam, as opposed to a weakness in the company's systems.
In a letter posted on Apple's website on Wednesday, CEO Tim Cook outlined the company's desire to protect its customers' information. "We have never worked with any government agency from any country to create a backdoor in any of our products or services," he wrote. "We have also never allowed access to our servers. And we never will."
Follow James Rogers on Twitter @jamesjrogers