Alex Jones, InfoWars, 'permanently suspended' by Twitter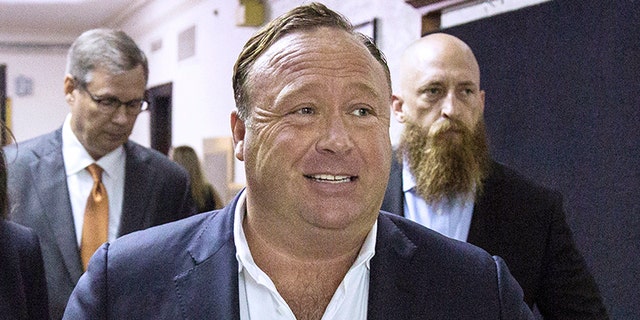 Twitter announced Thursday that it "permanently suspended" Alex Jones and his show InfoWars from their platform, as well as Periscope.
The announcement came via tweet from Twitter Safety, who said the decision was made "based on new reports of Tweets and videos posted yesterday that violate our abusive behavior policy, in addition to the accounts' past violations."
It wasn't immediately clear which tweets and videos Twitter was referring to.
Jones, who has spread conspiracy theories about the Sandy Hook Elementary School shooting, has previously been banned from sites like Facebook and YouTube for violations of their terms of service.
Facebook said it had removed four pages related to InfoWars for violating hate speech and bullying policies.
Jones claims he is being politically targeted.
RUBIO CLASHES IN HALL WITH INFOWARS' ALEX JONES, WARNS HIM: 'I'LL TAKE CARE OF YOU MYSELF'
In follow-up tweets, Twitter said they "wanted to be open about this action" due to public interest.
"As we continue to increase transparency around our rules and enforcement actions, we wanted to be open about this action given the broad interest in this case. We do not typically comment on enforcement actions we take against individual accounts, for their privacy," Twitter said. "We will continue to evaluate reports we receive regarding other accounts potentially associated with @realalexjones or @infowars and will take action if content that violates our rules is reported or if other accounts are utilized in an attempt to circumvent their ban."
Word of Jones' fate on the social media platform came a day after he clashed with Florida Republican Sen. Marco Rubio after interrupting an interview.
During Wednesday's dust-up between Rubio and Jones, the lawmaker was recorded discussing with reporters his worries that China and other governments could demand social media platforms like Facebook and Twitter crackdown on dissidents.
The conversation came prior to a Senate Intellgence Committe hearing.
When Jones approached, he accused Democrats of "doing what you say China does" and said tech companies and Democrats are "purging" and shadow banning conservatives.
The remarks led to an impassioned exchange of words between the pair, before Rubio ultimately went into the hearing.
Fox News' Adam Shaw contributed to this report.