After Florence, North Carolina officials warn against GPS apps: 'Not safe to trust them with your life'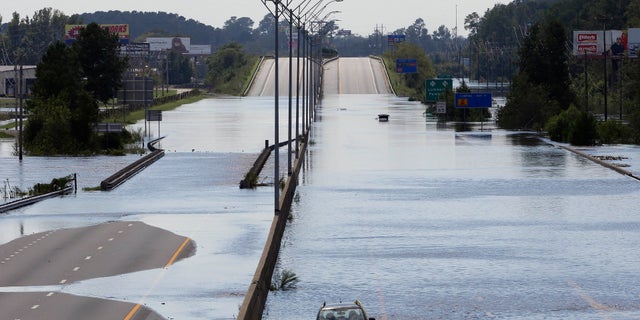 North Carolina officials are warning motorists against using transportation apps in the immediate aftermath of Hurricane Florence due to flash flooding.
"GPS navigation companies are not keeping up with all the road closures and are directing people onto roads that are confirmed closed and flooded," the North Carolina Department of Transportation (NCDOT) said in a release.
While a Twitter user said the Google-owned Waze app helped her navigate around flooding caused by Hurricane Matthew in 2016, NCDOT advised against using it.
"Waze and other travel apps are great but they are unable to keep up with the … road closings," NCDOT said in a tweet. "It is not safe now to trust them with your life. This storm, this flooding, these road closings are worse than Matthew, and they'll get even worse. Please stay safe!"
NCDOT also encouraged residents to stay put unless there's an emergency.
"Although the storm has passed in some areas, travel conditions across the state are deteriorating as flood waters continue to rise and trees fall because of saturated grounds," NCDOT said.
HURRICANE FLORENCE COULD BRING LIFE-THREATENING FLOODS, CONDITIONS TO AREAS AWAY FROM COASTLINE AS WELL
"A map in a catastrophe is only so good as its ability to capture real-time information either from sensors or people," Steve Goldsmith, a professor who directs Harvard University's Data-Smart City Solutions project, told The Associated Press.
He noted Waze, in particular, relies on a large community of users inputting data about the latest road conditions. But while the app might have more information, it will be "less well organized."
HURRICANE FLORENCE COULD LEAVE DEADLY DISEASES, ILLNESSES IN ITS WAKE
Google said in a statement Monday that it uses both algorithmic and manual methods to account for emergency road closures on Google Maps and Waze. The company said it's working with local authorities on the ground, including South Carolina and North Carolina transportation agencies and several county governments.
Here Technologies, which supplies mapping systems to many carmakers, said it's also working with local authorities to update road closures, though there can be a lag time in getting the latest information if the vehicle isn't connected to the service.
The Associated Press contributed to this report.