Young & McCarthy have been incredible, in wildly different ways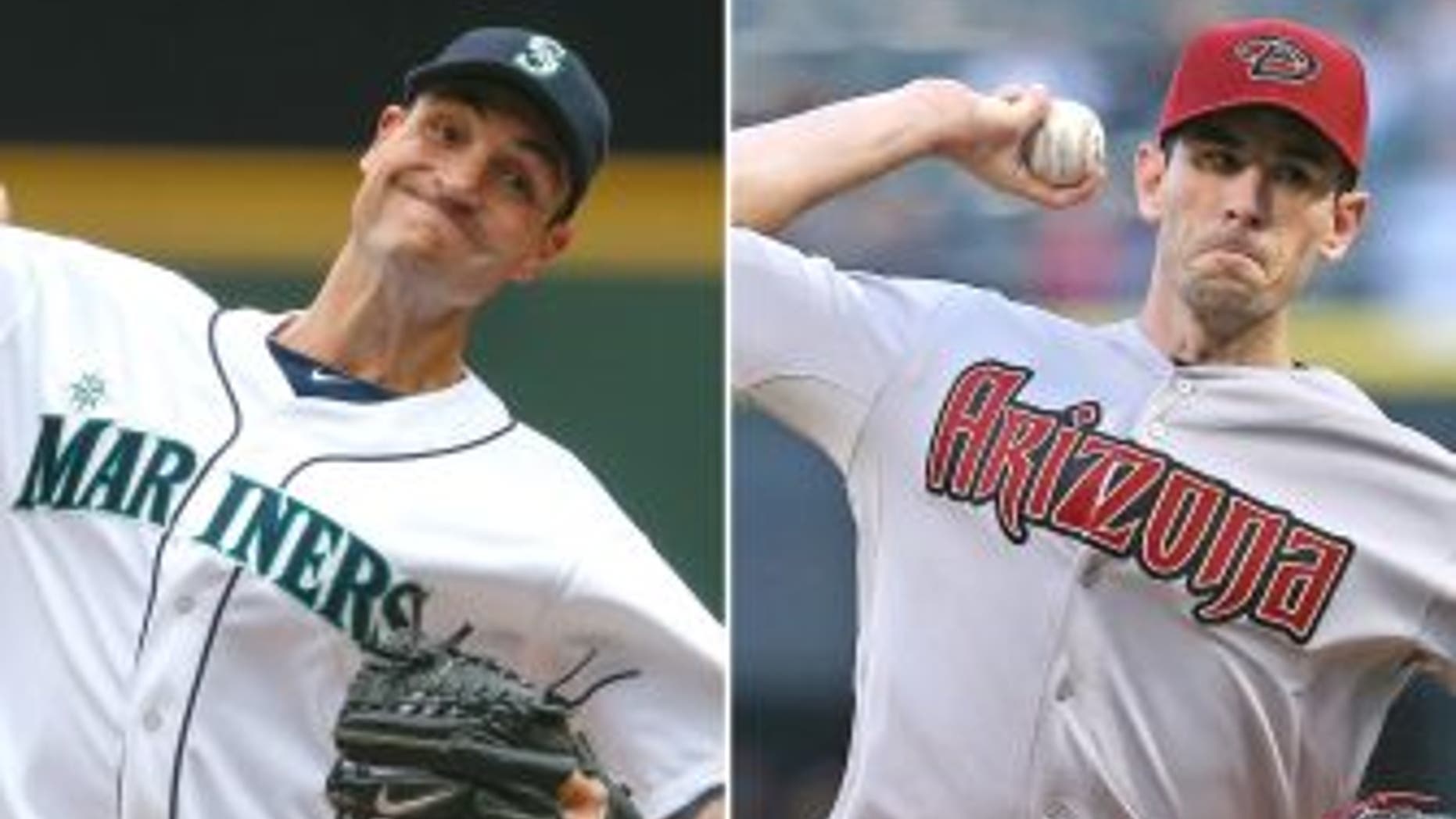 Hey, it's June. Most things have settled down. Most of the hitters we thought would be good? They've been good. Most of the journeymen who looked like Hall of Famers in early April have become journeymen once more.
Early in the season, players can have a perfectly good process ... but without the product they (and we) expect. By the end of the spring, or certainly by the end of the season, the product usually catches up with the process -- whether for good or ill. The players with great careers aren't the players who were the luckiest; they're the players with the best processes, because the luck will even out over the course of a career -- or the course of a season, usually. And even over the course of a couple of months.
But not always. Today's lesson in Not Always is brought to you by Chris Young and Brandon McCarthy ... who are also kind enough to bring you a lesson in the difference between Earned Run Average and fielding-independent pitching (plus!).
First, my apologies if you already know everything ... about this, I mean. I do know you're out there, but I also know that everyone doesn't know what you know. Yes, Voros McCracken unveiled his DIPS theory nearly 15 years ago, and if you're not thinking about DIPS during your fantasy drafts you probably haven't fared well.
Essentially, fielding-independent pitching metrics are founded on the theory – which is now more than a theory – that pitchers have a severely limited ability to control what happens once a hitter makes contact. Generally speaking, pitchers will give up a .300 batting average on batted balls that don't fly over the fence. There are exceptions, especially knuckleball pitchers.
But Roy Oswalt and Scott Erickson, otherwise completely different pitchers, both gave up .301 batting averages on balls in play in their long careers. Derek Lowe and Kevin Millwood, otherwise completely different pitchers, both gave up .297 BABiPs in their long careers.
Granted, I'm cherry-picking. There are small differences between pitchers. Subtle differences. Maybe even some differences we just haven't found yet. But generally speaking, if a pitcher's BABiP allowed is higher than .310 or lower than .290, there's probably been some luck involved. Sometimes a whole lot of luck.
Another thing that's subject to luck? The percentage of fly balls that travel over the fence and become dreaded home runs. This might seem just as counterintuitive as the other thing, but pitchers of every stripe generally surrender home runs on roughly 10 percent of the fly balls (and long line drives) they give up. This was true of both Jamie Moyer and Curt Schilling. It was true of both Roy Halladay and Tom Glavine. There are some nutty exceptions – if you believe these numbers, 21 percent of Todd Stottlemyre's flies flew forever – but again, most pitchers will, given enough innings, do roughly the same thing.
Which is why we often attempt to strip both the BABiP "luck" and the home-run "luck" from the equation when trying to get a truly good read on a pitcher's fundamental performance. Or if that bothers you, we might instead talk about his fundamental talents. If a pitcher goes 18-8 with a 4.76 ERA, you might still praise his performance – after all, he did "perform" well enough to win those games – but you're probably not going to believe he's among the most talented pitchers in the league.
Which brings us to Seattle's Chris Young and Arizona's Brandon McCarthy, both of whom have been incredible in wildly different ways.
Young's a huge right-hander, won 32 games from 2005 through '07 with the Rangers and Padres. Then he started getting hurt. From 2008 through '12, Young averaged only a dozen starts per season ... and he didn't pitch at all last year. In the majors, anyway; in seven Triple-A starts he posted a 7.88 ERA.
Career over, right? Nope. This season, Young's 5-2 with a 3.27 ERA and is probably the American League's top candidate for Comeback Player of the Year. Based on those numbers.
McCarthy's a slightly less huge (and more skinny) right-hander. After a 2012 season in which he suffered a serious injury, McCarthy signed a two-year, $15.5-million contract with the Diamondbacks. Last season, he went 5-11 with a 4.53 ERA in 22 starts. Which must have been disappointing to everyone involved. This season, he's 1-7 with a 5.20 ERA. Which must be really disappointing.
Here's the thing, though: By most of the measures we now consider important as measures of talent, Brandon McCarthy has seriously out-pitched Chris Young this season.
There's a statistic called "xFIP" that adjusts not just for that BABiP luck, but also that fly-ball luck (I'm leaving the quotation marks off that word, but you can add them back mentally if you like). Among the 101 pitchers with enough innings to qualify for the ERA title, McCarthy ranks 10th in the majors ... and Young ranks 101st.
The difference between McCarthy's ERA and xFIP is 2.35 runs per nine innings. The difference between Young's ERA and xFIP is 2.45 runs per nine innings.
Young's walked nearly as many batters as he's struck out, and he's actually given up a large number of home runs (not surprising, since he's an extreme fly-ball pitcher). But he's somehow got a .188 BABiP allowed, by far the lowest figure in the American League. Is this a magical skill?
Maybe! Somewhat, anyway. Young actually breaks the model. His career mark is just .249, by far the lowest of the last 20 years among starting pitchers with at least 750 innings. Young's career xFIP is 4.81… but his career ERA is 3.75, and maybe we just have to assume the model doesn't work for him. Which doesn't mean he's going to finish the season with a 3.27 ERA. But it might mean he's not the worst starting pitcher in the major leagues. Let's check back in August.
The model does seem to work for Brandon McCarthy, though. His career xFIP is 4.14 ... and his career ERA is 4.20. The model hardly ever works better than this. Until now. He's given up homers on 21 percent of his fly balls and he's got a .327 BABiP allowed and 38 percent of the baserunners have wound up scoring (a normal figure is more like 30 percent).
If you asked Brandon McCarthy, I'll bet he would tell you he's one of the luckiest guys in the world. But this season, if it weren't for bad luck he wouldn't have any luck at all. Let's check back in August, though. These things do usually turn.
Rob Neyer is saving his best material for August. But until then there's always Twitter.