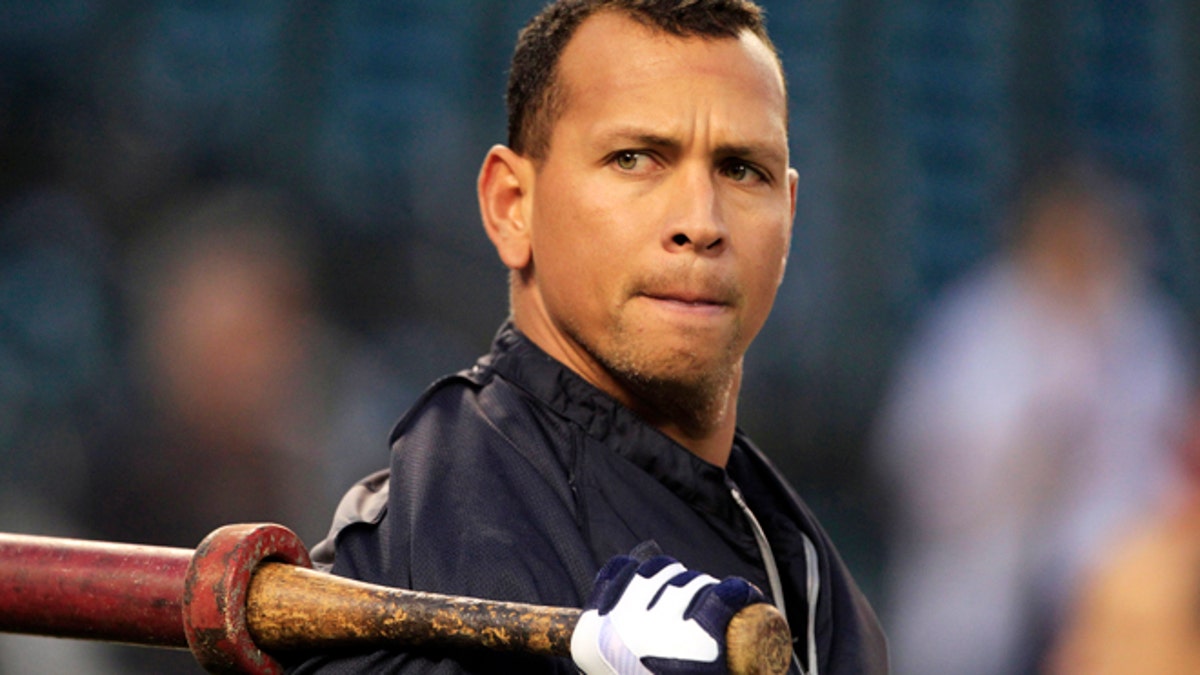 NEW YORK – Alex Rodriguez took a swing for the fences in a bid to restore his reputation and lucrative career with the New York Yankees, accusing Major League Baseball and Commissioner Bud Selig in a lawsuit made public Friday of pursuing him in a "witch hunt" designed to smear Rodriguez' character and cost him tens of millions of dollars.
The lawsuit was filed Thursday in New York State Supreme Court by lawyers for the Yankees third baseman. It seeks unspecified compensatory and punitive damages for what it alleges was a relentless campaign by the league and Selig to "destroy the reputation and career of Alex Rodriguez."
The suit claims Selig and MLB tried to smear Rodriguez's reputation to "gloss over" Selig's past inaction and tacit approval of the use of performance-enhancing substances in baseball, which the lawsuit said had turned the "Golden Age of Baseball" into the "Golden Age of Steroids." The lawsuit said Selig hoped to redeem himself and secure his legacy as the "savior" of America's pastime.
"Taking down Mr. Rodriguez would vividly demonstrate that Commissioner Selig had learned from the errors of his previous explicit or tacit tolerance of steroid use," the lawsuit said.
MLB spokesman Matthew Monte said the league had no comment. A message left at Selig's office was not immediately returned, though his office said the league could comment on his behalf as well.
The lawsuit was filed as Rodriguez appeals a 211-game suspension for violating baseball's drug agreement and labor contract. The suspension stemmed from baseball's investigation of the Biogenesis of America anti-aging clinic.
The suit accuses the league and Selig of planting negative stories about Rodriguez in the news and trying to muddy his name while protecting a witness under investigation for allegedly providing steroids to minors.
"Such are the lengths that Commissioner Selig and MLB have stooped to in their witch hunt against Mr.Rodriguez — paying and protecting someone under investigation for providing steroids to minors," the lawsuit said.
The court papers noted that Rodriguez's suspension was four times the length of the other 13 players suspended in connection with the Biogenesis probe and the longest non-lifetime ban in baseball history. They said the suspension was also 161 games longer than the 50-game suspension contemplated by the Joint Drug Agreement in the players' contract.
The lawsuit said the suspension will cost Rodriguez tens of millions of dollars in salary and could prevent him from meeting certain performance goals in his contract that are worth millions of dollars.
It also said two potential sponsors — Nike Inc. and Toyota Motor Corp. — have terminated negotiations with Rodriguez for potential sponsorship contracts and Rodriguez's voice work as a hero for an animated movie, "Henry & Me," has been cut. The movie chronicles the Yankees' history and features baseball stars, past and present.