World Cup: Alejandro Bedoya Is Poised To Become The Next Midfield Star For Team USA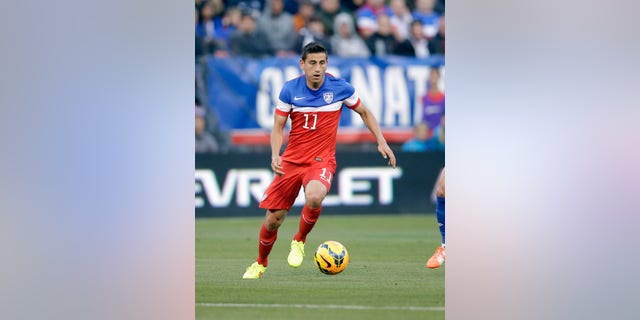 NEWYou can now listen to Fox News articles!
New York – If it was up to Julieta Bedoya her son Alejandro would have been a doctor, a lawyer or maybe a corporate sales director like his father.
But before her husband, Adriano, wore a suit and tie, he wore the soccer jersey of the Colombian club Millonarios, and he dreamed that Alejandro would one day also lace-up cleats on a professional pitch. In 2009, Adriano's dream came true when his son signed a contract to play in Europe and, five years later, achieved another milestone: Alejandro is heading to Brazil to play for the U.S. national team in his first World Cup.
"My father was always pushing me to be the best player I could be and to pursue my career," the midfielder said. "He knew that was what I always wanted to be and that's where my passion lay."
I've had a bumpy career so far but it's a credit to my hard work that I'm back in this position now.
A passion for soccer is deeply rooted in the Bedoya family. Besides his father, his grandfather was a goalkeeper for Deportes Quindío in Colombia, and Alejandro's younger brother, Santiago, was a standout at Northeastern University.
"With their background and their experience I've been able to mold myself into a more professional player and person as well," Bedoya said.
Wearing a Carlos Valderrama fright wig, a 7-year-old Bedoya was also present at the now-infamous first-round game of the 1994 World Cup between the United States and Colombia when Andrés Escobar scored an own goal that lead to the South American team's early departure from the World Cup and, possibly, to Escobar's death.
"I didn't get the connection," Bedoya told the San Jose Mercury News. "The feeling of mom and everybody ... being upset. As I grew older, I learned the reason."
Despite his strong connection to his parents' home country, Bedoya said he never considered playing for Colombia. Instead, growing up in New Jersey and south Florida, the budding star was committed to the cause of American soccer.
Bedoya played at the college level for Farleigh Dickinson University and ACC powerhouse Boston College. But instead of doing what most prospects in the U.S. do and entering the MLS draft, the college star chose to take his talents overseas.
In 2009 he signed with Swedish squad Örebro SK, before moving to Scotland's Rangers. In 2013, Bedoya joined Ligue 1 side Nantes.
His performance in France certainly paid dividends at home. "Alejandro Bedoya has made a huge step forward over the last two years," Team USA coach Jürgen Klinsmann said at a press conference before a World Cup warm-up match against Turkey. "Especially the last year, when he broke through in the French league."
Bedoya would agree. "My hard work has paid off over the years," he told reporters recently. "I've had a bumpy career so far but it's a credit to my hard work that I'm back in this position now."
With Klinsmann narrowing his choices for the starting 11 players come the U.S.'s first match of the World Cup against Ghana, Bedoya is in a prime position to make a move into the spotlight.
He first got called up to the U.S. team in 2009, but did not make the 23-man roster for the 2010 Cup in South Africa. He did, however, play with the team when it finished second at the 2011 CONCACAF Gold Cup and has been a constant on the U.S. squad ever since.
His only goal in international play came during a 6-0 romp of Guatemala last July, but as a midfielder Bedoya isn't expected to score. His strengths lay more in his speed, ability to create for others, game time awareness and on-pitch leadership.
At the press conference before the Turkey match, both Klinsmann and U.S. captain Clint Dempsey recently praised Bedoya's leadership and his improved skills.
"Bedoya is a good guy to have in the locker room," Dempsey said. "He has a great energy on both sides of the ball … he's a really unselfish player and really gives all he has to the team."
The high praise from coach and captain aside, Bedoya is not guaranteed a starting spot. While he made the starting line-up for the first World Cup warm-up match against Azerbaijan, he was off the pitch for the entirety of the game against Turkey.
Whether this was a sign of things to come or just the coaching staff trying out new options can only be answered by Klinsmann, but the choice to keep Bedoya on the bench hasn't seemed to affect his drive for World Cup success.
"We've gone down to 23 players and now the goal is to be in that 11," Bedoya said. "That's the goal for myself and I fell I'm working really hard in training to be able to do that."