With More Than 1 Billion Posts, Tweets And Likes, World Cup Scores In Social Media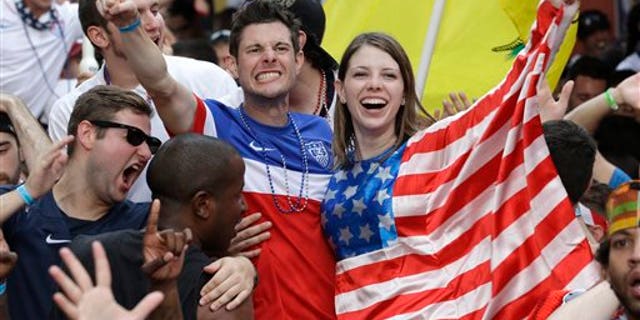 NEWYou can now listen to Fox News articles!
With more than a billion Facebook interactions and 300 million tweets, the 2014 World Cup is likely to be the biggest social media event ever.
As the Round of 16 came to a close in early July, Facebook reported more than a billion Cup-related posts, comments and likes generated by 220 million users since the start of the tournament on June 12.
The social network announced Monday that the 2014 Cup has already claimed the title of the largest event – sporting or otherwise – in Facebook history.
"Facebook and the World Cup are both fundamentally global, and we knew that Facebook would become a global, mobile stadium where people connect and engage during the tournament," a Facebook spokesman told CNN in late June. "It turned out to be a unique moment for us, and one that has seen the highest level of conversation for any event Facebook has ever measured."
The World Cup has dwarfed other popular Facebook moments of the past year. The 2014 Winter Olympics in Sochi, Russia, generated just 120 million interactions from 45 million people. The Super Bowl generated 185 million interactions from 50 million people.
Despite the extent of the digital conversation, however, these exchanges have been taking place among a small, though active, portion of Facebook's total user base – about 17 percent.
And the Cup's social media impact isn't limited to Facebook.
"After the first two weeks, we saw over 300 million total tweets about the World Cup, making it one of the most tweeted events in Twitter history," Brian Poliakoff, a Twitter communications representative told Fox News Latino via e-mail.
After the group stage concluded on June 26, Twitter released a compilation of metrics and visualizations to illustrate how the conversation unfolded once the matches began.
Whether cheering a "GOOOAALLLL" or ranting after a defeat, World Cup fans have flocked to Twitter to share their thoughts on the latest controversy over the 15-day period.
To give a sense of scale to the Twitterbuzz on the topic, over a similar 16-day period, the 2012 Summer Olympics in London only generated about 150 million Tweets. For more discreet events, the 2014 Super Bowl generated 29.4 million tweets; the Academy Award ceremony, 31.8 million.
Both Facebook and Twitter jumped on the World Cup bandwagon.
Facebook created a one-stop home for the tournament, Trending World Cup, where users can scroll through top posts alongside their friends' Cup updates.
Twitter dedicated a separate feed for the #WorldCup which featured tweets from media outlets, players, selected clubs and FIFA.
The social network also allows users to add "hashflags." When someone tweets the hashtag for a World Cup team – #MEX for example – the nation's flag will appear in an image beside it.
According to Twitter #USA and #BRA are the most used hashflags in this year's Cup. Tweets including hashflags were used to create the World Cup of Tweets to predict who would win the tournament – bast on the most mentions since June 12.
As a whole, all the chatter has reinforced the event's overwhelming worldwide appeal and, especially, its growing popularity in the United States.
There's one other measure by which this World Cup is conquering the world. Especially the tech world.
Since its launch in June, the FIFA World Cup "second-screen app" has been downloaded more than 10 million times, with up to three million fans accessing videos, statistics, and lives match content every day. Those numbers are still modest by social media standards, but it's clear that more fans than ever are watching matches in nontraditional modes of delivery than ever before.
"We are proud to say that this FIFA World Cup has been the biggest multimedia sporting event in history, with more people watching matches and highlights online than ever before," said FIFA Director of TV Niclas Ericson.