With gold, Shields gives hints of boxing's future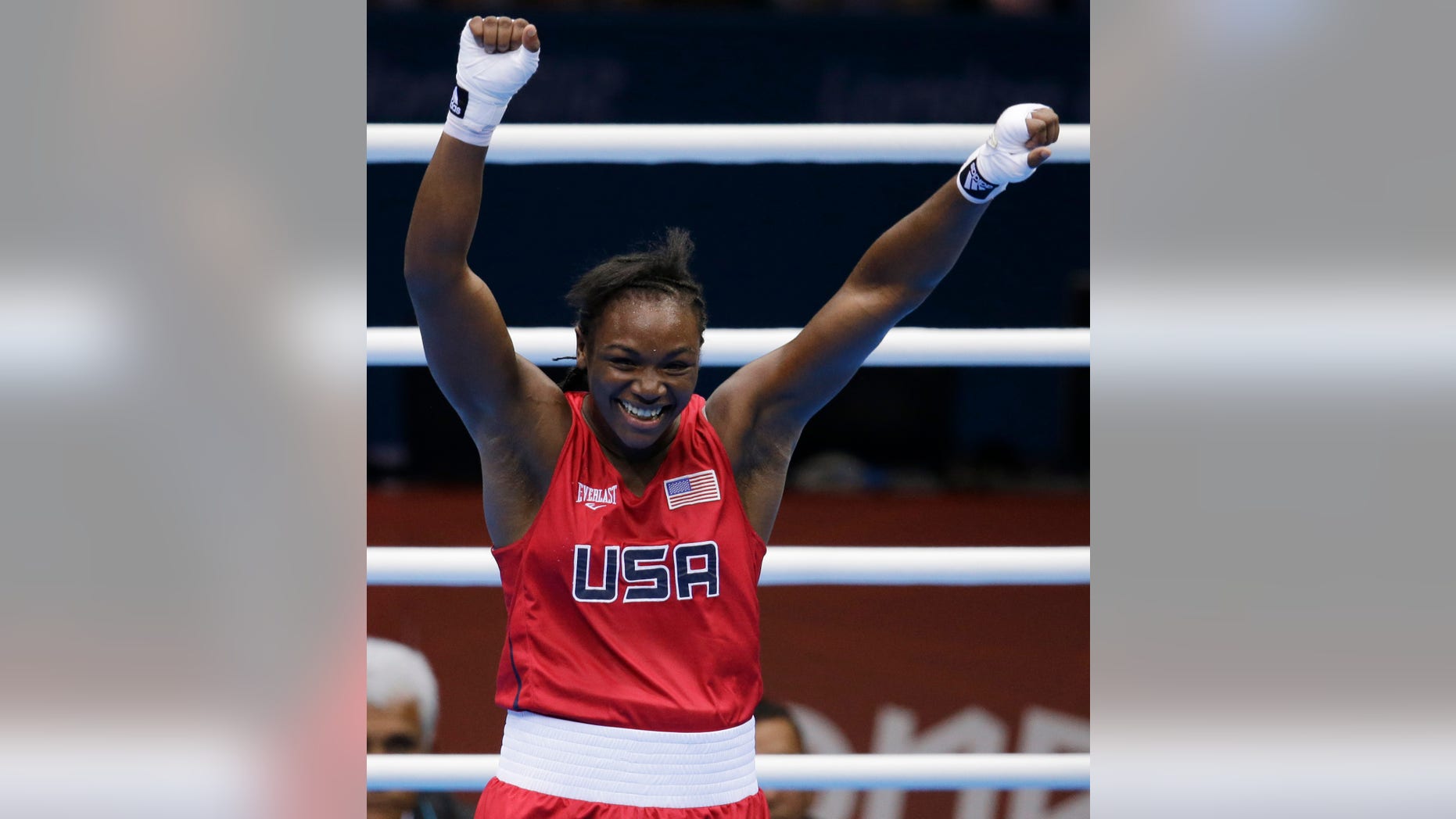 LONDON – Katie Taylor collapsed to her knees after winning the ninth gold medal in Ireland's Olympic history, and the ecstatic crowd seemed to raise the lightweight boxer back up with its roars. Blinking back tears, Taylor wrapped a green, white and orange flag around her shoulders and later took a slow walk through the overjoyed masses.
The scene was stirring, even breathtaking. What could anybody possibly do to top this Irish celebration?
Oh, Claressa Shields had a few ideas.
With one more dynamic victory to close the first Olympic women's boxing tournament, the U.S. middleweight showed that while Taylor is the current pound-for-pound champion of this sport, Shields is the future.
The ebullient 17-year-old from Flint, Mich., easily dispatched the world's best fighters in her weight class, capped by a 19-12 victory over Russia's Nadezda Torlopova on Thursday. Shields danced, brawled and even stuck out her tongue at her opponent, who is nearly twice her age and about half her speed.
Taylor was named the Olympics' best women's boxer. British flyweight Nicola Adams also thrilled the home crowd with a gold-medal victory that was even more impressive, upsetting world champion Ren Cancan of China.
But Shields had enough talent and flair to draw a bit of attention away from the two local heroes — a feat as impressive as her win.
"This was something I wanted for a long time, even when boxing wasn't going all right, even when my life wasn't going all right," said Shields, who found sanctuary in a boxing gym during a rough childhood.
"All I wanted was a gold medal, and I kept working towards it, even when people were saying I couldn't do it. I'm too young. I couldn't do it. There were girls who were going to beat me because of better experience, more experience. I proved them all wrong."
Shields had her hand over her heart on the medal podium when she abruptly burst into laughter, her head snapping back almost as if she had just been punched in the face.
That's a feeling her opponents in the first Olympic women's boxing tournament know quite well.
Only they're not laughing.
"I'm surprised I didn't cry," Shields said. "I was sweating, though."
Adams, Taylor and Shields triumphed in rapid succession on the final day of the London Games' landmark tournament, claiming the first Olympic titles in a growing sport that was banned in Britain until 1996.
The five-day event with 36 fighters was one of London's biggest hits, adored by fans and praised for creating gender equality in the summer Olympic program. At minimum, AIBA President Wu Ching-Kuo wants to double the number of women's boxers in Rio in 2016.
"It was fantastic," IOC President Jacques Rogge said. "I'm a very happy man. There has been some criticism of whether women should be boxing and of their level and technique. Today we have been vindicated."
Most of the raucous crowd came to see Taylor, who shouldered enormous expectations through three bouts amid a patriotic fervor of Irish colors and songs from those devoted fans who consider her a sports icon. She even carried the Irish team's flag in the opening ceremony.
Taylor's final victory, a 10-8 win over Russia's Sofya Ochigava, was perhaps the least memorable part of the afternoon. She barely beat Ochigava in a defensive fight, relying on a 4-1 points swing in the third round after trailing midway through the bout.
Unlike most of Taylor's fights, the result was still in doubt when the judges' scores were announced. Taylor took a victory lap of ExCel arena after the medal ceremony, trailing another Irish flag behind her.
"It's been the dream of my life," said Taylor, a four-time world champion. "The support was incredible. I was a bit shaky during the fight. She is a great boxer."
Adams got nearly as much love as Taylor — no small feat from a crowd that seemed to be mostly Irish. She stunned Ren in a 16-7 win that was met with cheers from the Duchess of Cambridge, formerly known as Kate Middleton.
Adams knocked down Ren — a rare occurrence in such a high-level amateur fight — in the second round with a left to the throat and a right to the head. She eventually finished off the top-seeded flyweight, dominating the middle rounds and celebrating at the bell by throwing a few punches at the crowd. Adams' two British teammates also were favored to medal, but lost early.
"I am so happy and overwhelmed with joy right now," Adams said. "I have wanted this all my life, and I have done it."
An ugly Olympics for the U.S. team ended with a performance worthy of Cassius Clay, Joe Frazier, Oscar De La Hoya and every American Olympic champion that came before Shields.
Shields found her purpose with coach Jason Crutchfield at Berston Field House in Flint after her father — who spent seven years of Claressa's childhood in prison — infused her with a passion for boxing. Shields has turned into a polished athlete with a nasty streak in the ring — and she still has room to grow.
Shields capped her swift rise through the amateur ranks in the past two years with three strong performances in the London ring, providing USA Boxing with a much-needed boost. Shields won the 12-member American team's only gold medal in London, and flyweight Marlen Esparza took a bronze, but the winningest nation in Olympic boxing history got no medals from its men's team for the first time.
"I don't think anybody would feel bad about me representing them," Shields said. "I think I did a pretty good job."