Wings want to see a more simple game at home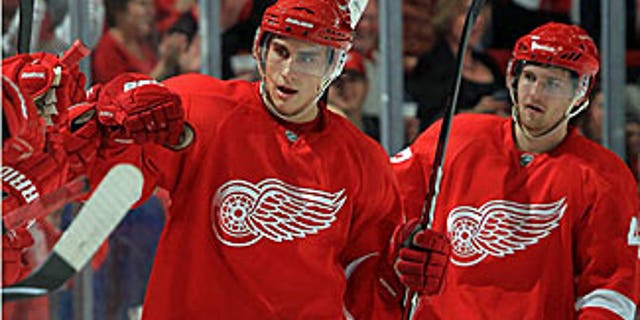 NEWYou can now listen to Fox News articles!
DETROIT -- In order to halt an ugly trend of sub-par play at home, the Detroit Red Wings think they need to stop being so pretty.
"I don't think it's a matter of being too comfortable," Red Wings captain Nicklas Lidstrom said after Detroit's Wednesday morning skate. "I think it's a matter of forcing things and trying to make plays when they're not there. We're more simple on the road and don't have to make that extra pass to make it look pretty. That's what we've been guilty of (at home)."
The Red Wings have gone a meager 7-9-2 at Joe Louis Arena in their previous 18 home games – including back-to-back losses to the San Jose Sharks and Dallas Stars the last time they were in town. Detroit is 17-10-4 overall at home and ranks 15th in the League in home record. The Wings are also tied in home points earned (38) with the Minnesota Wild and Phoenix Coyotes.
They've been a lot better in other cities. The Red Wings are 22-9-4 on the road and are tied with the Boston Bruins for the most road points earned (48). The reason is literally simple -- or simplicity.
"It's real simple -- the harder you play in the offensive zone, the more time you spend there, the more skill plays you get to make there as the game goes on," said Detroit coach Mike Babcock, whose Red Wings will face the Los Angeles Kings at home on Wednesday night in a big Western Conference tilt. "You've got to take what's given. We get guilty of toe-dragging too early in the game and it causes us trouble."
That usually isn't a problem on the road, but it was the last two games of the most recent road trip -- which led to a regulation loss against San Jose followed by a stinging shootout loss in Phoenix after leading 4-1.
Thus, the emphasis for Detroit now is to make the game as simple as possible -- no matter where it plays. Making smarter passes, holding onto the puck and dumping pucks into the offensive zone when protecting a lead are all things the Wings are aiming to do more often.
"Anytime we're turning over pucks or getting cute or dreaming things up that aren't there, it ends up hurting us," Babcock said. "Our last couple games on the road we were like that and we've been too much like that at home. The bottom line is we're playing a grind, cycle team (in the Kings). If we want to spend time turning over pucks in our zone, it will be a long night for us."
The neutral zone is another area of concern, with poor decisions leading to turnovers that often wind up being odd-man rushes for the opposition.
"The main thing is just getting that puck through the neutral zone," Detroit center Mike Modano said. "You try to do a little too much and you cause some turnovers and you're kind of caught on the defensive side and outnumbered. It's just being smarter in certain areas of the ice."
Modano happy with progress: After missing 41 games with a wrist injury that required surgery to repair severed tendons, Modano has played five games and recorded 3 assists with a minus-1 rating. He's centering the third line and said on Wednesday morning that he's about where he expected to be.
"I'm feeling good and I think the legs are coming into place," Modano said. "I knew it would be two or three weeks before that started, so I'm kind of happy with it. (The wrist) feels OK. It could be a tad stronger. It still feels a tad weak, but I think that's just what I've got to deal with."
Raffy getting close: Red Wings defenseman Brian Rafalski participated in Wednesday's skate, which was his first time doing team drills since leaving the lineup with back spasms just prior to a five-game road trip that started Feb. 26 against the Sabres.
Rafalski has missed five games with the injury, but skated on his own Monday and Tuesday in addition to his work on Wednesday. He won't play against the Kings, but is listed as day-to-day and could return on Friday against the Oilers or Saturday in St. Louis.
"We just have to make sure there aren't any setbacks," said Rafalski, who has 4 goals and 37 points in 50 games. "If it takes two extra days, that's better than (missing another) week or two a week from now. I'd say I'm cautiously optimistic right now."
Detroit goalie Chris Osgood (groin surgery) is also getting close to returning, as he continues to split time in goal with Jimmy Howard and Joey MacDonald during practices. Forward Patrick Eaves (groin) also missed the latest road trip and didn't skate on Wednesday.
Penner liking L.A.: It's only been four years since Dustin Penner won the Stanley Cup with the Anaheim Ducks, but it was starting to feel a lot longer after playing with the Edmonton Oilers.
The Oilers have struggled the past few seasons and are now in a rebuilding mode. Thus, getting traded to the Kings on the NHL's trade deadline day came as a welcome change for Penner. The Kings come into Wednesday's action eighth in the Western Conference, clinging to a playoff spot as the regular season hits the stretch run.
"That's probably the best part of the trade," Penner said on Wednesday. "A lot of these guys are young and don't know what it's like (to go deep in the playoffs). I went from winning the Cup to four years of not even seeing the light of day, as far as playoffs are concerned. It's really a privilege to be back in this situation. I can't thank (Kings GM Dean Lombardi) enough for this opportunity. I have a whole new appreciation."
Kings coach Terry Murray appreciates Penner's size. He's listed at 6-foot-4, 245 pounds and could provide the Kings something similar to what former Chicago Blackhawks power forward Dustin Byfuglien did last season during a run to the Stanley Cup.
"The game today is a very hard game to score in," Murray said. "Everybody's coming back with five, there's a lot of back pressure and the prime scoring areas are shut down quickly. When you have a big body like Byfuglien or (Todd Bertuzzi), they're going to get themselves into those prime scoring areas looking for screens, rebounds and loose pucks. There's no question that's the role we'll be looking for from Penner."
Kings out for revenge: The game against Detroit is also a chance for the Kings to even the score after the Red Wings beat them 7-4 on Feb. 28 in Los Angeles during Detroit's last road trip.
"They blew us out in our home building," said L.A.'s leading scorer, Anze Kopitar. "Especially being here (at Joe Louis Arena) ... I know it's a tough place to play, but we'll come out strong and see what happens."