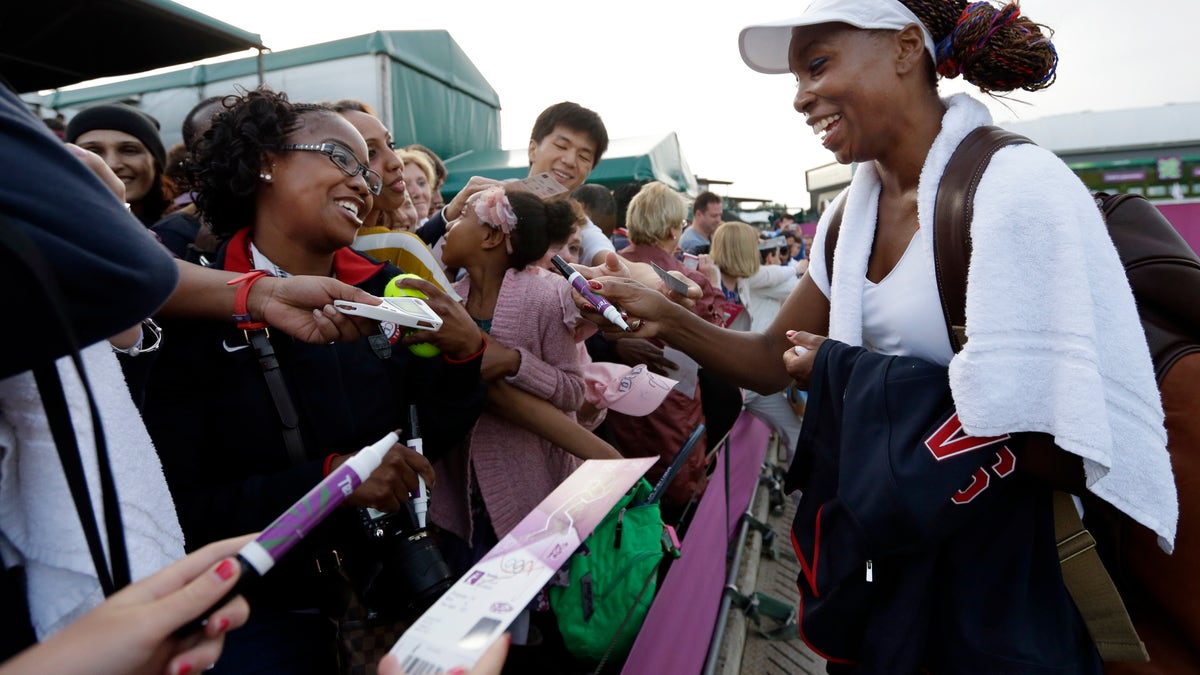 LONDON – Playing Olympic tennis twice a day proved too much for Venus Williams, and her workload at Wimbledon will now be a lot lighter.
Williams squandered a lead in each set Wednesday and lost her third-round match to No. 7-seeded Angelique Kerber of Germany, 7-6 (5), 7-6 (5).
Seeking a record fourth gold medal in Olympic tennis, Williams still has a shot with sister Serena in doubles. They play in the quarterfinals Thursday.
Venus looked sharp in the first two rounds of singles this week, as if rejuvenated by the Wimbledon setting, where she has won five of her seven Grand Slam titles. But she was diagnosed last year with an autoimmune disease that causes fatigue, and she looked weary against Kerber.
In the first set Williams failed to convert three set points, then blew a 5-1 lead in the tiebreaker. She was up 3-1 in the second set, but Kerber again charged back.
"I made a few errors and she hit a few winners, and things can go quickly in tennis," Williams said.
Kerber, a semifinalist at Wimbledon last month and at the U.S. Open last year, is ranked a career-high No. 7. She advanced to the quarterfinals against top-seeded Victoria Azarenka of Belarus.
"She had a lot of answers," Williams said. "She's having a great year, and I have to give her credit for playing well."
Like Williams, Roger Federer is also down to one shot at a medal. He advanced to the quarterfinals in singles but lost with Swiss teammate Stanislas Wawrinka in doubles.
Earlier Wednesday, Serena Williams hit 12 aces and repeatedly rocketed her groundstrokes past No. 13-seeded Vera Zvonareva to win 6-1, 6-0. Swinging lustily with almost every shot, No. 4-seeded Serena hit 32 winners to three for the Russian, who also lost when they met in the 2010 Wimbledon final.
The younger Williams swept the final 10 games and was done in only 51 minutes.
"I was just playing unbelievable," Williams said. "I was nervous going into the match and I didn't speak to anyone and I had a bad practice. I had no idea I would play like this."
No. 2 Novak Djokovic hit 16 aces and came from behind to beat Lleyton Hewitt of Australia 4-6, 7-5, 6-1. Djokovic next plays No. 5 Jo-Wilfried Tsonga of France, who beat Feliciano Lopez of Spain less than 24 hours after winning a 48-game third set.
No. 3 Andy Murray of Britain rallied past Marcos Baghdatis of Cyprus 4-6, 6-1, 6-4. American John Isner, seeded No. 10, beat No. 7 Janko Tipsarevic of Serbia 7-5, 7-6 (14) and will face Federer on Thursday.
Four-time Grand Slam champion Kim Clijsters, playing in her first Olympics weeks before she retires, beat former No. 1 Ana Ivanovic of Serbia. Her opponent Thursday will be first-time Olympian Maria Sharapova, who rallied past No. 15-seeded Sabine Lisicki of Germany, 6-7 (8), 6-4, 6-3.
Azarenka eliminated No. 16 Nadia Petrova of Russia.
Hewitt and Samantha Stosur won the first Olympic mixed doubles match since 1924. The U.S. team of Mike Bryan and Lisa Raymond later won their opening match.
Kerber played boldly at key moments, and the left-hander saved three set points serving at 4-5 in the first set. Williams again seemed on the verge of winning the set at 5-1 in the tiebreaker, but she then lost six consecutive points, the last when she sailed an easy forehand long.
Williams looked to the sky in disbelief as she walked to her chair. Once she sat down, she hung her head and squeezed her forehead as if trying to erase the memory of what had just happened.
She let another lead slip away in the second set, and her potent serve let her down. She double-faulted twice in the last tiebreaker, the second time to give a match point to Kerber, who coolly finished off Williams with a service winner.
Williams, a four-time Olympian at 32, won her only singles medal -- a gold -- in 2000.
"Hopefully, there's 2016," she said.
Federer, seeded No. 1, endured two rain delays and a shaky moment late in the first set to beat Denis Istomin of Uzbekistan 7-5, 6-3. The four-time Olympian has yet to win a singles medal.
Serving at 5-all in the first set, Federer faced three break points and erased them all. He then broke and was in control from there.
Federer and Wawrinka later lost to unseeded Jonathan Erlich and Andy Ram of Israel, 1-6, 7-6 (5), 6-3. Federer and Wawrinka won the gold in doubles in 2008.
Serena Williams worked under Wimbledon's roof during a brief midday shower, and the conditions clearly suited her. She whacked winners even from behind the baseline, and more than once spun on one foot after smacking a shot, mixing a little body English with plenty of brute force.
Williams hit a Wimbledon record 102 aces en route to her fifth title at the All England Club last month, and the shot remains a dominant force, especially on grass. She hit three consecutive aces against Zvonareva and lost only seven points in six service games.
In the second set, the crowd tried to coax a comeback from the Russian, who won the bronze in 2008. But when she began tossing her racket in frustration, cheers for her turned to jeers.
And fans applauded Williams' domination.
"We love you, Serena!" a spectator near the top of the stadium shouted during the final changeover. Williams continued to stare sternly, but she wore a grin moments later as she walked off the court in triumph, waving to the stands dotted with U.S. flags.