Will Mexico's Women Go for the Gold?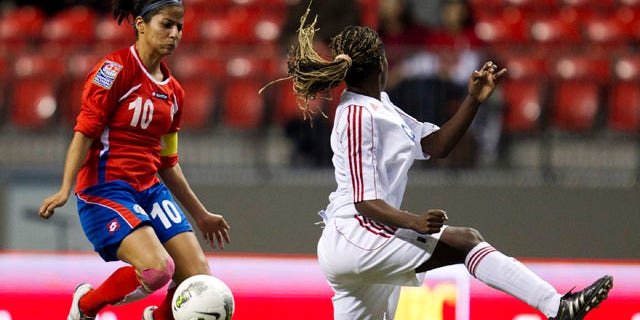 Since participating in the 2004 Summer Olympics in Athens, Mexican women's national coach Leonardo Cuéllar feels it is vital for El Tri to reach the London Games this summer.
The Mexicans will try to qualify for an opportunity to take on the world's best starting Friday in a CONCACAF qualifying tournament in Vancouver.
Mexico will meet Guatemala on Friday, the Dominican Republic on Sunday and the United States on Tuesday. The top two teams from each group will reach the semifinals and the winners of those encounters will both book a berth for London and play for the CONCACAF crown on Jan. 29. All games will be played at B.C. Place on artificial turf.
Before El Tri takes on the U.S., it has to get past Guatemala and the Dominican Republic.
In preparation for this tournament, the Central Americans trained in Mexico and beat several top club teams there, 10-0, 8-1, and 5-1.
"They were very impressive," Cuéllar said. "They definitely have had some good support from the federation and from the Olympic organization in Guatemala in preparing themselves."
The Guatemalans have qualified for the FIFA Under-17 and U-20 World Cups, so their player base has become stronger. Cuéllar also noticed that the Central Americans have surpassed rival Costa Rica on several levels.
"So I expect the strong ever Guatemala team. We are preparing ourselves for that," he said.
Cuéllar called the Dominican Republic's participation here "a surprise." He admitted he was expecting Trinidad & Tobago or Jamaica to reach the final qualifying competition.
"The fact they have left Trinidad & Tobago out is a very clear signal they have impressed and they are very strong. Trinidad & Tobago has given us a lot of trouble in the Pan American Games. So I expect a very athletic and very strong team."
And then there was the U.S., which lost to Japan in the WWC final via penalty kicks last summer.
"With a little bit of luck, they could be world champions again," Cuéllar said. "Pia [Sundhage, the U.S. coach] has done tremendous work. They work better as a team than any other team in the world. It gives them a big advantage in their preparation."
Given what transpired in Cancún, Mexico in 2010, Cuéllar figured the U.S. will be up for some revenge next Tuesday. The Mexicans upset the Americans, 2-1, to clinch a spot in the 2011 WWC, while forcing their rivals to qualify by besting Italy in a special home-and-away series.
"Maybe they have something extra in the game against us," he said. "We have to prepare for a very strong game. We may need to play the best our team has played. we had the opportunity to play several times against the grandeur of Mia Hamm, Julie Foudy, Brandi Chastain. They're all great players. They're outstanding. I think this U.S. team has the potential of being the same caliber of that generation."
There is little room for error here, since only two teams will move on. With the U.S., Canada and Mexico being the cream of the CONCACAF crop, one disappointed team will stay home. The winner of the U.S.-Mexico match probably will finish atop the group and avoid host Canada and wind up playing a weaker side such as Costa Rica.
Soccer-Mad Church Worships Diego Maradona as a God
Cuéllar? He is not taking anything for granted.
"That's why we're putting all of our energy in the first game against Guatemala," he said. "We want to take it game by game, make every game important. We cannot go ahead and only think of the U.S. and Canada or whoever it is in the other group. We need to start the tournament with a good result and with a better performance so we can have some momentum towards the two matches.
"We are focused for Guatemala and then we will concentrate on the Dominican Republic and we'll need to take care of what we need to take care of against the U.S. There is no margin for error. This is a very short tournament. If you look ahead too soon you can be mistaken in your preparation."
Michael Lewis has covered international soccer for more than three decades. He is in Vancouver covering the CONCACAF Olympic women's qualifying tournament. He can be reached at SoccerWriter516@aol.com.
Follow us on twitter.com/foxnewslatino
Like us at facebook.com/foxnewslatino