Will 'Air Raid' offense be the difference for Kentucky this season?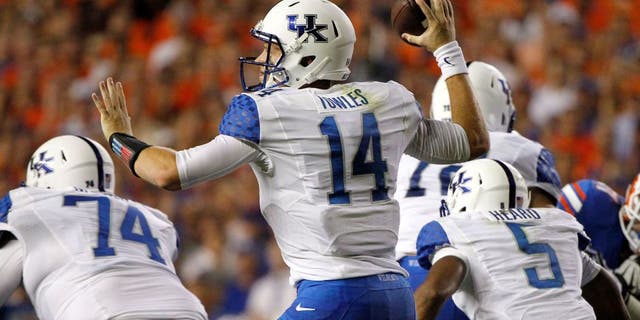 NEWYou can now listen to Fox News articles!
The big question for Kentucky heading into the 2015 season is whether the Wildcats will make a bowl game, but in terms of actually achieving that goal, there are a number of issues to be addressed.
The Courier-Journal over the weekend came up with a list of the five most crucial questions, with No. 1 as follows: "Does the Air Raid finally take off?"
Kentucky coach Mark Stoops brought in Shannon Dawson as the team's new offensive coordinator this offseason, and the expectation is that the Wildcats will be airing it out and putting up big numbers, both in terms of yards and points.
In Dawson's last six seasons as an O-coordinator, at West Virginia and Stephen F. Austin, his offenses averaged 458 total yards a game. Meanwhile, although Kentucky has improved on offense since Stoops arrived, the 'Cats haven't surpassed 400 yards in a game since 2010 (which, perhaps not coincidentally, was the last year they played in a bowl game).
With senior quarterback Patrick Towles and a host of skill-position players returning, it's not out of the realm of possibility to think that Kentucky might have one of the most productive offenses in the SEC -- if not the country -- this season. And if that happens, the Cats likely will surpass the six wins they've set as their minimum for this to be considered a successful season.
But if the Air Raid is out of sync early (especially with South Carolina, Florida and Missouri all on the schedule in September), the Wildcats could put themselves in a hole nearly impossible to dig out of in the loaded SEC.