Wild's Staal collides into boards, leaves game in second period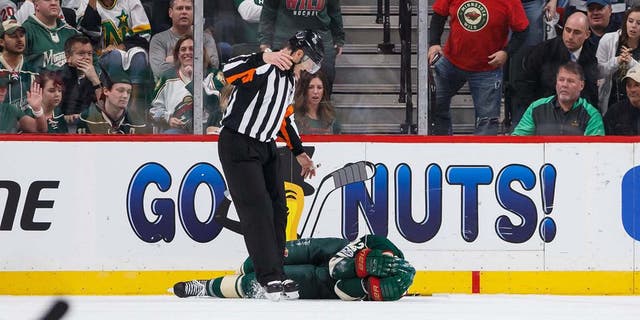 NEWYou can now listen to Fox News articles!
ST. PAUL, Minn. (AP) -- Minnesota Wild center Eric Staal crashed head-first into the boards in Game 5 of their playoff series on Saturday against St. Louis that sent him to a nearby hospital for further observation.
The Wild announced that Staal was alert and stable, before play began in the third period.
During a 4-on-4 situation in the second period, Staal sent a breakaway shot at the net before tripping on Blues goalie Jake Allen's skate after initial contact with defenseman Carl Gunnarsson knocked him off balance. Staal slid hard and horizontally into the boards.
Play was stopped with 6:07 remaining until the intermission, and Staal was down for several minutes before slowly climbing to his feet. He was visibly dazed as he was helped to the locker room, while the crowd booed the absence of a penalty.
Staal was playing on Minnesota's first line between Charlie Coyle and Nino Niederreiter.