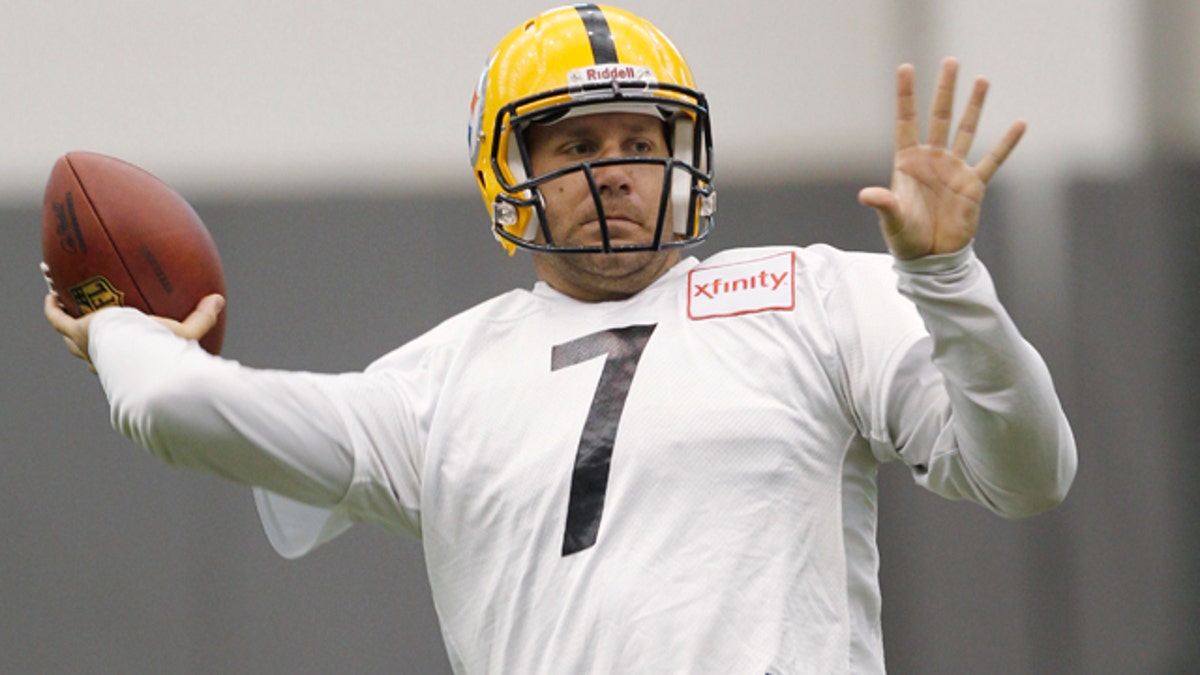 The highlight of Week 6 will be the return of Steelers quarterback Ben Roethlisberger, who missed the first four games of the season after being suspended for some fine, upstanding behavior at a Georgia college bar in March. Roethlisberger doesn't make our "must-start" list just yet, but this week at home against the Browns, he's pretty close. If you own Roethlisberger, you drafted him as a fantasy QB2 with this date in mind, and you'll probably want to get him in there – no matter how dirty it makes you feel. Cheer the fantasy points, not the guy.
As noted previously, each position below will have a list of weekly "must starts" to go along with the usual recommendations. They're players that warrant "no-think" fantasy status due to talent, workloads or both, regardless of opponent. The lists are subject to change, but additions and deletions will be made sparingly. Also, if a player is ever "removed until further notice," it doesn't mean you need to bench him; it just indicates that his status has become a week-to-week proposition that depends on the rest of your roster.
If you disagree with any of the selections, or want to offer some of your own, please post a comment at the bottom of the page. We'll be here every Thursday until the end of your fantasy season.
Week 6 byes: Cardinals, Bills, Panthers, Bengals
Quarterbacks
Must starts (7): Aaron Rodgers, Drew Brees, Peyton Manning, Tom Brady, Philip Rivers, Tony Romo, Matt Schaub (Note: Rodgers may miss Week 6 due to a concussion, so keep an eye on his status as kickoff approaches.)
Let's see how he starts off: Ben Roethlisberger
Start him: Matt Cassel, Chiefs
Cassel has had one good game out of four so far, and he's averaging just 162 yards per game with four touchdowns against three interceptions. He's also preparing for a game against the Texans, who have been lit up for 329.6 passing yards per game this season. That's last in the league, and 27.6 yards per game MORE than the 31st-ranked pass defense. C'mon, Cassel. If we can't start you this week, what good are you? Cassel's stats did get killed by a couple of Dwayne Bowe drops last week, by the way.
Sit him: Matt Ryan, Falcons
The Falcons head to Philly this week, and while we love Ryan in real football terms, his fantasy prospects are limited by his team. You know who has the most rushing attempts in the NFL? The Falcons, with 36 per game. On the bright side, they're also 10th in the league in pass attempts per game (35.4), thanks to a league-leading time of possession (34:59 per game). Still, the Eagles defend the pass a lot better than they defend the run, so the Falcons will be wise to go to their biggest strength on Sunday. Ryan's odds of a big Week 5 fantasy game aren't so great, but his odds of a Super Bowl appearance this season, on the other hand...
Pick him up: Ryan Fitzpatrick, Bills
Those Harvard quarterbacks are unstoppable! Since taking over for Trent Edwards three weeks ago, Fitzpatrick has thrown for 595 yards, seven touchdowns and just two interceptions. The Bills are off this week, and while we're not expecting Fitzpatrick to turn into a fantasy stud anytime soon, he could be a decent bye-week fill in for Weeks 9 and 10 against the Bears and Lions, respectively.
Running backs
Must starts (9): Chris Johnson, Adrian Peterson, Maurice Jones-Drew, Ray Rice, Frank Gore, Michael Turner, Steven Jackson, Rashard Mendenhall, Arian Foster (Note: Cedric Benson is usually in this space, but he has a bye in Week 6.)
Almost there: Peyton Hillis, LeSean McCoy
Start him: Ryan Torain, Redskins
Torain had only 67 yards from scrimmage in Week 5, but he's been ranked among the top 15 running backs in touches (carries plus receptions) for two straight weeks, and that's good enough for us. The 'Skins will host the Colts and their porous rushing defense on Sunday night, so Torain could be in line for a coming-out party on national television. Five bucks says either Al Michaels or Cris Collinsworth uses the phrase "Torain Train" at some point.
Sit him: Matt Forte, Bears
Forte had a huge game against the Panthers in Week 5, breaking loose for 166 yards and first-quarter touchdown runs of 18 and 68 yards. Unfortunately, Forte's rushing yardage totals in the four previous weeks were 50, 29, 29 and 26. QB Jay Cutler is expected to return to action this week for the Bears, and against the surprisingly stout Seahawks' run defense (2.7 yards per carry), we'll probably see a lot more passing than throwing from the Martzes of the Midway. Remember that before the Bears went run-heavy with atrocious backup Todd Collins under center in Week 5, Forte was averaging just 12.5 carries per game.
Forte isn't a must-sit – especially in PPR leagues - but if you have some good alternatives on the bench, this might be a good time to use one of them.
Pick him up: Brandon Jackson, Packers
With TE Jermichael Finley possibly done for the season and QB Aaron Rodgers in danger of missing this week's game due to a concussion, Jackson could be a nice checkdown option for backup QB Matt Flynn. Jackson has been inconsistent since fantasy owners scrambled to pick him up prior to Week 2, totaling 39, 39, 34 and 140 yards from scrimmage in four games. We don't love Jackson, but he's been ditched in a fair number of leagues, and we still think he has some value for this week and beyond.
Receivers (WR/TE)
Must starts (15): (WR – 9) Andre Johnson, Randy Moss, Reggie Wayne, Miles Austin, Calvin Johnson, Roddy White, Brandon Marshall, DeSean Jackson, Anquan Boldin; (TE- 6) Antonio Gates, Dallas Clark, Vernon Davis, Jason Witten, Tony Gonzalez, Zach Miller (Note: Larry Fitzgerald is usually in this space, but he has a bye in Week 6. Also, Calvin Johnson injured his shoulder in Week 5, and you'll need to watch his status as kickoff approaches.)
Removed due to injury: Packers TE Jermichael Finley, who will reportedly miss 6-10 weeks (and possibly the rest of the season) following knee surgery. Thanks for an excellent first four games, Jermichael. See you in 2011.
Almost there: Dustin Keller
Start him: Kenny Britt, Titans
Britt had four receptions for 86 yards in Week 5, and has caught a touchdown in three consecutive games. The Titans have a road date this week against the Jaguars and their 29th-ranked pass defense, making Britt a solid fantasy option. Also, with a degree from Rutgers University hanging on the wall at Wide Write headquarters, we'll recommend a former Scarlet Knight every chance we get. We'd write 1,000 words about Ray Rice every week, but you already know you should start him.
Sit him: Lance Moore, Saints
It seems like Saints receivers should be good to own, but you never know which one is going to stand out. Take Moore, for instance. Over Weeks 3 and 4, he had 11 receptions, 186 yards and three touchdowns. In the other three games, he combined for four catches and 31 yards. Moore has been targeted 23 times by Drew Brees, making him the team's fourth receiving option behind Marques Colston (40 targets), Jeremy Shockey (29) and Devery Henderson (28). The Buccaneers are ranked ninth in the league against the pass, and we don't usually recommend No. 4 options against top-10 pass defenses. It's kind of an unwritten rule around here.
Also: We thought about inserting the underachieving Greg Jennings here, but there's been some noise out of Green Bay this week about getting him more involved in the Packers' offense in the wake of Finley's injury. Let's give Jennings one more week as a fantasy starter.
Pick him up: Mardy Gilyard, Rams
The recommendation below should be sung to the tune of Barry Manilow's Mandy. Listen to Manilow's classic here while reading along – it'll be slightly less painful.
You've been waiting on the sideline
Longing for your time to shine
Some passes to catch
Defensive backs to beat
If you could only start
Your fantasy value would be neat, and...
Then Mark Clayton hurt his knee
Giving you an opportunity
It might take a little time
To connect with your QB
But when that day comes
You could make us so happy, oh Mardy!
Owners need a free-agent receiver
And they should pick you today, oh Mardy!
The Rams just needed a reason,
To let you play, oh Mardy!
You could develop the same, sappy devotion to Gilyard if you pick him up now and stash him on your bench. He might not make an impact right away, but at some point, they're probably going to let him sink or swim with fellow rookie Sam Bradford.
Also: The Packers appear ready to start rookie Andrew Quarless in Finley's place at tight end. Quarless was a good receiver in college, is available in most fantasy leagues, and should start getting the ball right away.
Good luck in Week 6!
John Halpin writes his "Wide Write" fantasy football column every week during the NFL season for FOXNews.com. He also writes fantasy columns and early-morning blogs four days a week at FOXSports.com/fantasy, and co-hosts a daily fantasy podcast. You can receive more fantasy news and contact John by following him on Twitter (@jhalpin37), or e-mailing him at jhalpin37@gmail.com.