Why a road course needs to be added to the Chase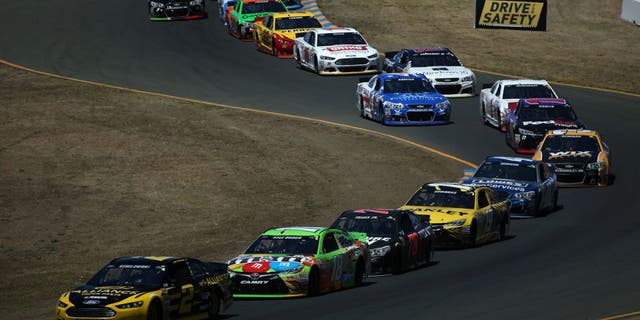 NEWYou can now listen to Fox News articles!
The 2017 NASCAR Sprint Cup schedule is already set. And top NASCAR officials have repeatedly told me how tough it to swap dates these days, meaning year-to-year schedule changes are little more than minor tweaks.
I know all that.
And I still want to see a road course in the Chase for the NASCAR Sprint Cup, and the sooner the better.
The action at Sonoma Raceway and Watkins Glen International over the last few years has become what short-track NASCAR racing used to be: hard, physical competition with lots of swapped sheet metal, frayed tempers and hard feelings.
It is the very definition of must-see TV: Road-course racing nowadays is thrilling, brutal and unpredictable, with the boys -- and girl -- having at it from start to finish.
Sonoma has produced seven different winners in the last seven races, while Watkins Glen had six more. In the last 14 road-course races, a total of 12 different drivers have won, with Kyle Busch the only driver to win at both tracks.
These two tracks have produced some winners who frankly weren't as competitive on ovals as they were here, guys like Marcos Ambrose, Juan Pablo Montoya and AJ Allmendinger. Road-courses give underdogs a fighting chance.
Think of some of the great moments in recent seasons: In 2015, Kyle Busch led brother Kurt to the checkered flag at Sonoma to win his first race since coming back from leg and foot injuries. It was the first 1-2 finish for the Busch brothers.
Two years prior at Sonoma, Martin Truex Jr. won a race for the first time since 2007, as Montoya ran out of gas on the last lap while in pursuit.
On the final lap at The Glen in 2012, three different drivers led with Ambrose prevailing in a jaw-dropping battle with Kyle Busch and Brad Keselowski.
In 2014, Allmendinger won the first race of his career at The Glen, out-duking Ambrose to score a hugely triumphant victory.
Last year, Kevin Harvick led going into Turn 6 and promptly ran out of fuel, allowing Joey Logano to pass him in the final corner, Turn 7, drive on to victory at the Glen.
And those are just a few examples of the drama we've all seen in recent years on the road courses. As racing goes, it doesn't get much better than that.
Throw in the fact that Sonoma is smack in the heart of Northern California wine country, while Watkins Glen is in the Finger Lakes region of New York, and you have two of the most beautiful areas in the country. Who wouldn't want to see races there?
Now just imagine the pressure of a Chase race on a road course. Wouldn't that be fun?
It sure as heck would.
Right now, the Chase has five 1.5-mile tracks, three one-mile tracks, a 0.526-mile track and a 2.66-mile superspeedway.
Wouldn't that mix look better with four 1.5-mile tracks and a road course?
I'm thinking it would and holding out hope that it happens some day.