Who'll win Week 5's biggest games?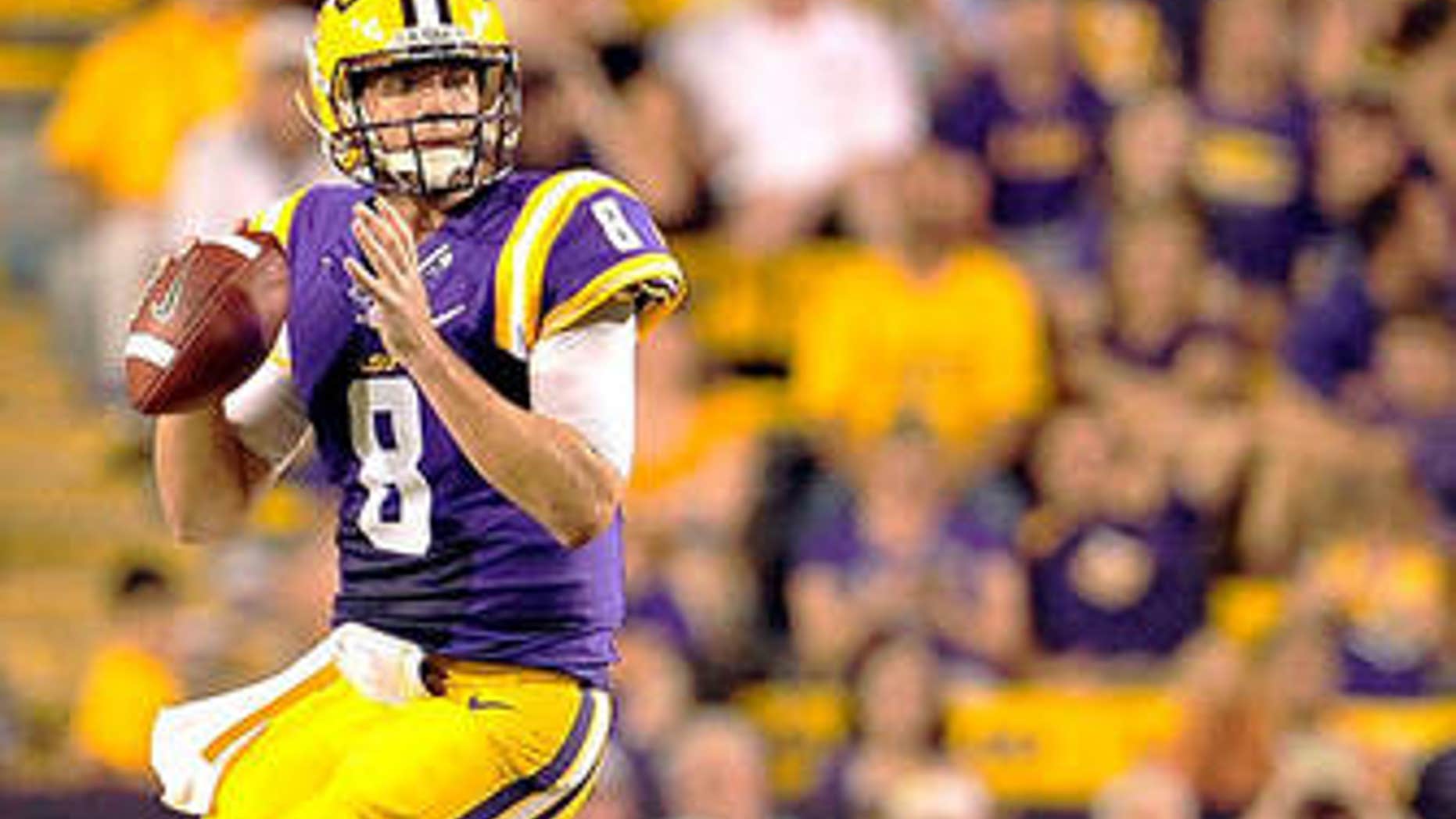 After a slow Week 4 in college football, we're rewarded with a terrific slate in Week 5.
Can LSU head to Athens and put a dent into the 'Dawgs? Will the Sooners get past Notre Dame and emerge as the team to beat this season in the Big 12? What are the odds Ole Miss can pull an upset for the ages and beat Alabama on the road?
In this week's Fearless Predictions, we tackle all of that and more.
Check out CollegeFootballNews.com for more on this week's games.
No. 6 LSU at No. 9 Georgia Saturday, 3:30 p.m. ET, CBS Why You Should Give A Hoot: These are strange times for the SEC.
It's still a nasty conference, but it's not quite as daunting as it looked before the season, especially with Florida losing quarterback Jeff Driskel for the season, South Carolina already losing to Georgia and Alabama not quite looking like the definitive No. 1 team in the land. The winner of this game might have a place in the debate for the nation's top team.
Yes, Clemson beat Georgia, but that was a road trip for the Dawgs that could've gone either way - it's about as close to a push as it gets. However, Georgia lost, meaning it has no margin for error the rest of the way if it hopes to play for the national title. Fortunately, considering Florida's issues on offense, it might be smooth sailing the rest of the way after this. Missouri is better than you think, and going to Vanderbilt and Auburn might be landmines if the Dawgs aren't paying attention. But any team good enough to even think about playing for the title and also beat LSU should be good enough to finish 11-1 with this schedule, get to the SEC championship and have the puck on its stick for a shot at the national championship.
Unless it's a rematch with these Tigers.
A reasonable case could be made that LSU is the best team in the country right now. The defense might not be quite up to its normal LSU snuff, but it's loaded with athletes and talent. The key is an offense that's hitting its stride at just the right time. Jeremy Hill is doing what he's supposed to do for the running game, the line is healthy and productive, the receivers are night-and-day better and Zach Mettenberger is playing like the NFL-caliber quarterback many thought he could be.
After beating TCU in the opener and dispatching of Auburn last week, it's time to go big-game hunting. The Tigers still have to deal with Florida, Texas A&M and road games at Mississippi State and Ole Miss, but they've never had a huge issue with tough schedules. Losing in Athens wouldn't be the end of the world - run the table in the West and all should be fine - but a win would make a strong case for the Tigers moving to at least No. 2 in the nation. It would also mean game on for the national title hunt.
Why LSU Might Win: Can the Georgia defensive front hold up against the pressure? Don't let the dominance against North Texas - 25 carries for seven yards - fool you; UGA's front line can get gashed. Clemson and South Carolina were able to run when needed, and LSU will try to establish the tempo early with its bruising offensive line. Yes, Mettenberger has turned into the star of the show, and the game will eventually end up in his hands, but LSU is best when it's able to ground-and-pound.
Lean, lean, lean, lean, lean and then boom - the big play opens up. Hill is just the type of back who can come up with a few decent runs and then take off and fly after the line allows a wee bit of an opening. Unlike recent LSU teams, opposing safeties have to respect the pass, so they can't cheat up to slow down Hill. It'll be a really big deal if the Tigers own the time of possession, however ...
Why Georgia Might Win: Georgia has been fantastic at controlling the clock and tempo. Todd Gurley's running is part of the reason the Dawgs are moving the chains with ease - life is easier with second-and-short - but the key is not getting into third down situations at all. Georgia hasn't been great on third downs, but Aaron Murray has made enough good plays to keep drives alive. The bigger overall question could be stamina -- LSU hasn't played a complete 60 minutes yet. To be fair, the TCU and Auburn games were never really in doubt, but it would've been nice if LSU closed a little bit stronger.
Georgia has been far more tested, fighting with Clemson and South Carolina late and holding off North Texas, and that's where Murray comes in. Brilliant so far, he's completing 72 percent of his passes and proving he can work just fine with all of his receivers, spreading it around well and keeping his poise under pressure. LSU has a nice pass rush, but Murray can get the ball out of his hands in a hurry.
What Will Happen: This will come down to late in the fourth quarter. Can Georgia's defense hold up, or will the offense simply out-bomb its way to a win? Is LSU really ready to handle the pressure? The Tiger offense will be efficient and effective enough to keep up the pace, while the secondary will give Murray his toughest test yet. If this isn't the best LSU offense yet under Les Miles, it's the most effective - at least so far. The balance and running game will get the job done in a typical SEC classic.
Prediction: LSU 34, Georgia 31
[Read the full prediction at CollegeFootballNews.com ]
No. 14 Oklahoma at No. 22 Notre Dame Saturday, 3:30 p.m. ET, NBC Why You Should Give A Hoot: From Manti Te'o - good and bad - to the USC game to the close calls against Stanford and Pitt to the BCS championship debacle, the defining moment of Notre Dame's 2012 magical season might have been the 30-13 win at Oklahoma. America didn't believe in the 7-0 Irish, but going into Norman and coming away with the ninth win in the 10-game history of the two storied programs took things to a whole other level.
OK, so Notre Dame was so emboldened by the huge road win that it came out and gagged in a three-overtime win over Pitt, but the win in Norman still made the idea of playing for the national title seem possible. This time around, beating Oklahoma might be vital for the Irish just to get into a decent bowl.
Notre Dame doesn't have any direct bowl ties, and while some minor postseason game will happily break its contract and find a way to make it happen, that's not exactly the goal coming off a 12-1 season. Like early on last year, the Irish haven't set the world on fire, but this year includes a loss to a suddenly-shaky Michigan team that doesn't look so hot. Follow that up with a rough win over a horrible Purdue squad and a dogfight with a Michigan State team that can't play a lick of offense, and there's reason for concern. With Arizona State next, USC to follow, Navy, Pitt, BYU and Stanford still a part of the fun, a loss to Oklahoma could be devastating.
Meanwhile, the Sooners could become this year's out-of-the-blue national title contender. They haven't been tested yet -- beating ULM, West Virginia and Tulsa -- but the defense has been fantastic, the offense appears to have settled in with Blake Bell at quarterback, and the Big 12 schedule ahead doesn't look that bad. Beating Notre Dame for the first time since 1956 wouldn't get the college football world buzzing about a possible BCS championship, but with TCU and Texas up next, this could be a big stepping-stone game for a team trying to move up the rankings.
Why Oklahoma Might Win: Oklahoma isn't a good fit for the Irish offense. Notre Dame doesn't/can't run the ball effectively, and it doesn't utilize a dangerous scrambler at quarterback who can make things happen on the move. Tommy Rees has been excellent so far, but dropback passers aren't really a problem for this OU secondary that's ninth in the nation in pass efficiency D. The relatively unsung Sooner defensive front gave up 169 rushing yards to West Virginia, and Tulsa got in a couple of scores, but for the most part nothing is consistently getting through, which bodes well for the Sooners.
Why Notre Dame Might Win: Rees should get time in the pocket. Oklahoma doesn't have a strong pass rush to account for. Getting into the backfield against ULM wasn't much of a problem, and West Virginia's offense sputtered, but the Sooners don't come flying at the quarterback from all angles and shouldn't do anything to bother Rees. If he could handle Michigan State without throwing a pick -- his 14-of-34 day aside -- then he should be able to deal with the Sooner defense. The big key will be for Notre Dame to make this an ugly street fight. West Virginia was able to keep the game close a few weeks ago, even if it couldn't seem to move the ball on a consistent basis against the Sooners. If this is Michigan State-Notre Dame II, the Irish can handle that.
What Will Happen: Oklahoma's offensive balance won't explode on the solid Notre Dame defense, but it'll do just enough to get by on the road. The Sooner running backs will be better than the Irish linebackers, and Rees won't be able to pick up the slack for the lack of a steady running game.
Prediction: Oklahoma 23, Notre Dame 17
[Read the full prediction at CollegeFootballNews.com ]
No. 21 Ole Miss at No. 1 Alabama Saturday, 6:30 p.m. ET, ESPN Why You Should Give A Hoot: The last time Ole Miss didn't lose to Alabama by double digits was 2008. The last time it won was 2003 - Mike Shula was the Crimson Tide head coach, while Nick Saban was busy leading LSU to a national title. It's been an ugly run for the Rebels, winning only twice since 1988 and four times since 1970. But this is a different Ole Miss team that could be ready to usher in a new era.
After surviving the tough SEC opener at Vanderbilt and taking advantage of a mopey Texas squad two weeks ago, things aren't looking so bad for Hugh Freeze's young club. The offense is playing great, the superstar recruits are looking the part right away and after going to Auburn next week, the team doesn't leave Mississippi until bowl time - unless there's a stop in Atlanta first. Playing in the SEC championship isn't such a crazy thought.
Of course, Texas A&M, LSU, Arkansas and Missouri aren't exactly layups, even if they are home games, and Alabama is Alabama, but the Rebels are looking the part with speed, talent and a whole bunch of athleticism. Texas might not be playing like it's supposed to, but if you can run with that team, you're fast.
Meanwhile, it's been easy to try to poke holes in the No. 1 team in the country. The offense didn't show up against Virginia Tech, the defense took the day off against Texas A&M and it's not possible to come up with a more unimpressive 31-6 win than the Tide did last week against Colorado State. But despite all the concerns, it could be smooth sailing after this week for Alabama other than the Nov. 9 game against LSU. Besides Ole Miss and LSU, there's absolutely nothing but a complete meltdown gag standing in the way of yet another SEC championship appearance.
But this week will be a fight, as all of the pressure is on Alabama, like usual. The program is used to it, but Ole Miss gets to come in all loose, excited and too young to know any better. At 3-0 - considering 1-2 was a very real possibility looking at the preseason prognostications - Ole Miss is playing with house money.
There's nothing more exciting than a team on the rise, and now it's measuring-stick time. Is it the Rebels' time to arrive, or is it going to be a learning step in the progression? Will Alabama ho-hum it and come up with another SEC win over another pretender to the throne, or is this when the history books get an interesting new entry?
It's time to learn something about these two.
Why Ole Miss Might Win: It's possible Bo Wallace and the Ole Miss offense could turn into Texas A&M Lite - not as tasty, but without as much of the bad stuff. Depending on which way you look at it, either Johnny Manziel came up with one of the greatest performances in SEC history in the loss to the Tide, or his two interceptions overshadowed all the amazing statistics. Wallace used to have a big problem making the bad throw at the wrong time -- he threw two picks in last year's loss to the Tide -- while coming up with the key mistake that would screw up something good, but that all changed.
The Rebels have turned it over four times so far, and three of the mistakes came against SE Missouri State. Wallace didn't throw a pick against either Vanderbilt or Texas, taking great care of the ball - the interception against SEMO was pitched by Robert Ratliff - and he's coming up with the explosive pass plays on a regular basis.
Why Alabama Might Win: Alabama's offense might not be kicking it into high gear at the moment, but it seems to be able to do it when needed. Against Texas A&M, the offensive line took its game to another level, and at least before the key T.J. Yeldon fumble, the game was all but over. There wasn't any need to do anything fancy against the Hokies or Rams with the defense not allowing much of anything, but that doesn't mean the offense can't produce - at least that's the theory.
AJ McCarron is playing better than you think. The 10-of-23 clunker against Virginia Tech - the Hokie D had a lot to do with it - dismissed McCarron from any Heisman discussion, and now he has fallen way behind Mr. Football, Murray and Mettenberger in SEC quarterback hype. But outside of a pick against the Rams last week, he's been razor-sharp, completing 40-of-55 passes over the last two games. Some might see the Alabama offense as inconsistent, but instead, it might just play when it has to. This week, it will have to, and the running game should be able to produce against an Ole Miss defensive front that's very shaky at linebacker.
What Will Happen: Ole Miss will make Alabama look mortal. The Tide defense will have a few problems with the offensive balance, and the Rebels will come up with a few key stops early on - and then Alabama will decide it's time to play. With Anthony Steen back at guard after missing last week's game with a concussion, the Tide line will find its groove, and Yeldon will outplay Ole Miss running back Jeff Scott. Ole Miss will come away looking good, but it'll be a learning experience.
Prediction: Alabama 38, Ole Miss 16
[Read the full prediction at CollegeFootballNews.com ]
Arizona at No. 16 Washington Saturday, 7 p.m. ET, FOX Why You Should Give A Hoot: Half of the Pac-12 is undefeated. Two of those six teams will put their perfect marks on the line at Husky Stadium this weekend. Washington has been burrowing deeper into the top 25 since opening the season with wins over Boise State and Illinois. Still, the Huskies have yet to face a league opponent, the barometer to determine whether they've moved any closer to North Division heavyweights Stanford and Oregon, who are next on the slate.
Arizona is kind of a mystery right now, because it's yet to play a quality opponent. Sure, the Wildcats are 3-0, but how much can be gleaned from routs of Northern Arizona, UNLV and UTSA? Somewhat of an afterthought in the Pac-12 South race, 'Zona moves right into the mix with UCLA, Arizona State and USC if it can end U-Dub's perfect start.
Why Arizona Might Win: The Wildcats believe they can score on anyone, spreading the field and running wild between the wide gaps in the line. They'll test their theory this week against an improved Washington defense. Arizona is averaging 44 points and 322 rushing yards a game. Three players are on a 1,000-yard pace: QB B.J. Denker and backs Ka'Deem Carey and Daniel Jenkins. Carey is one of the premier runners in the country, the kind of back who can put a program on his shoulders and carry it to huge wins.
Why Washington Might Win: Arizona has one elite player -- Carey. Washington has balance and diversity on both sides of the ball. What's made the Huskies so intriguing this month is that they're getting contributions from all over the roster. RB Bishop Sankey is No. 2 nationally in rushing, QB Keith Price is No. 8 in passing efficiency and the defense has allowed only 30 points in three games. It's going to take a complete team to beat Washington right now, especially in Seattle.
What Will Happen: Arizona can beat Washington with Carey. Washington can beat Arizona in so many different ways. The Huskies have all kinds of options, which will allow Steve Sarkisian and his assistants to make in-game adjustments to gain an edge. It's early, but U-Dub is bucking to become the Pac-12's third best team, and it won't have too much trouble disposing of the incomplete Wildcats Saturday.
Prediction: Washington 40, Arizona 23
[Read the full prediction at CollegeFootballNews.com ]
No. 23 Wisconsin at No. 4 Ohio State Saturday, 8 p.m. ET, ABC Why You Should Give A Hoot: This is probably your 2013 Big Ten championship. Ohio State could have problems at Northwestern and against Michigan in Ann Arbor, but the Akron and UConn games didn't exactly inspire a ton of confidence in the Wolverines. That's about it for the Buckeyes, unless they completely lose focus and gag away an Indiana or Penn State layup. Wisconsin hosts Northwestern next, but gets two weeks to prepare, and still has to deal with Iowa, Minnesota, Indiana ... exactly.
Meanwhile, from the Legends division, Nebraska doesn't have a defense, Michigan State doesn't have an offense, Michigan has been just plain weird, and Northwestern is, well, Northwestern, so go ahead and assume that this is it. The winner will probably end up in the Rose Bowl, at worst, while the top teams in the Leaders start picking each other off.
The Badgers had no problem bouncing back from the debacle against Arizona State, ripping apart Purdue like it wasn't even on the field at times, but they're piling up mega-stats against a lot of really bad teams. Meanwhile, Ohio State is about as tuned up as a team can possibly be, scrimmaging against bad Buffalo, San Diego State and Cal teams before embarrassing itself and the college football world by scheduling something called Florida A&M.
Both the Buckeyes and Badgers have yet to beat a team with a victory over an FBS team. In fact, Arizona State's "win" over Bucky was the only victory by any UW or OSU opponent this season. So the competition hasn't exactly been fierce, and no matter how it ended up, Wisconsin failed its one decent test. Still, these two should be the class of the conference this season, and at the very least, considering their recent history, they should put on a whale of a show.
The Buckeyes came roaring back to beat the Badgers in overtime last season and won a stunner two years ago in Columbus on a late Braxton Miller heave. Winners of five of the last six in the series, the Buckeyes have been the class of the conference, even with the Badgers going to three straight Rose Bowls, but it's all changing. Next year, Ohio State will be in the East and Wisconsin in the West, so the next meeting could be for the real Big Ten title.
Why Wisconsin Might Win: Ohio State is ninth in the nation against the run, allowing just 80 yards per game, with Cal the only team to rush for over 100 yards and a score. There's just one problem: No one on the schedule so far has any ability to pound away. The Bears have the best rushing attack OSU has faced, and they average a whopping 117 yards per game - that's a day's pay for the three-headed rushing monster of Melvin Gordon, James White and Corey Clement. That's not to say that OSU can't come up with a good day against the Badger running game, but considering the front seven was a big question mark coming into the season, it's going to be a whole new world when the game starts getting physical.
Why Ohio State Might Win: Inexplicably, considering Arizona State's Taylor Kelly looked like Peyton Manning against the Badger secondary, Purdue never tried any sort of a deep downfield pass to test the shaky corners. Ohio State won't make the same mistake. The Buckeye receivers are making big plays in bunches, with Devin Smith off to a good start, and Corey Brown and Chris Fields not far behind. The ASU receivers were good, but the OSU targets are far better and far more dangerous. If Miller can settle in and get a little time, he should be able to open it up at will on the outside. The more the UW linebackers and safeties have to hang back just a wee bit, the more room there should be for the red-hot Buckeye runners.
What Will Happen: Wisconsin will run the ball effectively and expose a Buckeye defensive front that needs a little work, but it won't be enough. The Ohio State passing game will give the Badger corners problems, while the linebackers won't be able to handle Miller and Hall in the open field. Every time it seems like Wisconsin will make a big push, the Buckeyes will answer.
Prediction: Ohio State 37, Wisconsin 31
[Read the full prediction at CollegeFootballNews.com ]