Who Clayton Kershaw thinks should win the NL Cy Young Award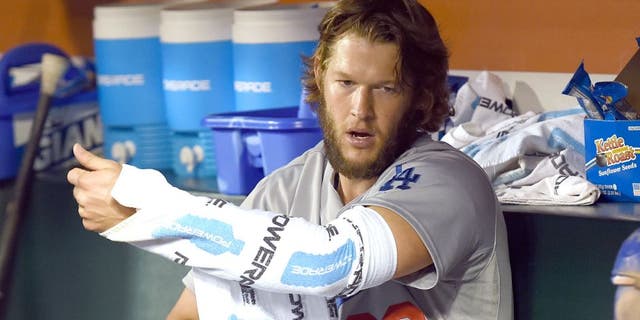 NEWYou can now listen to Fox News articles!
With another dominant performance in an abbreviated outing on Sunday, Clayton Kershaw is making a solid case to win this year's NL Cy Young Award, but who does he think should be granted the hardware?
After striking out seven in a mere 3 2/3 innings of work in a limited 60-pitch outing on Sunday, Kershaw notched 300 strikeouts, becoming the first pitcher since 2002 to do so.
Kershaw's season accomplishments now include a 16-7 record, 2.13 ERA and 0.88 WHIP, which would usually make him the odds-on pick for the Cy Young Award; however, teammate Zack Greinke has had a historic year himself.
In addition to his 19-3 record, the right-hander leads MLB in both ERA (1.66) and WHIP (0.84) and has tossed 200 strikeouts as well.
"Zack," Kershaw replied when asked who he thought should win this year's NL Cy Young. "Best numbers. Lowest ERA. Lowest WHIP. I mean, what else do you want?"
Regardless of who wins the Cy Young Award, the Dodgers are on a mission to make a deep postseason run and capitalize upon their first third-consecutive playoff berth in franchise history.
Kershaw, who has recently struggled in the postseason, particularly against the St. Louis Cardinals in the 2013 NLCS and 2014 NLDS, was terse when discussing what lies ahead for him and the Blue Crew.
"I don't know," Kershaw said when asked how prepared he feels for the postseason. "We'll find out."