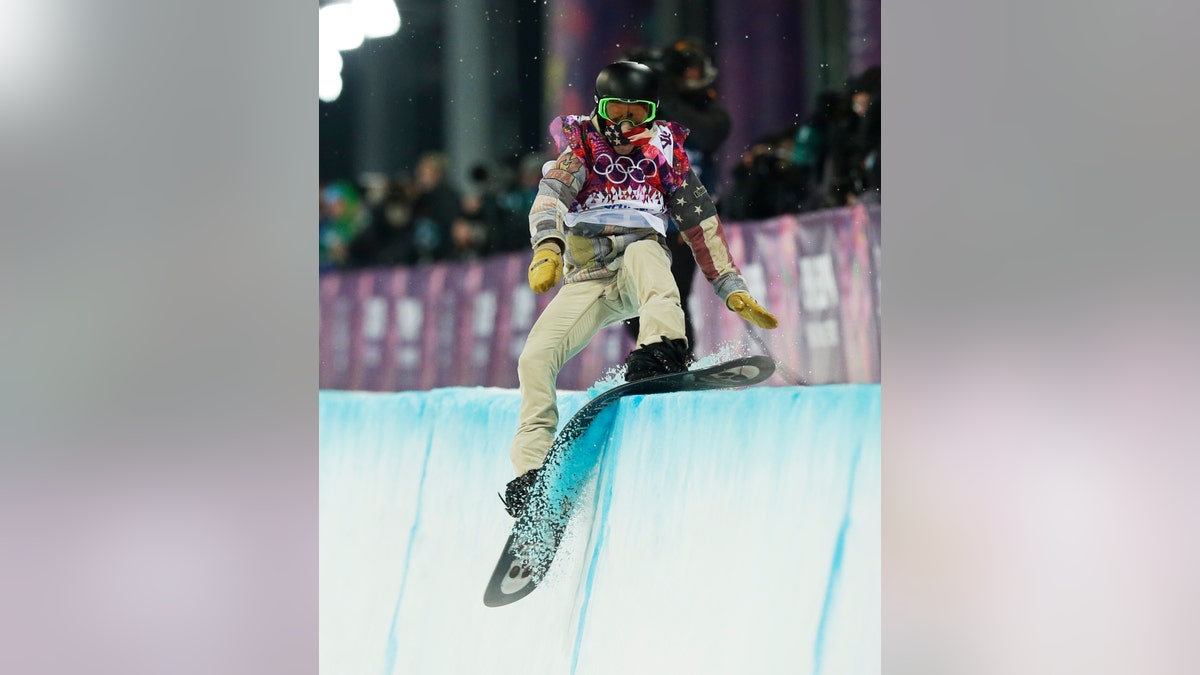 KRASNAYA POLYANA, Russia – Shaun White lost to a kid they call the "I-Pod," and now, he may never hear the end of it.
How big of an Olympic shocker was this? White, the best snowboarder of his era and one of the best-known and best-marketed athletes at the Sochi Games, didn't even win a medal. He finished fourth.
The 27-year-old American, who opted out of the Olympic slopestyle debut and put all his chips in the halfpipe, where he hoped to win a third straight gold medal, got knocked off by Iouri Podladtchikov, the Russian-born inventor of the "Yolo," the trick that White could not master.
"I'm disappointed," White said. "I hate the fact I nailed it in practice, but it happens. It's hard to be consistent."
The Japanese pair of 15-year-old Ayumu Hirano and 18-year-old Taku Hiraoka won silver and bronze, and the Americans were shut out on the halfpipe for the first time since the sport was introduced to the Olympics in 1998.
Podladtchikov, who now lives in and competes for Switzerland, landed the trick successfully at an event in Europe last season, White watched on his computer and knew what he had to do next.
He landed it twice in qualifying events and was listed as the heavy favorite to become the seventh person to win three straight gold medals in an individual event at the Winter Games.
When White pulled out of the Olympics' inaugural slopestyle contest, saying he didn't want to risk injury for his historic quest on the halfpipe, the stakes were set.
It unraveled early.
On White's first of two runs in the final, his attempt at the Yolo ended with a fall that left him sliding down the halfpipe on his backside. Even though his chance at putting up a winning score was over, he tried to finish the run with another of his double-cork tricks. White wasn't close -- his board slammed on the lip of the pipe, followed by an awkward and painful fall onto his rear.
I-Pod had scored an 86.5 in his first run -- clearly in medal contention -- and then won it on his second attempt. The Yolo includes a total of 1440 degrees of spin -- two head-over-heels flips and two 360-degree turns. Four years ago, it was unthinkable, but not anymore. He landed it and even though he only threw five tricks, when most riders were trying six in a supersized, super-slushy halfpipe, the judges liked what they saw.
As did I-Pod, who spiked his snowboard into the ground like a football.
"He's incredible," American Danny Davis, the 10th-place finisher, said of Podladtchikov. "That run on that halfpipe. Wow."
It put huge pressure on White, whose final runs at the last two Olympics have been nothing more than pressure-free victory rides.
He didn't fall, but rather skittered down the pipe on his Yolo landing. The landing on his last double cork was less than perfect, too -- his knees buckled and nearly touched the snow. White raised one finger in the air and raised his hands in victory. Yes, sometimes judges reward athletes for what they've done, not what they just did.
Not this time. White's fourth-place score, a 90.25, came up, and he broke into a big smile. He gave Podladtchikov a big hug and fatherly mussed his hair. That kid earned it. And the champion had nothing to complain about.