What we learned: Five takeaways from Harvick's Dover thriller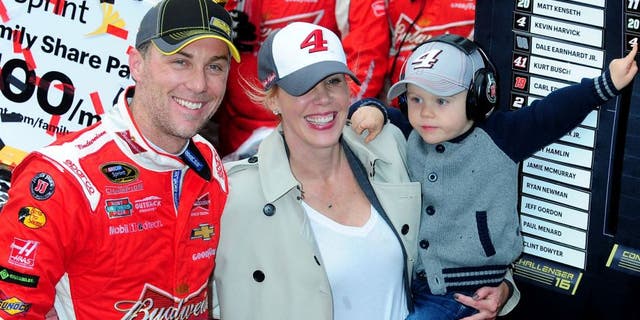 NEWYou can now listen to Fox News articles!
This changes everything. Again.
For the third time in the last five races in the Chase for the NASCAR Sprint Cup, Kevin Harvick, crew chief Rodney Childers and the rest of the No. 4 Stewart-Haas Racing team had two options: Win or be eliminated from championship contention.
It happened in the final two races of last year, when Harvick needed to win both the penultimate race of the season at Phoenix International Raceway and a week later in the season finale at Homestead-Miami Speedway.
And it happened again Sunday at Dover International Speedway, a track where Harvick had run well but never won at in the past. Knowing he'd be knocked out of the Chase if he didn't win, Harvick led 355 of 400 laps of the AAA 400 to utterly drub the competition and guarantee he would advance to the next round of the Chase.
"This is what it's all about," Harvick said in Victory Lane. "Those big-time moments."
Indeed.
More than that, though, Harvick may have saved the Chase for the year.
Coming into the Dover race, Joe Gibbs Racing had won the last four Cup races, five of the last six and 10 of the last 13. JGR's dominance, while laudable, had sucked the oxygen completely out of the season and the Chase for anyone other than JGR fans.
Harvick's victory, on the other hand, injected some much-needed energy into the Chase.
Now there are two main protagonists to choose from and they couldn't be more different: The brash, cocky and oh-so-clutch Harvick, and the four Joe Gibbs Racing Toyota drivers who have been so fast, so smooth and so dominant for much of this year.
Racing needs rivals. Racing needs guys who represent clear-cut choices. Racing needs drivers who talk crap and play mind games. Most of all, racing needs drivers who perform like champions.
And in Harvick and JGR, you have them.
Pick a side, either side. Harvick will have his fans, and the JGR squad theirs' and they'll be lots to squabble about over the final seven races of the year.
Now, granted, there are still 12 drivers left in the Chase, which includes seven drivers not named Harvick or employed by JGR. But at this point in the season, with seven races left, do you see anyone other than one of these five as likely to win the title? Really likely? I don't.
There are some -- Joey Logano and Kurt Busch come to mind -- who could pull off an upset, but if anyone other than Harvick or one of the JGR studs wins the title, I think it's safe to say that would qualify as a genuine upset.
Harvick has already poured fuel on the fire.
Prior to the start of the Chase three weeks ago, he was asked how he would fare against the JGR Toyotas.
"I think we're going to pound them into the ground," he said, without batting an eye. "That's what I think. Hopefully, they can beat themselves."
Sunday at Dover he proved he could do just that. We'll see how things shape up over the final seven races of the year.
Four other takeaways from Dover:
-- When Jimmie Johnson won his fifth consecutive Sprint Cup championship in 2010, most observers assumed it would be only a matter of time before Johnson would win eight titles and break the NASCAR record of seven shared by Dale Earnhardt and Richard Petty. In the last five years, though, Johnson has only won one title and now has six in total. It's a fair question to ask if Johnson will get to seven, much less eight, especially now that he's 40 years old.
-- While you always feel bad for the guys who got knocked out of the Chase, the four who failed to advance this time were among the weakest links in the field. Clint Bowyer, Paul Menard and Jamie McMurray are all winless and so far this year have combined to lead just 23 of 8,306 laps run. And the last time Johnson led a lap was at Daytona in July.
-- In his final season, Jeff Gordon advanced to the second round of the Chase, as did his teammate, Dale Earnhardt Jr. For at least three more races, Gordon and Earnhardt are still in championship contention. That should keep interest high among fans and viewers, or at least a lot higher than it would have been otherwise.
-- Last but not least, the third and final race in the next round of the Chase is at Talladega Superspeedway. The only two guys who will be safe going into that race are the two drivers who win at Charlotte Motor Speedway next week and Kansas Speedway the week after. Everyone else will be nervous, as they well should be. Anything can and does happen at 'Dega and I expect all hell to break loose when it does. In fact, I'm kind of counting on it.