What was he thinking? Anderson Silva's absurd doping defense falls flat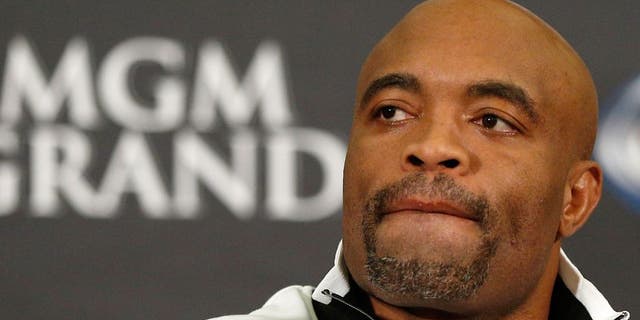 Like many athletes before him, former UFC champion Anderson Silva hired a likely high-priced attorney to help defend himself Thursday at an athletic commission (in this case, Nevada's) disciplinary hearing. And like many fighters before him, "The Spider" went in with poorly supported defense claims, a poor understanding of commission disciplinary history and an overall lack of preparation.
After following commission disciplinary proceedings for at least a decade, one of the strangest common occurrences I've noticed is fighters hiring lawyers who seem not to have a clue as to how help their clients in this setting. Time and again, fighters are represented by big-name lawyers who present some variation on the same, strained defenses for failed banned-substance tests that have almost always failed at commission hearings.
Silva and his team presented a convoluted, incredible defense as to why he failed multiple drug tests leading up to and immediately following UFC 183 in January, and then offered little to nothing in the way of supporting evidence for their story. Leaving aside the many comical-sounding goofs, including the commission accidentally having Salt-N-Pepa's "Let's Talk About Sex" and other anthems of yore pumped into the hearing room (really), and stilted translation work, Silva and his legal team's defense argument was perhaps the worst part of the entire, ridiculous episode.
If Silva and his team had taken even a cursory look at the Nevada commission's disciplinary decision record with regard to banned substances, they could have guessed that the "my friend gave me a tainted supplement or medicine" excuse doesn't usually doesn't result in leniency. More often than not, the commission has maintained that fighters are always responsible for what they put in their own bodies.
Still, Silva and his lawyer either unnecessarily concocted or revealed an embarrassing story of the fighter needing help with sexual performance, then turning to a newly made friend who procured a male-enhancement drug for him. Turns out, according to Silva and his team, that the medicine probably contained the banned steroids that he was popped for.
Perhaps it did. That likely wouldn't have absolved Silva of any guilt, however, in the eyes of the commission.
Silva and his crack team took it one step further and attempted to "bolster" the story by saying that the drug procured by his new friend isn't available in the United States or his native Brazil, but rather was gotten in Thailand. Somehow, Silva's team thought that saying that he took a mystery drug from a friend that isn't even legal in Brazil and had to be procured in Southeast Asia would make his case stronger.
Perhaps Silva's lawyer thought that there is Nevada statute bylaw that exempts banned-substance use for licensed combatants if said drugs are purchased in Thailand. There is not.
Silva and his representatives also brought in a drug expert to testify that he had examined Silva's sex pills and that he believed the positive steroid tests could have come from taking it.
Again, that likely wouldn't matter at all to the commission. But it may still have been a good idea for Silva's expert scientific witness to bring any documentation of the drug examination that was said to have occurred.
Instead, they showed up, talked, and didn't bring any actual evidence or documentation. This wasn't a drill, guys.
Sadly, that wasn't the only incriminating information volunteered by Silva. When asked by a commissioner whether, before the lead-up to UFC 183, he'd ever been drug tested at any time other than on fight days, Silva and his team admitted that he had not.
He may have had little choice other than to say that or claim no recollection of every drug test he'd ever taken over the course of his long career, but all the admission did do was draw attention to the idea that Silva may have previously used banned substances during training camps and simply cleared them out of his system by fight nights.
The takeaway for many fans, and possibly the commission members, may have been that Anderson Silva failed the first and only drug test he ever took outside of competition days.
We don't know if Silva has doped previously in his career, but we do know he has faced opponents who were doping at the time of their fight.
And that is why I'm not very upset by the notion that Silva took performance-enhancing drugs, banned or not. If the use of these substances can someday be fairly controlled or eliminated, that's a different story. (It is worth nothing that we don't have any particular reason to be believe that is possible, though.) But as it stands, combat sports are filled with doping of various kinds. It is just part of competing at a high level, like it or not.
Silva could have considered telling the commission that he took banned drugs on purpose, to help him heal and recover (the reason most fighters use drugs like steroids) from the horrific leg injury he suffered. Perhaps the penalty would have not have been affected, but at least he would have appeared more dignified and credible.
Ditto for his reminding us all that he'd never before been tested outside of competition days. Were Silva and his team arguing that he should have been given more time to adjust to newly imposed standards?
Well, if they were, perhaps they were just confused by the commission's horrid handling of Vitor Belfort's case, where that was one of the tacitly implied reasons for them effectively allowing Belfort to regulate himself.
Fighters be warned -- if you're not Vitor Belfort, you're better off mounting an actual defense for yourself, or admitting culpability. I don't know why that is, exactly, it is just a lesson from observed history.
Silva and his team did tepidly touch on the notion that perhaps the commission didn't handle his testing correctly. That is certainly possible.
You can't come in to a commission hearing and half-heartedly question their competence, or jurisdiction, however. If that's a fighter's defense, he or she had better come full throttle, with a lot of evidence and an expectation that the commission will not rule for them and so they will need to ultimately challenge their decision in court.
I don't consider Silva's drug use or test failures sad. He's a professional athlete competing near 40 against much younger fighters, and coming off of an injury that could have ended his career.
Chances are most fighters fitting that profile would use any substance they could to try and help them heal and compete effectively, again. His suspension and fine sadden me, however.
He's got a family to feed, and $380,000 is a lot of money.
However, his weird and hard-to-believe defense of himself saddened me even more. Instead of owning up to his actions or taking on the system, he came up with a lame excuse for taking banned drugs that either made up or illuminated a very personal problem, and it didn't work.
Now what is he left with what? Well, probably a big-money fight in February, once his suspension is over.