What Andy Murray means to a nation divided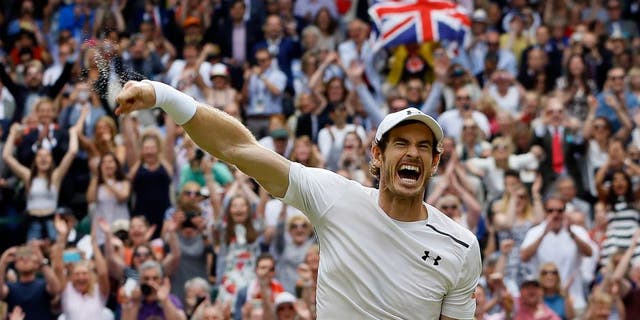 NEWYou can now listen to Fox News articles!
LONDON -- During Andy Murray's run toward a possible second Wimbledon title, the enthusiasm in Britain at least seemed to have been tempered by the divisive result of the recent Brexit vote, and even England's soccer team's shock Euro 2016 exit. It was a far cry from 2013, the year of his first title, when every set and game was cause for national anxiety as Murray marched toward becoming Britain's first Wimbledon winner in 77 years.
However, Sunday at Granary Square, near Kings Cross station, as the gentlemen's final begins, hundreds of fans gather around a large screen as Murray warms up. The buzz that was lacking before is now palpable. "There's so much more added to this because of everything going on," England native Hannah Redman says. "He's the hope for the summer."
It's interesting to talk to casual fans about Murray's role in the larger conversation of Britishness, because his road to becoming the torchbearer of British sports is a unique one. The United Kingdom is a country made up of four nations. Its two largest nations -- Scotland and England -- have a rivalry that goes back further than William Wallace and is so fraught with nuance that it's nearly impossible for outsiders to understand. Even for Brits themselves, the delicate balance between local and national pride can be a precarious one.
Murray, born and raised in Scotland, first found this out at 19, when he whimsically said he supported "anyone but England" at the 2006 World Cup. A harmless quip in the longstanding rivalry, but even when he won Wimbledon for the first time in 2013, he was forced to answer questions about his loyalty. "I'm proud to be Scottish, but I'm also proud to be British. I don't think there's any contradiction in that," he told reporters.
Of course, there's the long-running joke that Murray is labeled as "Scottish" in news reports when he's losing and "British" when he's winning. This perceived bit of divisive journalism is seen as a way for the English to distance themselves from Murray at their convenience. It was only a theory, but it was so pervasive that in 2015 a professor in Scotland went to great lengths to dispel it as a myth. He found that in Scotland, Murray is referred to as "Scottish" twice as frequently as "British," and in England only slightly more so, but these references didn't change depending on the outcome of his matches.
YouGov.Uk, a UK polling agency, went even further and tracked how his identity is viewed by the public. The poll found Murray has been viewed as a "Scottish sportsman" a majority of the time over the last 10 years. He was only considered a "British sportsman" by a majority after his 2013 Wimbledon title. During the first week of this year's Wimbledon, the poll found Murray was considered a "Scottish Sportsman" by 52 percent of respondents.
Regardless of how he's viewed, Andy Murray is one of the great British athletes of his generation, but some at Granary Square think the support he receives during his career in England is merely out of necessity. "If there was a good English tennis player," Quang Phan, a native Londoner, says, "then we'd all support that player. It's just because there's no one else."
As the second set starts, the sun is beaming and Murray is playing with confidence. His deep groundstrokes are neutralizing his opponent -- first-time Grand Slam finalist Milos Raonic of Canada -- and in the stands British Prime Minister David Cameron looks on approvingly. Just a few rows over is Nicola Sturgeon, the First Minister of Scotland, who engineered the Scottish referendum on independence in 2014. For months before the referendum, Murray was bombarded with questions about his stance. He refused to state his opinion until the day of the referendum, when he tweeted "Let's do this!" to Scottish Independence voters.
But again he underestimated the backlash, which was swift and ruthless. One tweet proclaimed he was nothing more than an "anti-British hypocritical little git."
"It makes the English uncomfortable when he's pro-Scottish," Redman said.
The problem, at least seen by those in Britain but outside of England, is that Murray constantly has to prove his Britishness, in the way that, say, English tennis legend Tim Henman never would. "There were people who had an issue with (Murray)," Northern Irishman Paddy Lindley says. "Then he single-handedly won the Davis Cup last year (representing Great Britain), and everyone was happy again."
It's a tiring trope for Murray. He lives in the U.S. and England, married an English woman and travels to every part of the globe for his job. He's a man comfortable in his own identity, but also now mature enough to understand how his opinion can be perceived. In the weeks before this Brexit vote on June 23, he was again asked about his stance. This time though, he was wary of saying anything contradictory, he told reporters, "I haven't really given it any thought at all. ... I've just become a father." (Of course, a reporter asked him if his new baby would be "Scottish or English." Murray smirked and said "British.")
After the Brexit vote, in which Britain decided to leave the European Union, the country's political structure turned chaotic. Nationalism took a foothold and being "British" carried new connotations. Scotland had voted strongly in favor to remain in the EU, while large swaths of England voted to leave. Perhaps Murray's silence is what's allowed him to become the country's great unifier at this year's Wimbledon, and at a juncture in the country's history when there are very few willing to unify. "We need him to be neutral," Redman said.
At Granary Square, the few hundred people had turned into a couple thousand. At match point in the third-set tiebreak, everyone stood. Raonic slammed a desperate backhand into the net and the place exploded in unison. On the large screen, Murray screamed in joy. In the stands, someone unfurled a Scottish flag, while David Cameron clapped in glee. Perhaps it wasn't the singular burst of exuberance we saw after Murray won in 2013, but maybe it meant more for Britain this time around.
Fans are still jumping up and down at Granary Square, and a man next to me turns and high-fives his neighbors -- then fist-pumped the sky. "Unbelievable," he said. "He did it ... we did it!"
Flinder Boyd is a former European professional basketball player turned writer. His features have appeared at Newsweek, SBNation Longform, and on the BBC among others. He grew up in Los Angeles, before attending Dartmouth College and later Queen Mary, University of London. On Twitter he can be found @FlinderBoyd.