WBC: Puerto Rico Ousts US with Help of Figueroa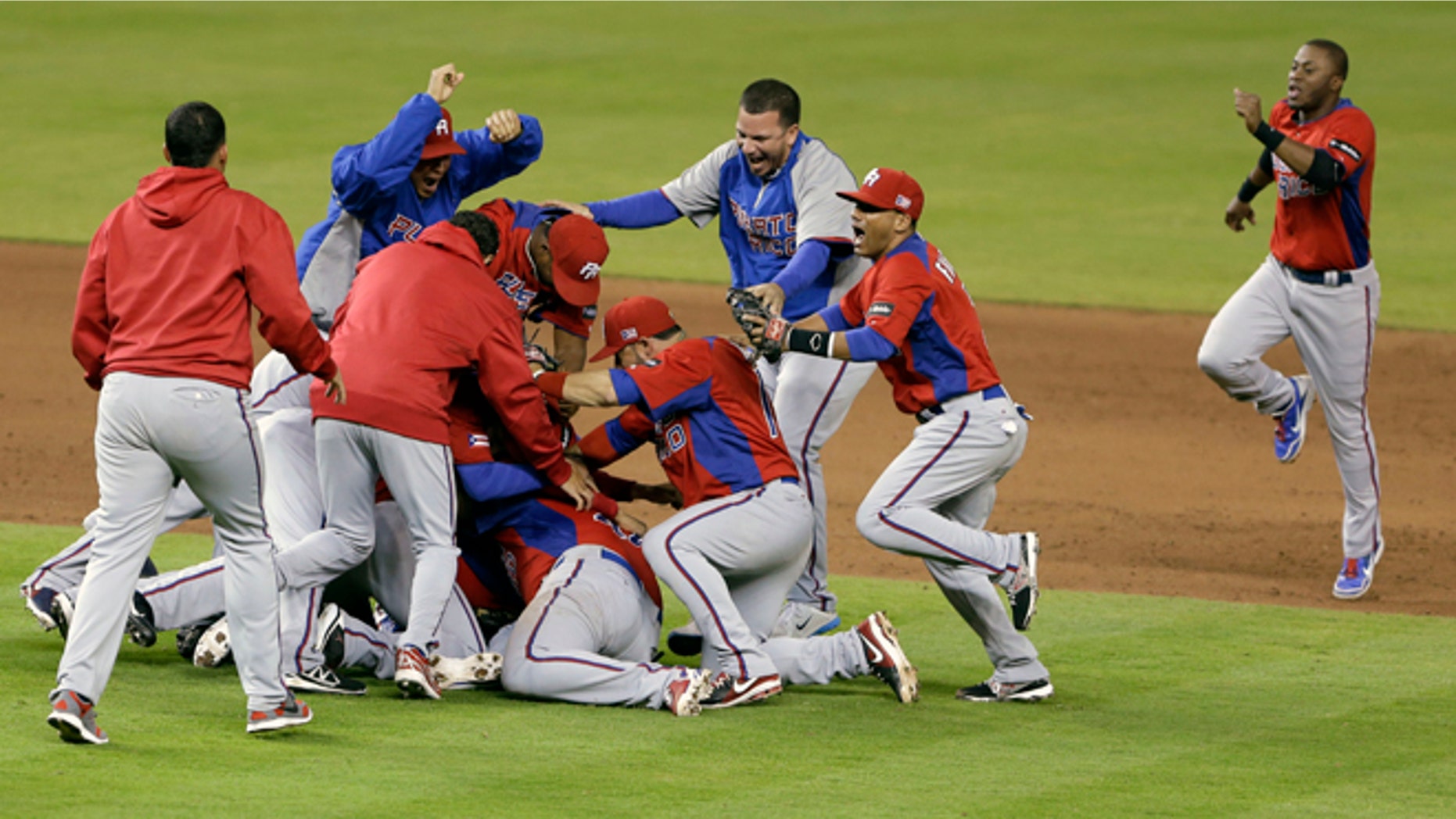 Miami – Brandon Phillips was really hoping to be on flight to San Francisco.
He had hoped to accompany Team USA to the semifinals of the World Baseball Classic. Instead, because the Americans were eliminated Friday night by Puerto Rico, he'll rejoin the Cincinnati Reds at spring training in Goodyear, Ariz.
"I didn't want to go back to Goodyear," Phillips said. "I wanted to go to San Francisco so bad. It stinks, man."
Phillips can blame a U.S. batting slump — and 38-year-old right-hander Nelson Figueroa, who became the pride of Puerto Rico when he led his team into the semifinals and ousted the Americans, 4-3.
We were supreme underdogs against that lineup...It was motivation to show them what kind of pitcher I was.
After Figueroa threw his last pitch to end the sixth inning, he leaped off the mound with a hoot like a kid at recess, then ran to catcher Yadier Molina to share a hug.
"We were supreme underdogs against that lineup," Figueroa said. "It was motivation to show them what kind of pitcher I was."
On Thursday, demonstrative Dominicans dominated the All-Star-laden U.S. squad. The Americans endured a scoreless streak of 14 innings spanning the two defeats, and Figueroa limited them to two singles in six shutout innings.
The Americans have still not won the WBC — or even reached the final — in three tries.
"When you play double-elimination, it's a crapshoot," manager Joe Torre said.
But don't try to tell the Americans the event is only a glorified spring training exhibition.
"Not true," said Ryan Vogelsong (1-1), who allowed two runs in 5 2-3 innings. "These games are intense. They mean a lot. There's a lot of pride at stake. Being in the postseason and being here is very similar. It's quite honestly the same. For people to think this is just an exhibition, that's just false."
The Puerto Rican team didn't treat it like an exhibition. J.C. Romero escaped a bases-loaded jam in the eighth inning and retired the final four batters for his first save.
Center fielder Angel Pagan caught the final out, triggering a pileup of Puerto Rican players behind the mound.
"When I caught that ball, I was thinking about my country all the way," Pagan said. "We overcome what everyone expected. I think nobody expected us to be this far, but it's about what we believe, and we believe we can go all the way."
Puerto Rico advanced for the first time to the semifinals, which begin Sunday in San Francisco. They'll play the Dominican Republic on Saturday in the final game in Miami, which will determine seedings for the championship round.
Two-time defending champion Japan and the Netherlands round out the final four.
Figueroa (2-0) has a modest 20-35 record for six teams in nine major-league seasons, with his most recent big league game in May 2011. After pitching in Triple-A last year, he dominated the Americans.
"I don't throw very hard, but I pitch inside," he said. "It was a great exhibition of what can be done without a plus fastball. It was an opportunity to demonstrate that good pitching beats good hitting."
Figueroa allowed only a single by Phillips in the fourth and a single by Jimmy Rollins in the sixth.
"He kept us off balance. He was hitting his spots," Phillips said.
The Americans batted .209 in their final two games.
Puerto Rico lost to the United States 7-1 on Tuesday, then staved off elimination Wednesday, rallying from a 3-1 deficit in the eighth inning to beat Italy.
The hits kept coming Friday, and Puerto Rico scored all four runs with two outs. Mike Aviles had an RBI single in the first, and Andy Gonzalez doubled home two runs in the sixth.
When Figueroa hit the tournament's 80-pitch limit, Giovanni Soto came on and gave up an RBI single to Giancarlo Stanton in the seventh.
The Americans continued their rally in the eighth. Rollins and Phillips singled off Jose De La Torre, and Ryan Braun followed with an RBI double. Joe Mauer walked to load the bases, and with two outs, Fernando Cabrera walked Ben Zobrist to force in a run and make it 4-3.
Eric Hosmer then grounded out again to Romero, who followed with a perfect ninth.
The crowd of 19,762 was smaller and more subdued than on Thursday, when the Dominican Republic transformed the ballpark into a Caribbean carnival by beating the United States. But Puerto Rican fans honked air horns and waved flags with each hit by their team and each out by the Americans.
Based on reporting by the Associated Press.
Follow us on twitter.com/foxnewslatino
Like us at facebook.com/foxnewslatino