Watson, Clemson stun Alabama to win college football title on last-second pass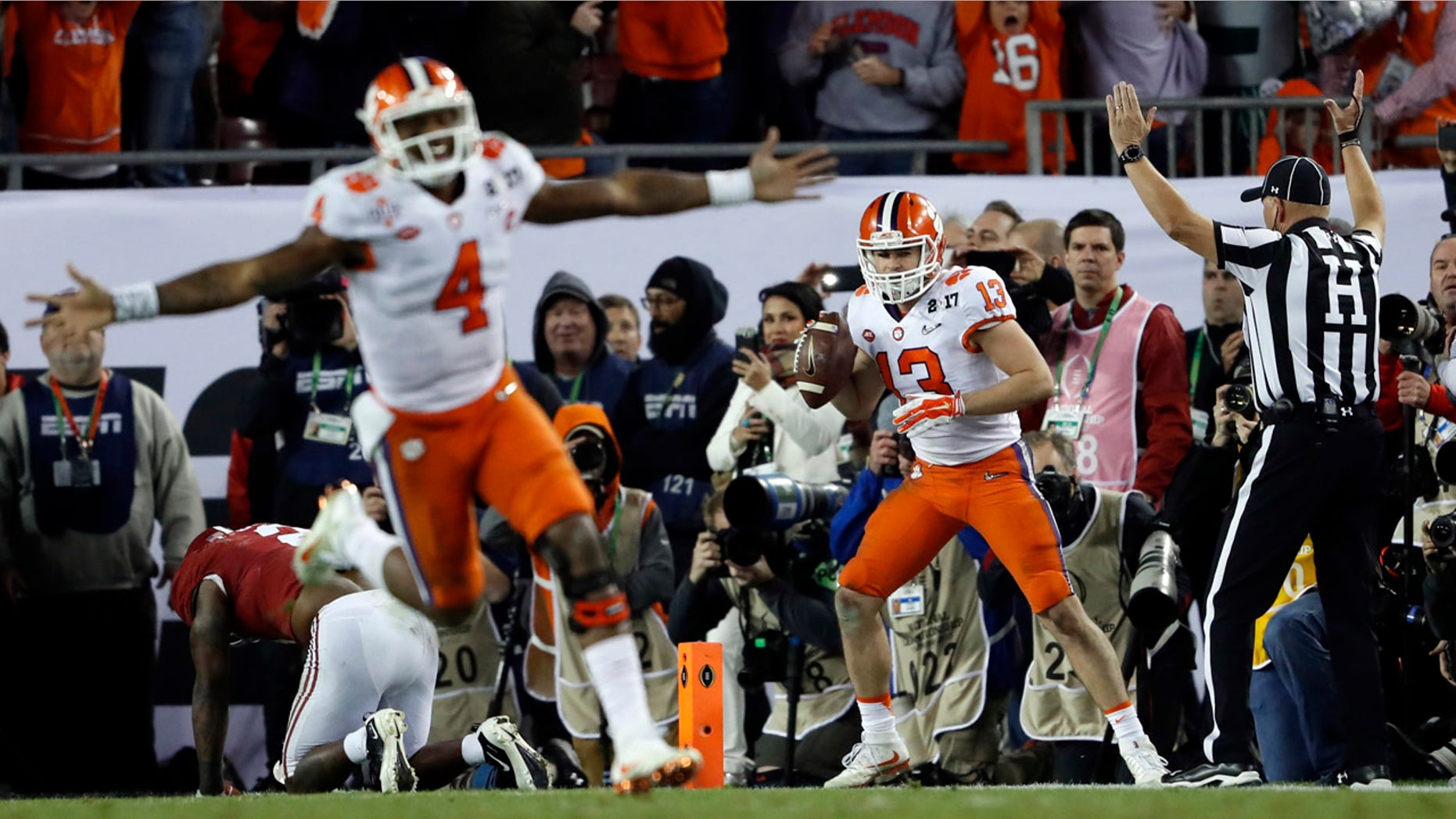 Last year's College Football Playoff championship game was a classic. This year's was even better.
And in the end, Clemson got its revenge over Alabama.
Deshaun Watson hit Hunter Renfrow for a two-yard touchdown pass with one second to play as the Tigers edged the Crimson Tide, 35-31, at Raymond James Stadium in Tampa Monday night. The win gave Clemson its second national title in football and its first since 1981.
The winning score capped a nine-play, 68-yard drive that was made necessary after Alabama's freshman quarterback, Jalen Hurts, scampered 30 yards to put the Tide up 31-28 with 2:07 to play.
But that was one second too many to leave Watson, who just about matched his 405-yard, four-touchdown performance in last year's title game, which Clemson lost 45-40. This time, Watson finished with 36 completions on 56 attempts, 420 yards and three touchdowns. Most importantly, Watson did not throw any interceptions against a usually opportunistic Alabama defense.
In two games against Alabama and the most ferocious defense in college football, Watson has thrown for 825 yards and accounted for eight touchdowns.
In all, Clemson put up 511 yards on the Crimson Tide and held the ball for nearly 35 minutes. In a fitting ending, Watson took the game's final snap in the victory formation after Clemson recovered the squib kick that followed Renfrow's winning touchdown.
Coach Dabo Swinney, the native Alabaman and former Crimson Tide walk-on receiver, has built an elite program at Clemson that was missing only one thing. Now the Tigers can check that box, too.

"Eight years ago we set out to put Clemson back on top," said Swinney, who can turn postgame interviews into a rousing sermon. "We came up a little short last year, but today on top of the mountain, the Clemson flag is flying."
The Crimson Tide appeared to be in control entering the final 15 minutes. They took a 24-14 lead late in the third quarter after O.J. Howard took advantage of a Clemson blown coverage and completed a 68-yard catch-and-run from Hurts.
But Clemson fought back in the fourth. First, Watson cut the deficit to 24-21 with a four-yard touchdown pass to Mike Williams. Then, Wayne Gallman surged over the goal line from a yard out to give the Tigers a 28-24 lead with 4:38 remaining.
But with Clemson one defensive stop from sealing the win, Alabama's offense, which had gone dormant for most of the second half, came to life with the help of a sweet call from newly promoted offensive coordinator Steve Sarkisian. Receiver ArDarius Stewart took a backward pass from Hurts and fired a strike to O.J. Howard for 24 yards.
On the next play, Hurts broke free from a collapsing pocket and weaved his way through defenders and into the end zone to give Alabama the lead.
"I was calm," Watson said. He said he thought about Vince Young's last-second touchdown for Texas that derailed the Southern California's championship run in the 2005 BCS title game at the Rose Bowl. He told his team: "Let's go be great."
Watson responded like a two-time Heisman Trophy finalist, hitting Williams and Jordan Leggett for great catches and big gains before an Alabama pass interference penalty set up Clemson with first-and-goal at the two with six seconds to play.
Renfrow slipped away from the defense at the goal line and was alone for an easy toss. It was the walk-on receiver's second TD catch of the night, adding to the two he had last season against Alabama.
When it ended Clemson's 315-pound defensive lineman Christian Wilkins did a cartwheel and Ben Boulware, one of the toughest linebackers in the country, was in tears.
"It's been 35 long years!" Boulware screamed. "It's coming home baby! It's coming home!"
Alabama was denied in its quest for back-to-back playoff titles, as well as the chance to become the first 15-win major college team since Penn in 1897. Head coach Nick Saban remained stuck on five BCS or playoff titles. He would have matched the championship total of another Tuscaloosa legend, Bear Bryant, with a win Monday night.
The loss also ended Alabama's 26-game winning streak, while Clemson recorded its first win over a No.1-ranked team ever.
The Associated Press contributed to this report.