WATCH: Real Madrid's Gareth Bale Scores Amazing Late Goal To Win Copa Del Rey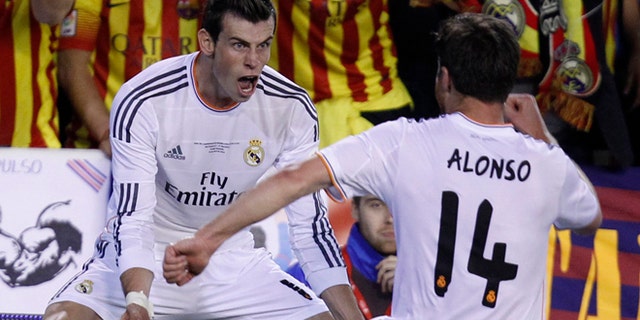 Valencia, Spain (AP) – Gareth Bale filled the void left by the injured Cristiano Ronaldo, sealing Real Madrid's 19th Copa del Rey title with a late goal in Wednesday's 2-1 win over Barcelona.
Ronaldo's extra-time play gave Madrid the 2011 Copa del Rey title at Barcelona's expense, but the star striker has a bum left leg. In his absence on Wednesday, Bale scored in the 85th minute — his first goal in three "clásico" matches — to make sure Madrid repeated the feat.
Angel Di Maria scored Madrid's opener from a counterattack in the 11th minute, capitalizing on a Barcelona lineup that seemed to lack ideas in attack and was slow to recover in defense.
Defender Marc Bartra equalized against the run of play in the 67th by heading in from a corner kick to ruin goalkeeper Iker Casillas' record run of not conceding in this edition of the tournament.
The goal appeared to energize Barcelona, sparking Lionel Messi into action and ensuring the last 15 minutes became a frenetic back-and-forth contest.
But with the game hanging in the balance, Bale got the winner when he sprinted down the left side of the pitch, even running out of bounds to avoid Bartra, before racing into the area and rolling the ball under goalkeeper José Pinto.
"It is difficult to see a player be able to sprint like that at that stage of the game," Barcelona coach Gerardo Martino said. "The game was going our way after we had leveled, until that counterattack."
Real Madrid manager Carlo Ancelotti said the goal was "surely the most important" of Bale's career, which took a major turn last summer when the team broke its own spending record on his $132-million transfer fee to pry him away from Tottenham.
"It was a decisive moment. When Bartra scored anything could have happened," Ancelotti said.
Barcelona, however, still had one last chance, but Neymar's shot to hit the upright in the 90th.
Neymar's last-gasp effort almost "scared us to death," Casillas said. "Fortune was on our side, and we are thankful for it."
Ronaldo joined his teammates to celebrate with their fans on the pitch before the team filed past King Juan Carlos to receive their medals and the prized trophy.
The plane carrying the Spanish monarch had technical problems that delayed take-off, but he arrived on time to watch the match along with more than 50,000 spectators divided into large sections of white and blue-and-burgundy club colors.
After failing to win the cup competition between 1993 and 2011, Real Madrid has won it twice in the last four years.
Ancelotti earned his first trophy for the team and first "clásico" win after losing his first two meetings with Barcelona, and his team will now focus on overtaking Atlético Madrid in the league and its Champions League semifinal against Bayern Munich.
The loss is a setback for Barcelona and a major blow to Martino.
In an eight-day span, Barcelona exited Europe's top-tier competition with a loss, slipped to third place in the Spanish league, and then lost Copa del Rey to its fiercest rival.
"It has been a hard week on all fronts," said Martino, who remains confident of hanging on to his job for one more season. "As I have said for one, two, three months now, I don't feel that my future has changed because of all that we lost, and nor do I think it would be different if we had won."
Barcelona will now have to catch both Real and Atlético Madrid with only five rounds left in the Spanish league to make sure it doesn't end the season without a major piece of silverware for the first time since the arrival of Pep Guardiola in 2008-09.
Based on reporting by the Associated Press.
Follow us on twitter.com/foxnewslatino
Like us at facebook.com/foxnewslatino