Copa Del Rey Goes To Real Madrid In Thrilling 2-1 Win Over Barcelona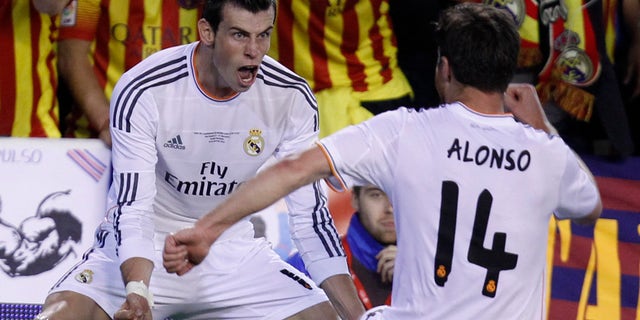 VALENCIA, Spain – Gareth Bale's late gallop and goal sealed Real Madrid its 19th Copa del Rey title on Wednesday in a thrilling 2-1 win over Barcelona, as the Welshman filled the void left by the injured Cristiano Ronaldo to claim his first career trophy.
Ronaldo's extra-time heroics gave Madrid the 2011 Copa del Rey title at Barcelona expense, and in his absence Bale scored in the 85th to make sure Madrid repeated the feat at the same Mestalla Stadium with his first goal in three "clasico" matches.
Angel Di Maria scored Madrid's opener from a counterattack in the 11th minute of a first half Madrid dominated over a Barcelona side that lacked ideas in attack and was slow to recover in defense.
Barcelona defender Marc Bartra, who was cleared from injury at the last minute, leveled against the run of play in the 67th by heading in from a corner kick to ruin goalkeeper Iker Casilla's record run of not conceding in the tournament.
The goal energized Barcelona and snapped Lionel Messi into action after an apathetic first hour, and the game's final 15 minutes became a frenetic back-and-forth.
But with the game hanging in the balance, Bale got the winner when he exploded down the left side of the pitch, even running out of bounds to avoid Sergio Busquets, before he raced into the area and rolled the ball under goalkeeper Jose Pinto.
Barcelona, however, still had one last chance, only for Neymar's shot to hit the upright in the 90th.
After not winning the cup competition between 1993 and 2011, Madrid has won it twice in the last four years.
Manager Carlo Ancelotti won his first trophy for Madrid and first "clasico" win after losing the first two meetings with Barcelona, and his team will now focus on overtaking Atletico Madrid in the league and its Champions League semifinal against Bayern Munich.
The loss is a setback for a Barcelona unable to add to its record 26 cups and a major blow to coach Gerard Martino, with the Catalan club eliminated from Europa and its domestic league title defense in danger.
Barcelona will now have to catch both Madrid and Atletico with only five rounds left in the Spanish league to make sure it doesn't end the season without a major piece of silverware for the first time since the arrival of Pep Guardiola in 2008-09.
Follow us on twitter.com/foxnewslatino
Like us at facebook.com/foxnewslatino